Fox Takes Up Residence At The White House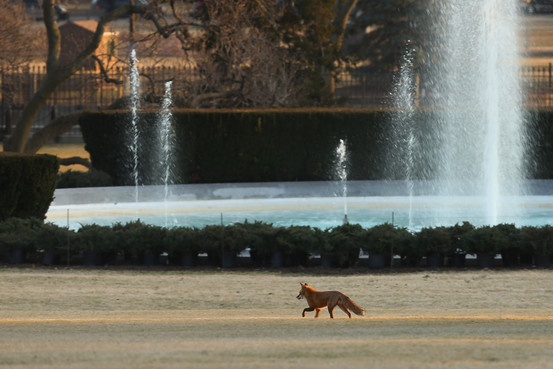 Not the network, the animal:
WASHINGTON—There's a new guest at the White House. Unlike most people who pass through the presidential residence, he wasn't invited. But in cutthroat Washington fashion, he saw weakness and took advantage. Now he rests and plays uninhibited at the seat of power.

He also has pointy ears and a bushy tail.

The little red fox, who hasn't been named, turned up on the White House grounds in the weeks before the government shutdown in October. After many White House groundskeepers were furloughed, the fox settled in. Months later, the furry little conundrum has left officials who sort through some of the world's most complex challenges scratching their heads.

The fox lacks the deference typically exhibited by White House guests. He tore through the White House garden when it was left unattended during the shutdown. He graduated to tripping alarms in the middle of the night, napping wherever he pleases and generally living the high life on a campus overseen by dozens of highly trained Secret Service agents.

Even President Barack Obama was stunned, aides say, when he looked outside the Oval Office one morning to see the fox running down the same open-air colonnade along the Rose Garden that has been traversed by American presidents and world dignitaries for the past century.

No one can catch the fox, although it isn't for lack of trying. White House groundskeepers bought a handful of metal traps and scattered them around the complex, with no success. The idea of shooting him was never considered, officials say. Instead, the crew that tends the grounds at the White House spent hours plotting to lure him into the traps with rotting hunks of chicken, so they could relocate him some 3 miles south to a park along the Potomac River.

"We don't mind that he passes through, but we don't want him to stay," said Dale Haney, the superintendent of the White House grounds, who has worked in the 18-acre park since 1972. "No overnight guests."
Reports that the fox has been named "Roger Ailes" could not be confirmed.