Gary Johnson At 6% In New National Poll?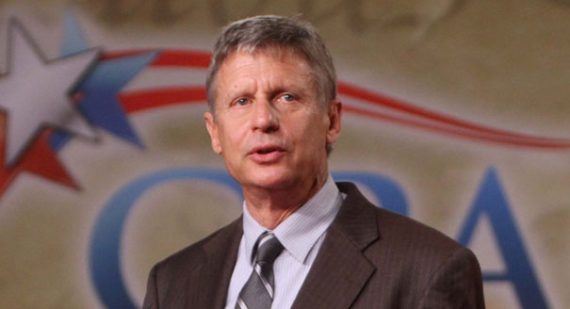 Buzzfeed points to a new national poll from Public Policy Polling that has surprised some people in the level of support it shows for Gary Johnson, former Governor of New Mexico, and current candidate for the Libertarian Party's Presidential Nomination: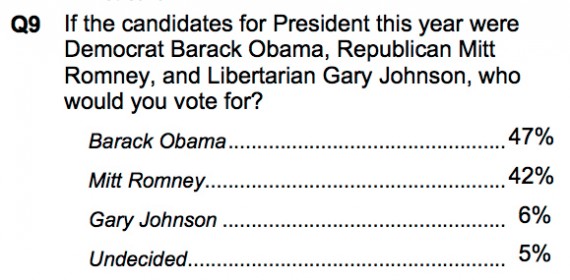 As much as this number pleases me as a Gary Johnson fan, I find myself agreeing with Patrick Caldwell that this probably doesn't mean very much:
Has Ron Paul been right all along in predicting a rising tide of libertarian voters? Mark me down as a skeptic. In general, polls this far out from the election should be taken with a grain of salt. Most voters haven't really tuned in and won't for months to come. Beyond a handful of legitimate Johnson fans, I imagine the bulk of that 6 percent consists of voters who have paid scant attention to date, but have uneasy feelings about both Obama and Romney. When presented with a third generic option they'll voice their dissent. And it's hard to find a more generic middle-aged white guy name than Gary Johnson. For now he's just a stand-in for their dissatisfaction with their options, one that will disappear once voters actually begin to tune in.
Yea, sadly I think this is about right. Johnson's name recognition during the Republican primary race was somewhere down near Buddy Roemer territory, largely of course because he almost never got invited to any of the Republican debates and received scant attention at the two to which he was invited. It's hard to believe that 6% of the respondents to the PPP poll know who Johnson is an endorse his ideas. It's more likely that the vast majority of them are, like Caldwell said, disaffected voters who are largely annoyed with both sides at the moment.
Nonetheless, I'd like to hope that Johnson will get more attention that Libertarian candidates have in the past. As I've noted before, he certainly has the resume for it. However, I'm not going to hold my breath.