Gary Johnson: 2012's Ron Paul
He's the darkest of dark horses right now, but Gary Johnson stands as the heir apparent to Ron Paul's surprisingly energetic 2008 run for the GOP nomination.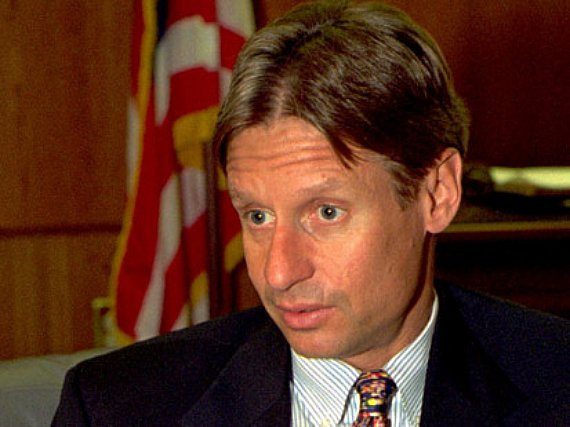 He's nowhere near being on the A-list of contenders for the 2012 elections, and his positions on issues like drug legalization and the Afghanistan War aren't entirely within the GOP mainstream, but former New Mexico Governor Gary Johnson may be better positioned than anyone else to take up the banner of the fiscally conservative/libertarian wing of the Tea Party movement:
Like Ron Paul, whom he endorsed in 2008, Johnson is an unabashed libertarian-and, in some ways, a purer one (he's pro-choice, pro-free trade, and pro-immigration). So, while he's no culture warrior or foreign policy hawk—he opposed the war in Iraq and the troop surge in Afghanistan—he outflanks any Republican on fiscal issues, proposing an immediate, across-the-board 43 percent spending cut. "We're on the precipice," he says, of the country's finances. To illustrate what lies in the abyss, at times he flashes his favorite prop: a $100 trillion bill from Zimbabwe that he keeps in his wallet.

Over the past ten months, Johnson has taken his libertarian gospel on the road, speaking to conservative campus groups, Tea Party rallies, and Republican conferences in over 30 states. He has appeared on countless radio and TV programs—everything from "Hannity" to "The Colbert Report"—and is putting the finishing touches on a book. Johnson isn't merely testing the presidential waters; several Johnson confidants told me that nothing—not even another Ron Paul campaign—will stop him from running. "There's no waiting or seeing," says one. "It's a done deal."
Moreover, while Paul has left open the possibility that he might run again himself, he's also made clear that there really is only one heir apparent to the Ron Paul "r3volution" of 2008:
"Everybody's been aware of it, even during the last campaign," says Paul, whom Johnson informed of his intentions in April 2008. "I don't remember when anybody didn't assume that he would run for president." Fortunately for Johnson, Paul, while not ruling out a second act, has shown little appetite for one. ("I have made no plans," he told me.) And if he doesn't run, he'll "most likely" throw his weight behind Johnson. "I can't imagine endorsing anybody else," he says. The path, then, looks clear for Gary Johnson to become the Ron Paul of 2012
The differences, though, are two-fold. For one thing, Johnson doesn't come with some of the baggage that Ron Paul did in 2008. There are no political polemics with controversial statements, or associations with people who've gone on to become advocates of odd conspiracy theories, in Johnson's past. For another, the Republican Party of 2012 will clearly be far more receptive to the libertarian-ish positions that Johnson espouses than it was in 2008. Despite his fundraising successes and the fact that he was attracting enthusiastic support on college campuses, it was easy for the rest of the GOP to ignore Ron Paul in 2008 and dismiss him in the manner that pundits like Sean Hannity did. Even in a crowded field of candidates, it won't be so easy to dismiss Gary Johnson.
That doesn't mean that Johnson isn't going to stir things up, of course. He favors drug legalization and opposes the Afghanistan War, for example, and he's one of the only potential 2012 candidates to express anything other than glowing admiration for Sarah Palin:
What does Johnson make of Palin? On a drive through the foothills of New Hampshire, I ask him. Riding shotgun, he turns the question around on me. "Um, I guess some people think she's folksy," I say from the backseat. "Well, at first she strikes you as folksy," he shoots back. "And then you realize: She might be running for president of the United States! And then, don't we have the obligation to tell her what a terrible idea that is?" Cupping his hands to his mouth, he brays, "Sarah! We love you! Don't run!" He also performs a rendition of the "deer-in-the-headlights" interview she did on "The O'Reilly Factor," about the BP oil spill.
That willingness to be outspoken, however, is likely to work to Johnson's benefit once he throws his hat in the ring. He'll be operating on a shoe-string budget in the beginning, most likely, but he's also likely to get plenty of free media attention on outlets on MSNBC which like to give air time to iconoclastic Republicans (Rand Paul was a frequent guest on Rachel Maddow's show during his primary battle, for example).
Were I a betting man, I wouldn't be placing any money on Johnson to win the nomination right now. However, he's an interesting guy who has the potential to stir up the GOP race, especially if he says stuff like this:
After trashing Palin on our drive through New Hampshire, Johnson spots a cop car in the rearview mirror. The chauffeur, Johnson adviser Ronald Nielson, pulls the rented Mazda SUV to the side of the road, and the green-clad officer ambles over. "I stopped you because you were going eighty-three in a sixty-five," he says, peppering the driver with questions. As he disappears with Nielson's license and registration, Johnson scolds himself for forgetting his Valentine One radar detector. "You can't seriously speed without a Valentine One," he tells us. "The Valentine would've sniffed him out long before that happened." The officer returns two minutes later, and the roadside ritual ends anticlimactically. "I'm letting you off with a warning," he says. "Don't ask me why."

As we drive off, Johnson breathes a sigh of relief, floating theories about the merciful cop. But the close call sends him into a lighthearted rant on the absurdity of federally mandated speed limits. "Look," he says, "there are times and places where it would be perfectly safe to go one-forty, and there are others where it would be reckless to go fifty-five." Within moments, he's taking aim at stop signs and red lights. "I'm not opposed to the concept," he allows. "But sometimes, you know, it's 5:30 in the morning! There's nobody on the road!" Johnson laughs, turns in his seat, and fixes me with a grin. "That's the first sign you know you're a libertarian," he says. "You see the red light. You stop. You realize that there's not a car in sight. And you put your foot on the gas."
It strikes me that there a lot of people like that in America who might like what Johnson has to say.