Gays and Lesbians: They're Everywhere! They're Everywhere!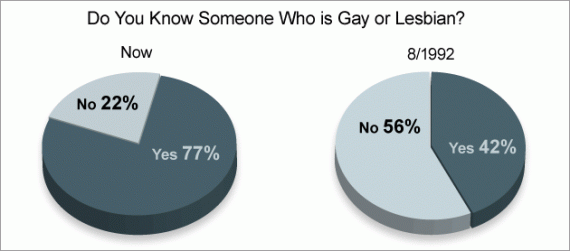 Three quarters of Americans know someone who's gay or lesbian, compared to two fifths back in 1992.   Brian Montopoli:
Seventy-seven percent of Americans now say they know someone who is gay or lesbian, a new CBS News poll finds – an increase of 35 percentage points since 1992, when a majority of Americans said they did not.  More than six in ten Americans say they have a close friend, work colleague or relative who is gay or lesbian. Just 22 percent say they do not know anyone at all who falls into that category.

The increasing visibility of gay and lesbian Americans appears to have contributed toward more positive perceptions of homosexual relations. Forty-three percent of Americans currently see homosexual relations between consenting adults as "wrong" – a drop of 19 percentage points from a Gallup poll taken in 1978.

There has been a slight decrease in the percentage of Americans who do not object to homosexual relations compared to January of last year, when 54 percent said they are not wrong. But nearly half (48 percent) still say they see nothing wrong with homosexual relations, an increase of 23 points from the 1978 poll.

Americans under 30 tend not to object to homosexual relations, while those over 65 are likely to disapprove of them. Democrats, liberals and (to a lesser extent) independents and moderates generally do not disapprove, while Republicans and conservatives generally do.
This isn't remotely surprising.  But I would suggest that the direction of the causality isn't clear.  As homosexuality has become more accepted — through exposure in the pop culture, mostly — gays and lesbians have been more apt to live openly, at least among their friends and loved ones.  And that, in turn, has meant that more of us know gays and lesbians as ordinary folks with different sexual proclivities rather than as bogeymen or the flamboyant "lifestyle" types that dominated media coverage a couple decades ago.
via Joshua Foust