25% of Americans Gay or Lesbian, Americans Think
A majority of Americans think homosexuals account for at least a fifth of the population.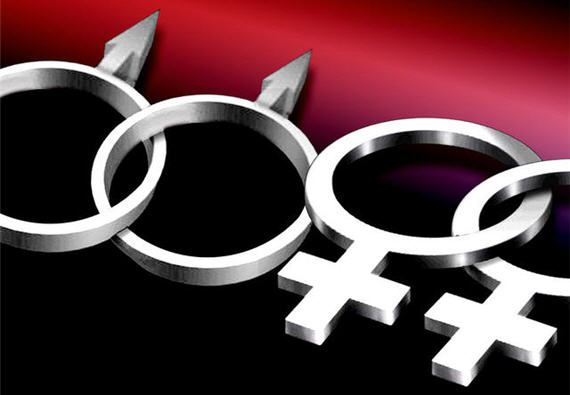 A majority of Americans think homosexuals account for at least a fifth of the population.
Gallup ("U.S. Adults Estimate That 25% of Americans Are Gay or Lesbian"):
U.S. adults, on average, estimate that 25% of Americans are gay or lesbian. More specifically, over half of Americans (52%) estimate that at least one in five Americans are gay or lesbian, including 35% who estimate that more than one in four are. Thirty percent put the figure at less than 15%.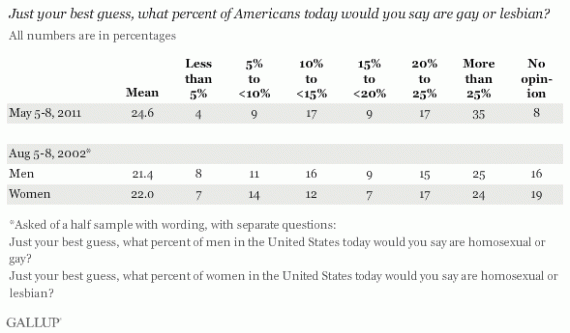 Gallup's Lymari Morales:
There is little reliable evidence about what percentage of the U.S. population is in reality gay or lesbian, due to few representative surveys asking about sexual orientation, complexities surrounding the groups and definitions involved, and the probability that some gay and lesbian individuals may not choose to identify themselves as such. Demographer Gary Gates last month released a review of population-based surveys on the topic, estimating that 3.5% of adults in the United States identify as lesbian, gay, or bisexual, with bisexuals making up a slight majority of that figure. Gates also disputes the well-circulated statistic that "10% of the males are more or less exclusively homosexual."

Americans' current collective estimate — which is substantially higher than Gates suggests — is likely driven more by perceptions and exposure than by scientific measurement or reality. Gallup previously found that a majority of Americans personally know someone who is gay or lesbian, though Gallup did not ask Americans how many gay or lesbian individuals they know, or whether they know more individuals now than they did before. Additionally, Americans tend to have difficulty estimating percentages of population groups whose numbers are more widely known. Gallup a decade ago found Americans estimating much larger U.S. black and Hispanic populations than what the U.S. Census Bureau reported for those groups.
But the exposure explanation doesn't make sense when you factor this in:
Americans with lower incomes and less education give the highest estimates, on average, of the U.S. gay and lesbian population, and far higher estimates than those with higher incomes and more education. Americans aged 18 to 29 give a higher average estimate than older Americans, and women give a far higher average estimate than men.
Certainly, I know a lot more open gays than I did when I was less affluent. Granted, public acceptance of homosexuality has happened in very short order. Still, it's much more widespread in affluent, high education communities. This, on the other hand, makes perfect sense:
Democrats, liberals, and those who say they are socially liberal are also more likely to give higher estimates than those at the other end of the spectrum. However, the differences by political or ideological leanings are in most cases not as wide as those seen by demographic group.
Liberals have traditionally been more open to homosexuality, so it's only natural that people in liberal communities would be more open about their homosexuality. Relatedly, those who wish to live openly as homosexuals and find partners are more apt to migrate to accepting communities. There are almost certainly more open homosexuals–if not more homosexuals, period–in New York and San Francisco than in Salt Lake City and Houston.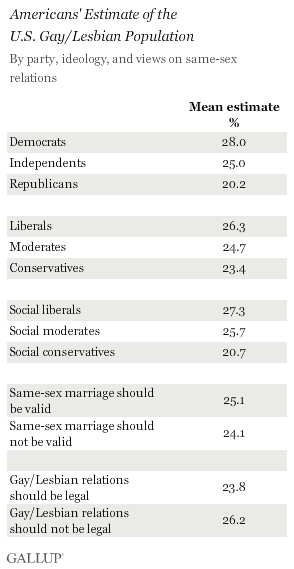 Morales continues:
Americans perceive that there is a large U.S. gay population — one far larger than is likely reality. Perhaps more informative than the exact figure Americans give is the trend that more Americans now than in 2002 feel they have enough information to offer an estimate. This suggests Americans have had even more exposure to gays and lesbians, be it in their personal lives or through entertainment or other means.
It's long been my thesis that exposure in the popular culture, mostly television, was the driving factor in changing public perception. Ironically, however, Americans' knowledge of the numbers has gotten radically less accurate as their information–and confidence in their incorrect impressions–increased.
UNC economist Karl Smith takes a crack at explaining it.
About 3.5% of Americans identify as gay, lesbian, bisexual or transgendered. By contrast roughly 2.2% of Americans are ethnically or religiously Jewish and 4.8% of Americans are Asian. That is to say that LGBT folks are about 50% more common than Jews and 33% less common than Asians. Those give good anchors around what you would expect to see.

On the other hand, most Americans believe that there are significantly more gays and lesbians than blacks (12.6%) or Hispanics (16.3%) and 35% of Americans believe there are as many or more gays than Catholics (~25%)

What makes this interesting to me is not that people are bad at demographics. It's that I would assume that people's immediate experience is influencing their estimate of all of America. Yet, 52% of America can't be experiencing anything like: 1 out of every 5 people I know is gay. So my guess is that most people don't really get what these numbers mean in terms of their daily life. Of course, to some extent we already knew that but it always interesting to see it come out in actual data.
In other words, Americans–and, one imagines, people generally–are woefully innumerate. They simply don't understand numbers, including even elementary percentages and other statistics. That's why it's impossible to have a rational public dialog about such things as federal spending, budget deficits, and the like. The numbers are too big and simply have no meaning to most people, for whom the difference between a million, a billion, and a trillion is simply theoretical.