Getting Free Stuff For Voting Is Against The Law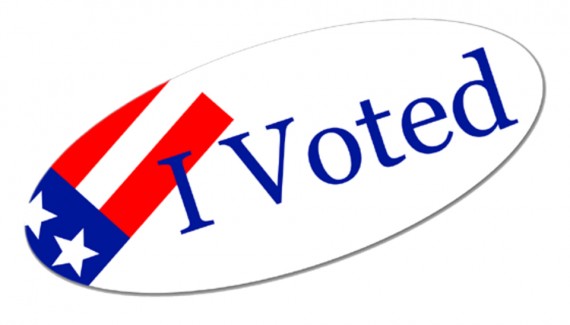 As Election Day approaches, I'm noticing that several businesses here in the D.C. area, including a national chair or two, are offering bonuses of one kind or another for people who voted, usually saying that you're entitled to the free item if you're wearing one of those "I Voted" stickers. The first company I can remember doing this was Starbucks, which offered a free regular drink to everyone who had voted several elections ago. As it turns out, all those freebies are against the law:
Business owners beware: Offering a discount or a freebie to voters Tuesday is illegal. But despite a clear federal ban on such activities, they've only proliferated in recent years.

A Washington D.C. yoga studio is offering 10 percent off for showing an "I Voted" sticker. An oyster bar is offering free shellfish and a drink. Coffee chain Tim Horton's, which is based in Canada but has stores in several U.S. states, promised a free donut with the purchase of a coffee. Einstein Bagels promised voters a free bagel. A California hot dog restaurant is offering a free frankfurter.

These are just some of the dozens — if not hundreds — of businesses nationwide who are trying to capitalize on the civic spirit of election day, and do their part to encourage voting.

But election law experts say the discounts and giveaways are plainly illegal — no matter how innocent or nonpartisan the intentions.

"In elections in which federal candidates are on the ballot, no one can offer any kind of benefit or reward for voting. The simple way to deal with this is to open up the event to all comers — voters and nonvoters alike," law professor and election law expert Rick Hasen told POLITICO in 2010.

"This is a very common problem, because people believe they are doing their civic duty by encouraging other people to vote. And in many states, in elections when federal candidates are not on the ballot, this activity is perfectly legal," Hasen, who teaches law at University of California Irvine, said.

In a follow-up e-mail on Monday, Hasen said he didn't think the law should be changed just because these specials have proliferated in recent years.

"These things can be targeted to help voters known to vote for one candidate or another," Hasen said, raising the specter of corruption.
Most businesses appear to be responding to this news by modifying their promotion to make it open to all patrons regardless of whether they had voted or not. Of course, it's unlikely that anyone would ever be prosecuted for giving out free hot dogs to people who had already voted. However, as Hasen notes, the law is the law and it would not be easy to carve out an exception for these types of promotions. Moreover, since the promotions are intended to encourage people to vote, it strikes me that limiting only to people with a sticker on their lapel doesn't make much since.