Gil Scott-Heron Dead at 62
Gil Scott-Heron, most famous "The Revolution Will Not Be Televised," has died at 62.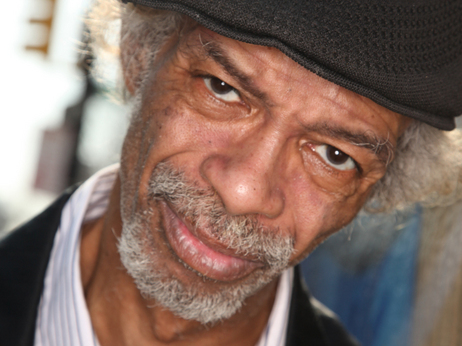 Gil Scott-Heron, most famous for the comedy* classic "The Revolution Will Not Be Televised," has died at 62.
NPR ("Gil Scott-Heron, Poet And Musician, Has Died"):
Gil Scott-Heron died Friday afternoon in New York, his book publisher reported. He was 62. The influential poet and musician is often credited with being one of the progenitors of hip-hop, and is best known for the spoken-word piece "The Revolution Will Not Be Televised."

Scott-Heron was born in Chicago in 1949. He spent his early years in Jackson, Tenn., attended high school in The Bronx, and spent time at Pennsylvania's Lincoln University before settling in Manhattan. His recording career began in 1970 with the album Small Talk at 125th and Lenox, which featured the first version of "The Revolution Will Not Be Televised." The track has since been referenced and parodied extensively in pop culture.

Scott-Heron continued to record through the 1970s and early '80s, before taking a lengthy hiatus. He briefly returned to the studio for 1994's Spirits. That album featured the track "Message to the Messengers," in which Scott-Heron cautions the hip-hop generation that arose in his absence to use its newfound power responsibly. He has been cited as a key influence by many in the hip-hop community — such as rapper-producer Kanye West, who closed his platinum-selling 2010 album My Beautiful Dark Twisted Fantasy with a track built around a sample of Scott-Heron's voice.

Scott-Heron struggled publicly with substance abuse in the 2000s, and spent the early part of the decade in and out of jail on drug possession charges. He began performing again after his release in 2007, and in 2010 released a new album, I'm New Here, to widespread critical acclaim.
Here's a video of "The Revolution Will Not Be Televised." It's not actually funny, nor intended to be:
Coincidentally, Andrew Sullivan posted the late George Carlin's "Tonight Show" performance of a similar commentary called "The Modern Man."
On Scott-Heron's passing, Radley Balko observes, "There's an almost a poetic timing to his death, given the last few days. He was warning us about this stuff back in the 1970s."
One of Radley's commenters points me to an excellent New Yorker profile from last August. It begins,
Gil Scott-Heron is frequently called the "godfather of rap," which is an epithet he doesn't really care for. In 1968, when he was nineteen, he wrote a satirical spoken-word piece called "The Revolution Will Not Be Televised." It was released on a very small label in 1970 and was probably heard of more than heard, but it had a following. It is the species of classic that sounds as subversive and intelligent now as it did when it was new, even though some of the references—Spiro Agnew, Natalie Wood, Roy Wilkins, Hooterville—have become dated. By the time Scott-Heron was twenty-three, he had published two novels and a book of poems and recorded three albums, each of which prospered modestly, but "The Revolution Will Not Be Televised" made him famous.
Sadly, he'd largely become a recluse in recent years, seldom leaving his Harlem apartment.
Sometimes when I spoke to people who used to know Scott-Heron, they told me that they preferred to remember him as he had been. They meant before he had begun avidly smoking crack, which is a withering drug. As a young man, he had a long, narrow, slightly curved face, which seemed framed by hair that bloomed above his forehead like a hedge. The expression in his eyes was baleful, aloof, and slightly suspicious. He was thin then, but now he seems strung together from wires and sinews—he looks like bones wearing clothes. He is bald on top, and his hair, which is like cotton candy, sticks out in several directions. His cheeks are sunken and deeply lined. Dismayed by his appearance, he doesn't like to look in mirrors. He likes to sit on the floor, with his legs crossed and his propane torch within reach, his cigarettes and something to drink or eat beside him. Nearly his entire diet consists of fruit and juice. Crack makes a user anxious and uncomfortable and, trying to relieve the tension, Scott-Heron would sometimes lean to one side or reach one hand across himself to grab his opposite ankle, then perhaps lean an elbow on one knee, then maybe press the soles of his feet together, so that he looked like a swami.
Recreational drug use is common among artists and many think it enhances their talents. Sadly, it too often destroys them.
________________
*A private joke that Scott-Heron would have appreciated were he in on it.