The Beastie Boys and the Segregation of American Music
The outpouring from my Twitter stream yesterday on the news of the death of Adam Yauch, MCA of the Beastie Boys, surprised me.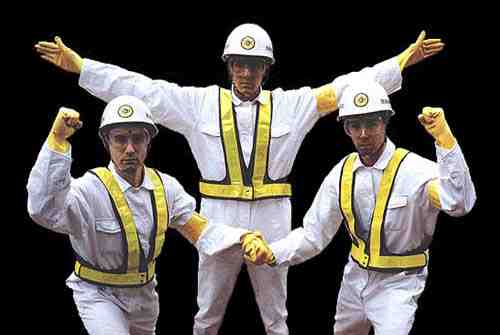 The outpouring from my Twitter stream yesterday on the news of the death of Adam Yauch, MCA of the Beastie Boys, surprised me. To be sure, the death of anyone at 47 is sad news. Yauch was just a year older than me. But my familiarity with the Beasties began and ended in 1986, with "Fight for Your Right (To Party)." I was in college, rap was just going mainstream, and I didn't like it. Still don't. Have you ever tried to hum rap?
It seems that the Beasties continued to have a very influential run and that Yauch had a productive life even apart from his music.
NYT ("Rapper Conquered Music World in '80s With Beastie Boys"):
Adam Yauch, a rapper and founder of the pioneering and multimillion-selling hip-hop group the Beastie Boys, died on Friday in Manhattan. He was 47.

His mother, Frances Yauch, confirmed his death. He had been treated for cancer of the salivary gland for the last three years.

With a scratchy voice that grew scratchier through the years, Mr. Yauch rapped as MCA in the Beastie Boys, who were inducted into the Rock and Roll Hall of Fame this year. They offered many listeners in the 1980s their first exposure to hip-hop. They were vanguard white rappers who helped extend the art of sampling and gained the respect of their African-American peers.

While many hip-hop careers are brief, the Beastie Boys appealed not only to the fans they reached in the 1980s but to successive generations, making million-selling albums into the 2000s. They grew up without losing their sense of humor or their ear for a party beat.

Mr. Yauch (pronounced yowk) was a major factor in the Beastie Boys' evolution from their early incarnation, as testosterone-driven pranksters, to their later years as sonic experimenters, as socially conscious rappers — championing the cause of freedom in Tibet — and as keepers of old-school hip-hop memories. The Beastie Boys became an institution — one that could have arisen only amid the artistic, social and accidental connections of New York City.

In the history of hip-hop, the Beastie Boys were both improbable and perhaps inevitable: appreciators, popularizers and extrapolators of a culture they weren't born into.

"The Beasties opened hip-hop music up to the suburbs," said Rick Rubin, who produced the group's 1986 debut album, in a recent interview with The Plain Dealer of Cleveland. "As crazy as they were, they seemed safe to Middle America, in a way black artists hadn't been up to that time."

The rapper Eminem said in a statement, "I think it's obvious to anyone how big of an influence the Beastie Boys were on me and so many others."

The Beastie Boys started their major-label career with two pivotal albums: "Licensed to Ill" (1986), a cornerstone of rap-rock that became the first hip-hop album to top the Billboard chart, and "Paul's Boutique" (1989), a wildly eclectic, sample-based production that became a template for experimental hip-hop.

The Beasties brand expanded well beyond music: with their own magazine and record label, Grand Royal; with the social activism of Mr. Yauch's Milarepa Foundation, which produced an international series of Tibetan Freedom Concerts; and with work in film, as Mr. Yauch (calling himself Nathanial Hörnblowér) directed Beastie Boys videos and went on to start Oscilloscope Laboratories, an independent film production and distribution company.

The Beastie Boys' appeal endured. Into the 2000s they could headline large events like the Coachella Valley Music and Arts Festival. Each of their albums up to "To the Five Boroughs" in 2004 has sold at least a million copies, and many of them have sold in the multimillions, in the United States alone.
Rolling Stone ("Beastie Boys Co-Founder Adam Yauch Dead at 47") adds:
Yauch co-founded the Beastie Boys with Mike "Mike D" Diamond and Adam "Ad-Rock" Horovitz in 1979. The band started off as a hardcore punk group, but soon began experimenting with hip-hop. The band broke huge with their first proper album, Licensed to Ill, in 1986; it was the biggest-selling rap album of the decade and the first to reach Number One on the Billboard chart. Further albums Paul's Boutique, Check Your Head and Ill Communication cemented the Beasties as a true superstar act.

In addition to his career with the Beastie Boys, Yauch was heavily involved in the movement to free Tibet. A founder of the Milarepa Fund, Yauch was instrumental in the first Tibetan Freedom Concert in San Francisco's Golden Gate Park 1996, which drew 100,000 people – the largest U.S. benefit concert since 1985's Live Aid. After 9/11, Yauch and the Beastie Boys organized New Yorkers Against Violence, a concert benefit for some of the victims least likely to receive help from elsewhere.

Yauch also directed many of the Beastie Boys' music videos under the pseudonym Nathaniel Hornblower. In 2002, he launched the film production company Oscilloscope Laboratories. As a filmmaker, he directed the 2006 Beastie Boys concert film Awesome; I Fuckin' Shot That! and the 2008 basketball documentary Gunnin' for That #1 Spot, and his production company released the acclaimed Banksy movie Exit Through the Gift Shop.
Ironically, while Rauch contributed to the racial integration of American popular music, he was also part of its segregation along the lines of musical genre.
The Beastie Boys, comprised of three men about my age who became famous at the height of my musical awareness, made it to the Rock and Roll Hall of Fame. And yet I can name precisely one of their songs. That concept would have seemed incredible in 1986, which was both the year the Beasties broke out and the Hall inducted its inaugural class.
That first group, of course, will never be topped: Chuck Berry, James Brown, Ray Charles, Sam Cooke, Fats Domino, The Everly Brothers, Buddy Holly, Jerry Lee Lewis, Little Richard, and Elvis Presley. All were household names with very, very wide appeal; only Brown among them was arguably a genre-specific artist. Subsequent classes got a bit sketchier, largely because of an attempt to recognize "influencers" who weren't necessarily major artists in their own right and to recognize people outside of rock and roll proper.
Still, jump to the 10th class, 1995, and it's still household names: The Allman Brothers, Al Green, Janis Joplin, Led Zeppelin, Martha and the Vandellas, Neil Young, Frank Zappa, David Bowie, Gladys Night & the Pips, Jefferson Airplane, Pink Floyd, The Shirelles, and The Velvet Underground. (The only outlier was Little Willie John, an R&B artist whose recording career spanned six years and had precisely two top 20 pop songs, none of which cracked the top 10, before dying in prison.)
Jump ahead a bit, though, and you start to see a segregation along stylistic lines. Parliament-Funkadelic and Grandmaster Flash were indicted ten years apart, in 1997 and 2007, respectively. They're the iconic funk bands, but not exactly staples on rock radio. Or look at the 2009 class: Jeff Beck, Little Anthony & The Imperials, Metallica, Run-DMC, and Bobby Womack. There's not a helluva lot of cross-over in the audiences for those acts.
Andrew Sullivan cites an essay by Brayden King written before Yauch's passing to answer in the negative "Do Music Genres Exist?" But, while there may be more hybridization and cross-breeding than ever, I'd argue that there's also more segregation. While it's impossible to avoid rap and its variants–it's everywhere, from movies to shopping venues–we can tailor our music listening experience more than ever before.
Rock radio still existed in those days although, thanks to the phenomenal success of Michael Jackson's "Thriller," was amalgamating into a pop mish-mash guaranteed to please no one. If you wanted to hear Metallica, you probably didn't want to hear Whitney Houston. If you wanted to hear Run-DMC, you probably didn't want to hear REM. So, people gravitated to either niche stations or, increasingly, to the self-selection of their Walkmans and iPods.