Jimmy Buffett, 1946-2023
The Gulf and Western singer, songwriter, and mogul has died at 76.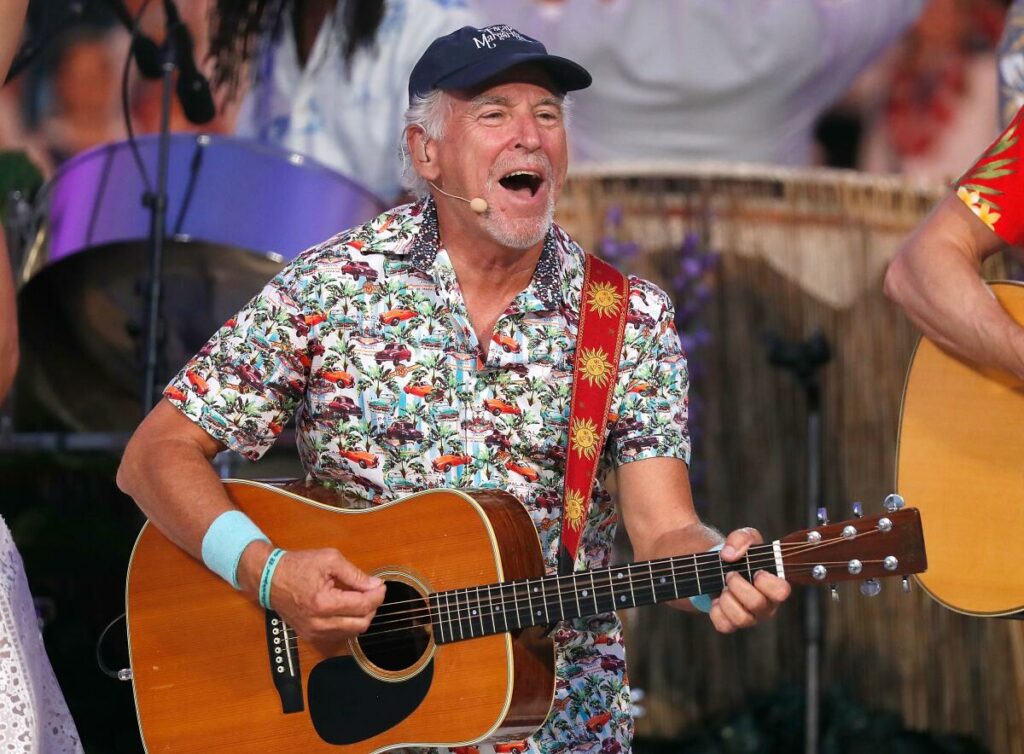 Rolling Stone, "Jimmy Buffett, 'Margaritaville' Singer Who Turned Island Escapism Into an Empire, Dead at 76"
Jimmy Buffett, the singer-songwriter known for his enduring anthem "Margaritaville" and a businessman who transformed the 1977 song into an empire that encompassed restaurants, resorts, and more, has died at the age of 76.

A statement released on his website and social media late Friday read, "Jimmy passed away peacefully on the night of September 1st surrounded by his family, friends, music and dogs. He lived his life like a song till the very last breath and will be missed beyond measure by so many."

No cause of death was disclosed.

Buffett spent most of his life living in or near the tropics, and his country-rock music allowed listeners to experience the carefree feeling of a beach vacation whether or not they had saved up any paid time off. His name alone evokes visions of white sands and fruity drinks, and his devotees, "Parrotheads," have organized themselves into a genuine subculture, with over 200 local chapters across the United States. A shrewd businessman, he developed multiple chain restaurants inspired by lyrics from his songs. In 2023, Forbes magazine estimated his net worth to exceed $1 billion.

Such success would have come as a surprise after his first album, 1970's Down to Earth, sold less than 400 copies.

Buffett was born on December 25, 1946, in Pascagoula, Mississippi. He grew up in Mobile, Alabama, where his father worked at the Alabama Dry Docks and Shipyard. His grandfather was a sea captain who filled Buffett's imagination with stories of his ocean journeys around the world.

Buffett left Mobile as soon as he could, but the city's outsized celebration of Mardi Gras, the oldest Carnival holiday in the United States, shaped his outlook and his art for the rest of his life. "The way I understand it growing up, Mardi Gras was a time for partying, and partying at Mardi Gras took on a whole other definition," he wrote in his memoir, A Pirate Looks at Fifty. "To most people, it was allowing themselves to disregard many of the rules by which they lived most of their lives."

In college at the University of Southern Mississippi, Buffett learned guitar with the hope of impressing girls. The mission didn't succeed, as he had been the first to admit, but his ambitions quickly grew. By his senior year, he was picking up gigs in New Orleans, and after graduation, he and his wife Maggie Washichek moved to Nashville to pursue his music career. (He has claimed that 26 labels rejected him in Nashville.)

He made his first trip to the Florida Keys in 1971, as a passenger in Jerry Jeff Walker's 1947 Packard. Buffett left Nashville after he and Washichek split, and while playing gigs in Miami he tracked down Jerry Jeff, whom he had met while working as a reporter for Billboard. They fixed up the car together and drove it down to Key West. Soon, he told Jerry Jeff to go back without him. Buffett had found his new home

In Key West, Buffett fell in with a crew that included novelists Tom McGuane, Jim Harrison, and Tom Corcoran. "You could get by cheaply in this run-down, undone, semi-Bohemian place and it attracted various rebellious types," McGuane remembered.

"It was still a Navy town," Buffett said of Key West. "It was a gay town. It was a hippie town. It was a local fisherman's town. You want a melting pot? It was just that. It never ceased to give me ideas or hear stories from which those first songs came."

The scene was centered around a bar called the Chart Room, where Corcoran and later Buffett worked. Buffett picked up a gig playing cocktail hour at a bar called Howie's Lounge. "I got a job as a mate on a fishing boat so I played by day, go raise hell all night, sleep for a few hours, and then get up at 4 o'clock in the morning and go catch fish. So I thought, 'I have got this made.'"

Over the course of 1973 and 1974, Buffett would release three albums that charted a new course for the singer. A White Sport Coat and a Pink Crustacean has plenty of Nashville twang — it was recorded at Tompall Glaser's studio there — but tracks like "Why Don't We We Get Drunk" and "Grapefruit – Juicy Fruit" brought the Key West joie de vivre into his music for the first time. These songs are timeless, in the sense that they capture the spirit of a place where people are too unbothered to worry about what time it is.

Up next was Living and Dying in 3/4 Time, the most cynical record of his career — in fact, the only one. Yet his cynicism was aimed wholly at Nashville, shot like a long-range missile from his new base. The near complete lack of lyrics about jellyfish, blackened shrimp, and other finer points of Buffettiana make this record a good starting point for Buffett skeptics. The sharp songwriting makes it a fan favorite, too. Yes, there is a line about lobster in "The Wino and I Know," but other than that, the pleasures of island living stay in the background.

That made A1A, his next album — named for the one road in and out of Key West — something of a change of address announcement. The first side was in line with Buffett's previous releases, but Side Two, opening with "A Pirate Looks at Forty," offered a suite of songs entirely about or inspired by his island home. Three of the five songs take place at least partly on the water, and the two that don't are both set shoreside, finding the singer either drinking by the beach or waking up hammock after doing so. He had found his artistic purpose, and he never second guessed it.

He just needed an audience. "Come Monday," off Living and Dying, had given Buffett his first hit, rising to Number Three on Billboard's Easy Listening chart and Number 30 on the Hot 100. A1A became his first successful album, reaching Number 25 on the charts and earning him and his Coral Reefer Band a slot opening for the Eagles.

Yet the true breakout was Changes in Latitudes, Changes in Attitudes, which was released in 1977 and contained "Margaritaville," Buffett's signature song. Buffett had started writing "Margaritaville" in Austin when he bridged the gap between a morning hangover and an afternoon flight with a drink. "I had a margarita, which helped with the hangover, and in the car on the way to the airport the chorus of a new song started to come to me," he said. "I wrote a little more on the plane and finished the rest of 'Margaritaville' back in Key West."

Buffett intended the song to be, in part, a send-up of tourists who flocked to Key West, a subject he had previously touched on "Migration" off A1A. There was even an extra verse, left off the record, about "Old men in tank tops/Cruisin' the gift shops." But Buffett, to his credit, may have identified with the song's vision of tropical purgatory too closely to fully sell the critique. Just as "Born in the U.S.A." has often been mistaken for a patriotic anthem, "Margaritaville" called tourists to Key West in numbers Buffett could never have anticipated.

Buffett didn't exactly dissuade people from this interpretation. Buffett lent the Margaritaville name to two Key West tourist destinations: the Margaritaville Beach House resort and the Margaritaville Restaurant, the latter the flagship for dozens of restaurants. The empire would go on to include Margaritaville resorts, multiple casinos, Margaritaville at Sea cruises, and Latitude Margaritaville retirement communities.

Buffett's own Key West era ended in 1977, when he sublet his apartment to Hunter S. Thompson. When Rolling Stone put him on the cover in 1979, he was living on the island of Saint Barts, where he was able to access an even higher plane of island existence, making all kinds of new friends in the process. Saint Barts drug smugglers, journalist Chet Flippo wrote, "swear by the man and would no more make a run in their boats without Buffett cassettes on board than set sail without a few cases of [Heinekens]." Buffett's own boat was named the Euphoria II. In the cabin hung a framed picture of Buffett in the Oval Office with Jimmy Carter and Walter Mondale.

Few artists of Buffett's stature, or net worth, have relied so little on album sales. Songs You Know By Heart, a greatest hits album released in 1985, was the best seller of his career, going seven-times platinum. None of his 1980s albums climbed higher than Number 30 on the Billboard 200, yet it was during this time that he developed one of the most reliable touring operations in popular music.

It was also during this time that the fans who turn out to Buffett shows year after year became known as Parrotheads. The term was coined by Timothy B. Schmit, then the bassist for the Coral Reefer Band. "People had already started wearing Hawaiian shirts to our shows, but we looked out at this Cincinnati crowd and they were glaringly brilliant to the point where it got our attention immediately," Buffett said. "I said 'Look at that!' Then Schmit says to me, 'They look like Deadheads in tropical suits. They're like Parrotheads!'"

Buffett remained a reliable draw, and a reliable good time, until the end of his life. Even in 2010, the trade publication Pollstar named Buffett the tenth biggest touring artist of the decade, tallying 4.5 million ticket sales over the previous 10 years. For Buffett and his fans, each show was a minor Mardi Gras, a space where people could forget about everything else going on in their lives and enjoy something fun, festive, and a little weird.
Billboard, "Jimmy Buffett, 'Margaritaville' Singer-Songwriter and Entrepreneur, Dies at 76"
Jimmy Buffett, the easygoing "Margaritaville" singer/songwriter who transformed his no-worries, beachy lifestyle into a five-decade endless road trip as a performer and entrepreneur, has died at age 76. The news, announced on his website and social media accounts, follows Buffett's May cancelation of a show in South Carolina to get treatment for an undisclosed illness.

[…]

Renowned for his wildly enthusiastic audiences — known as "Parrotheads" — Buffett parlayed his cheeky, rum-soaked songs about pirates ("A Pirate Looks at Forty"), boozy beach bums ("It's 5 O'Clock Somewhere"), captains and sand-caked rogues ("The Captain and the Kid") into a permanent vacation journey where every port of call was loaded with fruity drinks, colorful summer-themed outfits and precisely no cares in the world.

With a laconic songwriting style that leaned into his guy-you-wanna-have-six-beers-with persona (and vice versa), Buffett penned such memorable lines as "I took off for a weekend last month just to try and recall the whole year," from 1977's "Changes in Latitudes, Changes in Attitude" single. The primary thrust of his career could be summed up by the title of his 1992 box set: Boats, Beaches, Bars & Ballads.

In addition to his 13 Billboard Hot 100 charting singles — including seven top 40 hits and one top 10 — as well as 40 entries on the Billboard 200 album chart, Buffett's no-worries mien belied a killer business instinct that parlayed the popularity of his island-spiked bar band folk rock anthems into a billion-dollar personal fortune. His sprawling ancillary business org chart included a series of Margaritaville and LandShark Bar & Grill restaurants across the U.S., as well as licensing agreements for Margaritaville tequila, shoes, cruises, pre-packaged food items and an Atlantic City casino.

[…]

Inspired by the attention a college fraternity brother earned from women for playing guitar, Buffett began his first band and quickly graduated from street busking to playing six nights a week at Bourbon Street clubs in New Orleans and then working as a correspondent for Billboard magazine in Nashville from 1969-1970; he was the reporter who broke the news that legendary bluegrass duo Lester Flat and Earl Scruggs were breaking up in 1969.

He released his debut album, the country-leaning folk collection Down to Earth, in 1970, followed by 1973's A White Sport Coat and a Pink Crustacean, which featured the fan-favorite novelty song "Why Don't We Get Drunk (and Screw)," as well as "He Went to Paris" and "Grapefruit Juicy Fruit." The singer finally hit the top 40 with the No. 30 Hot 100 swaying single "Come Monday" from his third album, Living and Dying in 3/4 Time which contained another live staple, "Pencil Thin Mustache."

The release of his sixth album, Havana Daydreamin', in 1976, marked Buffett's highest Billboard 200 album chart placement to date — at No. 65 — but it was the next year's Changes in Latitudes, Changes in Attitudes that proved to be his best-selling breakthrough album thanks to the "Margaritaville" single. The song features a kind of shorthand for the Buffett way of life (and the origins of his fans' nickname) courtesy of the sand-packed first verse, "Nibblin' on sponge cake/ Watchin' the sun bake/ All of you Parrotheads covered with oil," which flip-flops into the iconic chorus: "Wastin' away again in Margaritaville/ Searchin' for my long lost shaker of salt." That song, which spent 22 weeks on the singles chart, topped out at No. 8 on the Hot 100 in July 1977, marking Buffett's highest charting career single.

His hot streak continued on 1978's Son of a Son of a Sailor, which featured another iconic laid-back hit, "Cheeseburger in Paradise" (No. 32 on the Hot 100), as well as "Livingston Saturday Night" (No. 52) and "Mañana" (No. 84). In all, Buffett released 29 studio albums and 14 live albums over his career, including his final studio collection, 2020's fan-curated B-sides, Songs You Don't Know By Heart; at press time Buffett had been teased his 30th studio album, Equal Strain on All Parts, though a release date had not yet been set.

[…]

While Buffett's album and single sales later waned, he remained a huge live draw, playing an endless series of tours with his beloved Coral Reefer Band to his legion of colorfully dressed fans, whose devotion rivaled that of the Grateful Dead's indefatigable "Deadhead" followers. He also launched the Radio Margaritaville channel on SiriusXM and spun off a series of best-selling books, including the short story collection Tales From Margaritaville (1989), his first fiction novel, Where Is Joe Merchant? (1992), the 1998 memoir A Pirate Looks at Fifty and the novels A Salty Piece of Land (2004) and Swine Not? A Novel Pig Tale.

According to the New York Times, he was one of only six writers — along with Ernest Hemingway, John Steinbeck and William Styron — to top both the Times' fiction and nonfiction best-seller lists. Buffett also dipped his toes into two children's books written with his daughter, Savannah Jane, The Jolly Mon (1988) and Trouble Dolls (1991).

Over the years, Buffett also contributed original songs to a number of movies, including Summer Rental, Fast Times at Ridgemont High, Urban Cowboy, Jurassic World and FernGully, as well as filming cameos for Repo Man, Hook, Congo and Rancho Deluxe.
Variety, "Jimmy Buffett, 'Margaritaville' Singer, Dies at 76"
Singer-songwriter Jimmy Buffett, whose laid-back, good-humored, often tropically-themed brand of country-laced pop spawned a lucrative one-man business empire, died Friday. He was 76. A cause of death was not immediately released.

[…]

Over the course of a 50-year professional career, Buffett collected just one top-10 pop hit: "Margaritaville," a marimba-laced, tequila-soaked paean to kicking back on the beach in the aftermath of a breakup, which rose to No. 8 on the national charts.

But Buffett's boozy, punny, often marijuana-scented variety of tropical good-time music struck an abiding chord with an army of enthusiastic fans, who dubbed themselves "parrotheads" in reference to the colorful avian headgear they sported at the musician's sold-out concerts.

[…]

Analyzing the enduring appeal of Buffett's music, Christopher Ashley, director of the 2017 jukebox musical "Escape to Margaritaville," said, "There is a celebratory bacchanalian quality but also a real strain of sadness in those songs. I think his songs have a real philosophical commitment to finding joy now, being as now is the only moment… Don't postpone joy. Embrace it. Grab it. I think that's profound and a great message to send in a world as joy-challenged as this one."

[…]

His biggest latter-day singles were collaborations that found success on the country singles charts. A duet with Alan Jackson, "It's Five O'Clock Somewhere," was No. 1 nationally in 2003, garnering a CMA Award as vocal event of the year. A 2004 version of Hank Williams' "Hey Good Lookin'," cut with Jackson, Clint Black, Kenny Chesney, Toby Keith, George Strait, rose to No. 8. In 2011, he reached No. 1 again alongside the Zac Brown Band on "Knee Deep."
New York Times, "Jimmy Buffett, Roguish Bard of Island Escapism, Is Dead at 76"
Jimmy Buffett, the singer, songwriter, author, sailor and entrepreneur whose roguish brand of island escapism on hits like "Margaritaville" and "Cheeseburger in Paradise" made him something of a latter-day folk hero, especially among his devoted following of so-called Parrot Heads, died on Friday. He was 76.

[…]

Peopled with pirates, smugglers, beach bums and barflies, Mr. Buffett's genial, self-deprecating songs conjured a world of sun, salt water and nonstop parties animated by the calypso country-rock of his limber Coral Reefer Band. His live shows abounded with singalong anthems and festive tropical iconography, making him a perennial draw on the summer concert circuit, where he built an ardent fan base akin to the Grateful Dead's Deadheads.

[…]

Mr. Buffett's music was often described as "Gulf and western" — a play on the name of the conglomerate Gulf & Western, the former parent of Paramount Pictures, as well as nod to his fusion of laid-back twang and island-themed lyrics.

His songs tended to be of two main types: wistful ballads like "Come Monday" and "A Pirate Looks at Forty" and clever up-tempo numbers like "Cheeseburger in Paradise." Some were both, like "Son of a Son of a Sailor," a 1978 homage to Mr. Buffett's seafaring grandfather, written with the producer Norbert Putnam.

[…]

"If Mr. Buffett is a pirate, to borrow one of his favorite images, it is hardly because of his days palling around with dope smugglers in the Caribbean," the critic Anthony DeCurtis wrote in a 1999 essay for The New York Times. "He is a pirate in the way that Bill Gates and Donald Trump have styled themselves, as plundering rebels, visionary artists of the deal, not bound by the societal restrictions meant for smaller, more careful men."

[…]

Mr. Buffett was also an accomplished author; he was one of only six writers, along with the likes of Ernest Hemingway, John Steinbeck and William Styron, to top both The Times's fiction and nonfiction best-seller lists. By the time he wrote "Tales From Margaritaville" (1989), the first of his three No. 1 best sellers, he had abandoned the hedonistic lifestyle he once embraced.

"I could wind up like a lot of my friends did, burned out or dead, or redirect the energy," he told The Washington Post in 1989. "I'm not old, but I'm getting older. That period of my life is over. It was fun — all that hard drinking, hard drugging. No apologies."

"I still have a very happy life," he went on. "I just don't do the things I used to do."

[…]

An avid pilot, Mr. Buffett owned several aircraft and often flew himself to his shows. In 1994 he crashed one of his airplanes in waters near Nantucket, Mass., while taking off. He survived the accident, after swimming to safety, with only minor injuries.

In 1996 another of Mr. Buffett's planes, Hemisphere Dancer, was shot at by the Jamaican police, who suspected the craft was being used to smuggle marijuana. Onboard the airplane, which sustained little damage, were Bono of U2; Chris Blackwell, the founder of Island Records; and Mr. Buffett's wife and two daughters. The Jamaican authorities later admitted the incident was a case of mistaken identity, inspiring Mr. Buffett to write the song "Jamaica Mistaica," a droll sendup of the affair.
Washington Post, "Jimmy Buffett, musical 'mayor of Margaritaville,' dies at 76"
Jimmy Buffett, the singer-songwriter and "mayor of Margaritaville," the mythical paradise of tropical breezes, frozen cocktails and laid-back escapism that inspired his greatest hit and fostered a hugely successful branding and business empire, died Sept. 1 at 76.

[…]

Mr. Buffett, a frustrated Nashville country artist, found his muse when he moved to Key West, Fla., in spring 1972, leaving behind a failed marriage and stalled career. Surrounded by blue water, he donned Hawaiian shirts, cutoff shorts and flip-flops, grabbed an old blender, and embraced the quirky beach community with his musical soul.

"It was a scene," he told Playboy magazine. "Everyone went out and applauded the sunset every night. Bales of marijuana washed up on the shore. There were great cheap Cuban restaurants … Key West seemed like the End: East Coast Division — a common reason people wind up there, especially writers, artists, musicians and other interesting derelicts, drawn by the idea that Key West is the final stroke of a great comma in the map of North America, suggesting more to come but maybe not."

Over the next several years, he helped birth tropical rock, a blend of calypso, rock, folk, country and pop music, and rode its vibe into a five-decade career that married his alluring music with business acumen.

[…]

Tabbed by Rolling Stone as "rock's romantic poet-pirate," he became a guru for Parrotheads, the millions of fans who followed him and his band, the Coral Reefers, on their annual, sold-out cross-country tours.

With his tanned face, receding blond locks and ever-present smile, Mr. Buffett projected an exuberant but down-to-earth presence. His followers — bedecked in feathered headdresses, homemade shark-fin hats and grass skirts — arrived early for concerts and tailgated with frozen margaritas and jerk chicken in the parking lots of concert venues. Some brought giant sandboxes to simulate the beach and continued the boozy celebrations after the concerts ended.

"There are people out there looking for a good time for a few days a year," Mr. Buffett told Rolling Stone in 1996. "We come to town and we're the carnival or the Mardi Gras. People blow off steam and then go back and become basically law-abiding citizens. But to see them on those two days, you'd go, 'My God, this is the most drunk and boisterous maniac crowd you ever saw!'"

[…]

"Margaritaville," a melancholic story of lost love and resigned regret, remained his signature anthem and featured a refrain that resounded far beyond his fan base:

Wastin' away again in Margaritaville

Searchin' for my lost shaker of salt

Some people claim that there's a woman to blame

But I know it's nobody's fault

He claimed to have tossed off the song in six minutes, later telling the CBS News program "60 Minutes" that it was "just another song going on the album, you know? That's the way I looked at it. And then — never in my wildest dream did I ever think it would do what it did. Never."

[…]

Mr. Buffett's beach-bum image defined his stage persona, but he evolved into a savvy businessman.

Forbes estimated his worth at $550 million, and he built a long-term friendship with the financier Warren Buffett, whom he called "Uncle Warren," even though a DNA test determined they were unrelated.

With Uncle Warren as his mentor and Jimmy Buffett's wife Jane as a key business influence, he began in the late 1980s to build the aspirational Margaritaville brand with a chain of restaurants, resorts, clubs, merchandise businesses and retirement communities.

As he began to accumulate boats, planes and properties across the country, including a 500-acre estate in Georgia, he deftly navigated the gap between the original outlier Jimmy Buffett and the mogul Jimmy Buffett. He may have socialized with the movie star Jack Nicholson and the "gonzo" journalist Hunter S. Thompson, but his restaurants were unpretentious — serving "volcano nachos," not wagyu.

Excelling in business, he told Playboy, was his way of maintaining independence, the freedom to do as he pleased, which seemed to satisfy his legion of fans watching out for any signs of inauthenticity.
Wall Street Journal, "Jimmy Buffett, 'Margaritaville' Singer and Beach-Themed Businessman, Dies"
Jimmy Buffett, the understated crooner whose escapist songs became a symbol of kicking back on an island while helping him build a sprawling tropics-infused business empire, has died at age 76.

[…]

Buffett, who sang about beach bums, hustlers and pirates, spun those tunes into tiki and palm tree-adorned business ventures across restaurants, footwear, resorts, real estate, books, Broadway, food and liquor.

"When reality looks too ugly, fantasize," he wrote in his memoir.

[…]

Forbes counted Buffett among the world's highest-earning musicians this year, with an estimated net worth of $1 billion, including $570 million from touring and recording, a music catalog valued around $50 million and $140 million in planes, homes and shares in

Berkshire Hathaway. He once wrote a song about buying Berkshire Hathaway stock, "when it was cheap," and was friends with the company's chairman and CEO Warren Buffett.

[…]

Buffett toured continuously over five decades and had performances scheduled as recently as this summer. In May, he postponed a show in Charleston, S.C. after being hospitalized for unspecified issues. "Growing old is not for sissies, I promise you," he wrote in a statement on X, the platform formerly known as Twitter, adding that he would perform when he was well again.

In late June, organizers of Summerfest in Milwaukee, Wisc., where Buffett was scheduled to play in July, said he wouldn't perform.

"You know Death will get you in the end," he wrote in his memoir. "But if you are smart and have a sense of humor, you can thumb your nose at it for awhile."
Indeed.
His earliest hits were on the radio half a century ago, when I was just seven years old, so I don't remember a world without Jimmy Buffett. And, while I never got into the Parrothead lifestyle—aside from a fondness for margaritas and Aloha shirts—I've been a pretty ardent fan of his music since the late 1980s, when I bought up pretty much all of his albums (initially on cassette and later, more selectively, on compact disc) and listened to them on road trips.
His intellect and poet's soul shone through on so many of his records. Even silly songs like "Why Don't We Get Drunk (and Screw") and "Cheeseburger in Paradise" displayed a sharp wit. And more serious songs like "A Pirate Looks at Forty," "Come Monday," and "He Went to Paris" displayed an emotion depth that belied his carefully crafted beach bum persona.
I wasn't aware that he'd been ill, so was surprised by the news of his passing. I've seen a lot of YouTube videos of him recorded with his granddaughter lately and he still seemed quite sharp and healthy. Regardless, he certainly lived his life to the fullest.