Washington Times Columnist: "Half-White" President Silent On Death Of Beastie Boy
Another bizarre conservative rant about the President.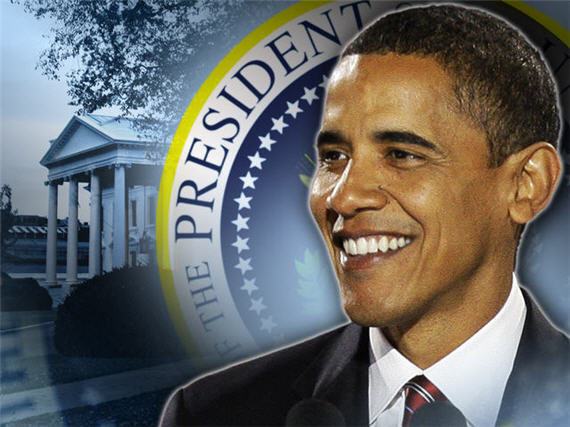 Washington Times columnist Joseph Curl seems to believe he's uncovered proof of Barack Obama's racism in the fact that he didn't say anything about last week's death of Adam Yauch of The Beastie Boys:
Adam Nathaniel Yauch died Friday. If you're age 16-66 — maybe 106 — you know him as MCA, one-third of the Beastie Boys. He was 47. Way too young. But gone.

Now, half-white Barack Obama (exactly my age) didn't say a word, even though he was talking to college kids that day, but make no mistake, MCA was no Jay-Z or Kanye West. This guy was the real deal, groundbreaker, up from his bootstraps, Brooklyn boy made good. Funny the "coolest president ever" doesn't say a word about the passing of MCA. Weird and kinda sad, actually.

(…)

The president took time from his busy schedule to comment on the passing of black musicians. When Whitney Houston, a longtime crack addict, died this year, the White House put out a statement. "I know that [Mr. Obama's] thoughts and prayers are with her family, especially her daughter," press secretary Jay Carney said. "It's a tragedy to lose somebody so talented at such a young age."

And when accused pedophile and drug addict Michael Jackson died in 2009, the White House weighed in with the president's thoughts. "He said to me that obviously, Michael Jackson was a spectacular performer, a music icon," spokesman Robert Gibbs said. "And his condolences went out to the Jackson family and to fans that mourned his loss."

Mr. Obama is said to have 2,000 songs on his iPod, but he's never mentioned the Beastie Boys.
Now, I'm mostly in the same category as James Joyner when it comes to The Beastie Boys. I recall them breaking on to the music scene in the mid-80s and seeing the video for their first song on television a few times but, beyond that, I mostly tuned them out since I wasn't a fan of rap or hip-hop. Nonetheless, I'll take for granted the comments that many have made since Yauch died about the influence the group has had over the years. Taking all that as true here, I've got to ask, what the heck is Curl talking about here? Since when does the death of every musician require a Presidential statement of some kind?
Matt Welch at Reason comes up with what I think is possibly the best response to this nonsense:
JUST STOP IT.

Seriously, as both a fan of the Beasties and a non-fan of Obama, what I really want more than anything is to keep those topics separate, because they have nothing to do with one another, on account of politics being a tawdry zero-sum game and music being totally awesome. I'm not sure what's the sicker impulse here, to seek artistic validation from the White House, to politicize each and every last good goddamned thing about life, or to make this somehow all about race.
As Welch goes on to point out, the thing that distinguishes Whitney Houston and Michael Jackson from Yauch isn't their race but the fact that they were both mega-stars that sold tens of millions of records each and filled stadiums at the height of their careers. With all due respect to Mr. Yauch, he simply wasn't in the same category. Moreover, the fact that a President makes a comment on the passing of one artist or celebrity is really a reflection of their own musical taste, it doesn't create some obligation to give equal treatment to others. Otherwise, the White House Press Office would spend half of it's time writing press releases about dead celebrities. If Mr. Curl is upset that the death of Yauch has gone unremarked upon by the White House, how about the death yesterday of George "Goober" Lindsey from the The Andy Griffith Show?
Besides, if Obama had said something about Yauch's death, then it's likely that Curl and those like him would be writing an entirely different column:
[W]ouldn't we be having a huge, ridiculous discussion about how Obama was trivializing and demeaning the presidency if he had said something about Yauch? Wouldn't we be hearing about the sexism of the early Beasties lyrics, the reported link between the notorious Glen Ridge rape case and the Beasties' "Paul Revere," not to mention the inflatable penis used in their early live shows and the fact that a working title for the first album was Don't Be a Faggot (never mind the fact that the Beasties repudiated much of this youthful obnoxiousness as they got older)? Did Obama need that grief?
Of course, it's hard not to see the racial undertones in Curl's column. The President is "half-white," or as they used to say in the Old South, a mongrel. He remained silent on the death of a white celebrity but not on the deaths of two black celebrities whose biggest achievements in Curl's mind appear to be drug use and being accused, and acquitted, of molesting children. Obviously, Curl wants his readers to reach certain conclusions about the President based on the artists he did publicly memorialize. not to mention language he's using in the column. But, then again, if they're reading The Washington Times, they probably already have those thoughts in their mind anyway.