Giving the Framers a Break
The American political system is broken but it's not fair to blame that on its architects.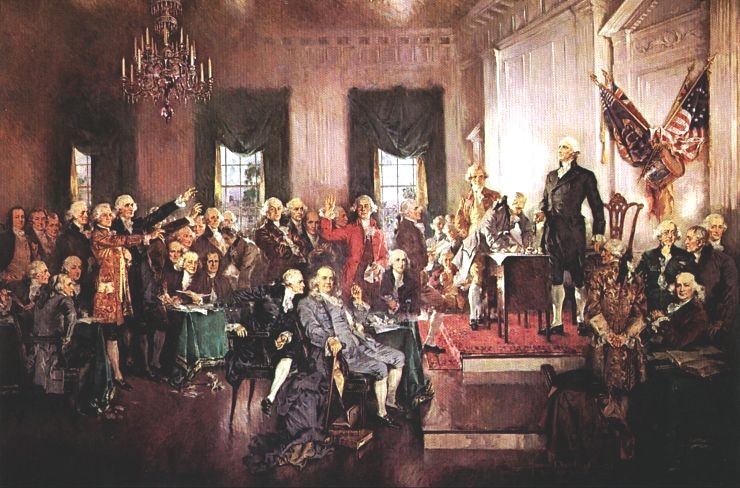 In yesterday's essay, "The Consequences of Design," Steven Tayor correctly notes that "The convergence of design flaws in the Constitution and a flawed leader have brought us to brink of an electoral crisis." His arguments about the unrepresentativeness of the basic system, and the ways it has been compounded by partisan chicanery and a President willing to stoop to any means necessary to retain power are quite reasonable.
For the most part, however, I resist blaming the men who gathered in Philadelphia in 1787 to craft a replacement for the Articles of Confederation for our predicament.
So, yes, having equal representation in the Senate for all states, regardless of population, is inherently undemocratic. And the error is compounded by the fact that the Electoral College doubles down on this. Further, we legislatively capped the size of the House of Representatives at 435 in 1929 and have kept it there despite the population more than doubling since.
As we all learned in grade school, this was part of the so-called Great Compromise. Because the states came to the convention as sovereign equals in a Confederation, that was the starting point of negotiations. The small states had all the leverage and there was only so much they were going to be willing to concede. And, indeed, having the House decided on the basis of population was a huge concession.
Likewise, amending the Constitution is absurdly difficult. The main path requires two-thirds of both Houses of Congress to approve a measure, which then needs to be passed by three-fourths of the states. That's nearly impossible!
But, again, the starting point was the Articles of Confederation, which required unanimous approval of the states to amend. Indeed, major legislation required the approval by 9 of the 13 states. The Constitution was a massive step toward national unity and democracy by comparison.
The real absurdity is that we're trying to govern a continental superpower of 330 million incredibly diverse citizens with a system devised to meet the needs of a fledgling nation of 4 million people clustered along the Eastern Seaboard half a century before the invention of the telegraph.