Glenn Frey, Eagles Founder, Dead at 67
Glenn Frey, bandleader of the Eagles, has died.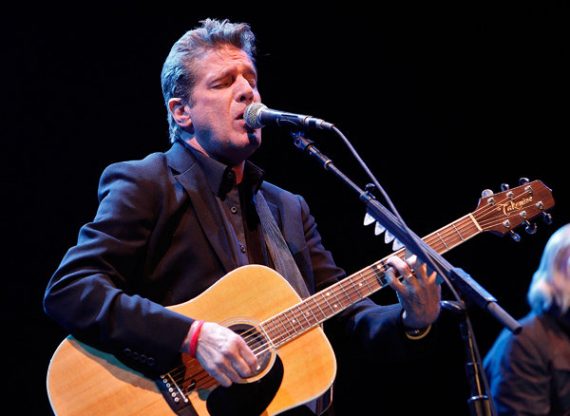 Glenn Frey, bandleader of the Eagles, has died.  The statement from the band's website:
It Is With The Heaviest of Hearts That We Announce…the passing of our comrade, Eagles founder, Glenn Frey, in New York City on Monday, January 18th, 2016.

Glenn fought a courageous battle for the past several weeks but, sadly, succumbed to complications from Rheumatoid Arthritis, Acute Ulcerative Colitis and Pneumonia.

The Frey family would like to thank everyone who joined Glenn to fight this fight and hoped and prayed for his recovery.

Words can neither describe our sorrow, nor our love and respect for all that he has given to us, his family, the music community & millions of fans worldwide.

Cindy Frey | Taylor Frey | Deacon Frey | Otis Frey|
Don Henley | Joe Walsh | Timothy B. Schmit | Bernie Leadon | Irving Azoff
I hadn't realized Frey was ill, having missed the news back in November that the group had postponed their Kennedy Center Honors appearance:
The Eagles have postponed their appearance at the Kennedy Center Honors, scheduled for December 6th, after Glenn Frey was forced to miss the ceremony due to health issues. In a statement, the band announced that the guitarist "has had a recurrence of previous intestinal issues, which will require major surgery and a lengthy recovery period." Instead of being feted at the 2015 ceremony, the Eagles' Frey, Don Henley, Timothy B. Schmit and Joe Walsh will instead receive the Kennedy Center Honors in 2016.
The Eagles were at their height when I was in junior high and forming my own tastes. They were among my favorites, notwithstanding a persistent meme that the band was terrible. The long "History of the Eagles" documentary is quite good and available for streaming on Netflix.
It's amazing to me how long ago the late 1970s were, much less that it's now been over 2o years since the band's reunion with the "Hell Freezes Over" tour. Which means that the band has been back together longer than they were separated. Quite a bit longer, in fact.