GOP Debate Most-Watched Show on TV
A surpringly large number tuned in to see people who won't be the nominee.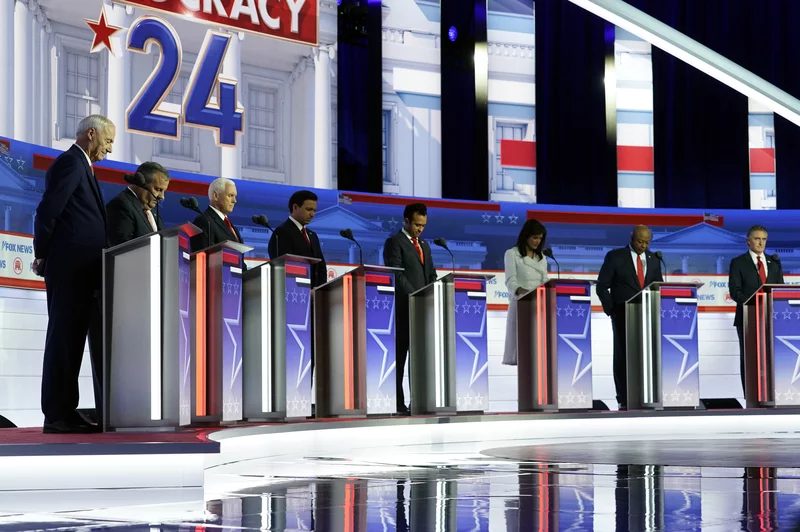 The Hill ("Debate ratings: 12.8 million watched GOP candidates minus Trump battle on Fox News"):
Nearly 13 million people watched the first Republican primary debate on Fox News on Wednesday night, well below the 20 million that tuned into Fox to watch the first GOP primary debate in 2015 — when Donald Trump debuted on the stage.

That 2015 debate was like nothing that had been previously seen on a presidential debate stage before, as Trump, familiar to millions from his years on "The Apprentice," battled former Florida Gov. Jeb Bush and a host of more experienced politicians.

He also memorably clashed with moderator Megyn Kelly, who has since left the network.

The first GOP debate of the 2024 cycle on Wednesday, in comparison, included a number of colorful moments but was a bit more traditional. Without Trump, it did not have the front-runner for the party's nomination, as the former president is well ahead in most polls.

Still, the telecast garnered 12.8 million viewers including 2.8 million in the key advertising demographic of viewers between the ages of 25-54, according to Nielsen Media Research data.

In an era of cord cutting that has seen television ratings drop precipitously over the last decade, Fox highlighted the figure as a healthy number.

More people watched the debate Wednesday night than anything else on broadcast or cable television.

Fox said the debate was the highest-rated nonsports cable telecast of 2023 and that it topped more than 70 percent of all presidential primary debates in the 2016 and 2020 cycles.

The last Democratic primary debate of 2020, which came amid the beginning of the coronavirus pandemic, garnered just over 10 million viewers on CBS, after the two previous Democratic primary debates earned 19 million and 15 million viewers, respectively.

The 12.8 million figure accounts for views on cable Fox News broadcasts as well as Fox's digital streams but does not factor in viewers who saw clips from the debate on social media or portions of the event elsewhere.
Given that Trump was not on the stage and that he's leading the polls by 40-odd points, I'm genuinely surprised that so many tuned it.