Government and Creating Jobs
Yes, government does create jobs.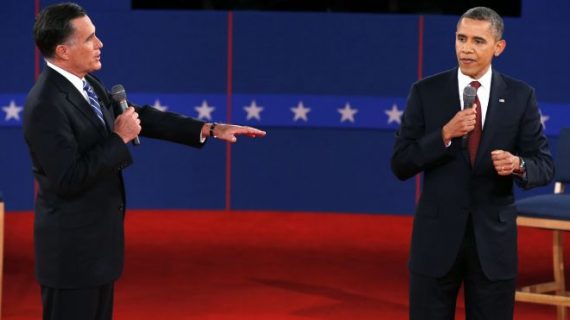 During the debate last night, Governor Romney repeated an extremely common Republican theme:
ROMNEY: Government does not create jobs. Government does not create jobs.
Now, before I start on my response, let me note that I am certainly of the position that the overwhelming focus of the economy ought to be the private sector and that the key to a strong economy recovery is to be found in the private sector.  This is caveat that really should be unnecessary, but there it is just in case it isn't obvious.
Back to the quote:  to me, the statement that "government does not create jobs" is an attempt at setting up a false dichotomy between the public and private sector (and is part of the GOP's simplistic rhetorical war against government in general).  It is also empirically untrue.
I find the false dichotomy problematic because it is part of what I think is a central problem for the Republican Party:  the demonization of government.  This is a problem because governance is difficult-to-impossible if one pretends like government is always the problem and that the only goal for those in elected office ought to be the shrinking, if not the drowning in a bathtub, of government.
And, of course, Republicans don't really believe this as much as they think they do, or else they would not be in favor increasing defense spending.  This is, of course, where the Venn diagram of this discussion overlaps with the job creation portion because one can ask:  is being a soldier a job?  And, more specifically, was it created by market forces or was it created by public policy (i.e.g., by government)?
Well, of course, a soldier draws a paycheck, pays taxes, and buys things in the broader economy that, in turn, helps to maintain (and even create!) private sector jobs.  Indeed, beyond the soldier, one great way to create a pile of private sector jobs in the middle of nowhere is to build a military base.
But, forget soldiers:  teachers, fire fighters, county sheriffs, highway construction workers, etc. are also all real jobs created by the government.
There is no way around this.
Beyond that, the private sectors needs the public sector to create an environment in which to function, which includes basic things like:  public order and a court system to uphold things like titles and contracts (not to mention all the infrastructure that we all need).  And, certainly, the general climate created by the government impacts the behavior of the private sector (and that can mean a lot of different things).
So, the question is not some silly false dichotomy between "real" private sector jobs and "fake" public sector ones, or empirically false statements like "government does not create jobs" but, rather, what the proper policies ought to be vis-a-vis these jobs as well as the general legal regime under which all employers and employees function.  But, of course, that requires taking governance seriously.
Now, I suppose that the focus here is "create" (although even there I am not sure how a job created by legislation is any less a job than one created by the market—again:  paychecks, taxes, and spending ensue from both).  I suppose that if one wants to be reductive one can argue that other people create jobs.  There is no need for a policeman, a teacher, a factory worker, or really much of anything without other people being involved.  Or one could say that either without the dollars of people deployed in the purchasing of privately produced goods or paying tax dollars to support public services then there are no jobs.
Now, are there limitations to how many jobs that government can create?  Of course—but that is true of the private sector as well.   Really, the issues is one of balance, not about stark dichotomies.
If I could boil down my frustration with the GOP to one simple, specific critique:  they do not seem  serious about governing and I think that Romney's quoted statement is indicative of that fact.  As such, I am not (and please, certain commenters take note) calling for a command economy in which the government directs job creation.  I am, however, asking for recognition of reality, which includes understanding that public sector jobs are real and necessary.
A parting thought:  we have, as a country, lost of lot of public sector jobs over the last several years which has had a negative impact on the unemployment rate.  I am pretty sure this means those were real jobs.
Also, a parting chart (good thing those aren't real jobs represented by that blue line!):
(Source)