Governor's Race Could Cost Colorado GOP Ballot Access
According to the latest polls, the third-party candidacy of Tom Tancredo for Colorado Governor has pretty much turned the official Republican candidate for Governor into a non-entity: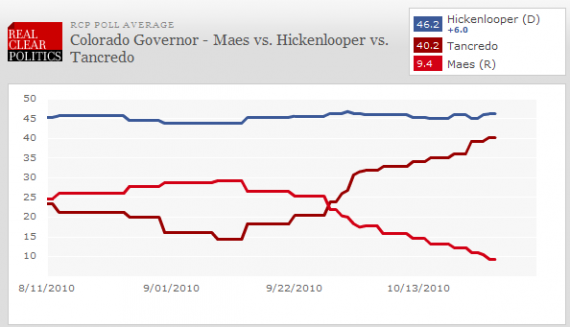 As you can see,  Dan Maes, the Republican candidate is currently below 10% in the poll averages. In some polls, he's already below 5%. And that, is where the Colorado Republican Party could end up with a massive problem:
A poor showing for Maes Nov. 2 could have serious implications for the Republican Party in Colorado. If the candidate fails to garner at least 10 percent of the vote, Republicans could be relegated to minor party status for the next two election cycles, meaning they would appear lower on the ballot and could only receive half as much in donations as Democrats.
In some sense, the Colorado GOP is getting what it deserves here. Maes is a nutty candidate (perhaps even nuttier than Tancredo) and  he's run a horrible campaign. Republican voters had a choice in the primary and for some bizarre reason they picked Maes. Now, it looks like it's going to cost them more than the Governor's Mansion.