Gypsy Moths No More
Lymantria dispar just doesn't have the same ring to it.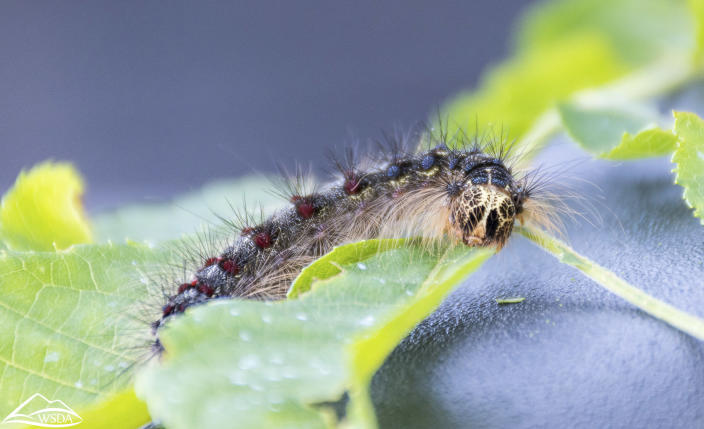 The politically correct wokerati are at it again with their critical insect theories, the New York Times reports.
On Wednesday, the Entomological Society of America announced it was removing "gypsy moth" and "gypsy ant" as recognized common names for two insects.
We're worried that bugs are getting their feelings hurt? What kind of snowflakes are they, anyway?
For Ethel Brooks, a Romani scholar, the move is long overdue.

As a child in New Hampshire, Brooks loved watching worms and caterpillars crawl across her hand. But one particular caterpillar, the hairy larvae of the species Lymantria dispar, terrified her. The larvae would swarm and strip the leaves from a tree, leaving behind so much destruction that people sometimes called them a "plague." But no one blamed L. dispar. Instead they blamed "gypsy moth caterpillars," the species' common name.

"That's how they see us," Brooks remembered thinking as a child. "We eat things and destroy things around us."

Brooks, now chair of the department of women's, gender and sexuality studies at Rutgers University in New Jersey, has spoken out against the use of the pejorative in fashion and college parades, she said. But Brooks never imagined the pejorative could be stricken from its use in the more staid realm of science.

"It's hideous and superracist and it's hurtful," she said. "But what can you do about it?"
That seems awfully sensitive. And (something) (something) history.
The move by the entomological group is the first time it has removed a common name from an insect on the grounds that it is offensive to a community of people, according to representatives from the society.

"If people are feeling excluded because of what we call something, that's not acceptable," Michelle Smith, the society's president, said. "We're going to make changes to be a welcoming and inclusive society for all entomologists."
Seriously, I don't know how many Romani etymologists there are but it's reasonable enough not to want to offend them. And, presumably, there are a lot more Romani non-etymologists who are offended by the term. As a non-Romani, non-etymologist, I spend very little time, indeed, thinking about the moths formerly known as gypsy and was completely unaware that an ant shared that nickname. But, apparently, etymologists are quicker than most at making such decisions:
In the 20th century, the Entomological Society of America formally recognized a list of approved common names in an effort to standardize what many insect species were called. The society maintains a committee that reviews proposals and makes recommendations for new or revised common names.

The group was aware that Lymantria dispar's common name was derogatory, and it received its first formal request in 2020 to remove the moth's name from its list, Stelzig said. The proposal went to the common-names committee, which proposed revising its policies for acceptable common names. The committee also reached out to Romani scholars, including Brooks, Magda Matache and Victoria Rios, to hear their thoughts.

In March, the organization's governing board approved those policies. In June, they elected to remove the pejorative names from the moth and the ant species. "They turned the recommendation around really quickly," Smith said.
As to the new name?
Lymantria dispar and Aphaenogastedriven araneoides will most likely remain without a common name for some time (although if you have suggestions, the society would like to hear them). In the meantime, if you see a hairy, defoliating caterpillar in New Hampshire, you can call it by its scientific name.
I propose Washington football moth.