Hard Choices And D.C.'s Dirty Ghostwriting Secret
She won't admit it publicly, but Hillary Clinton didn't really write her new book.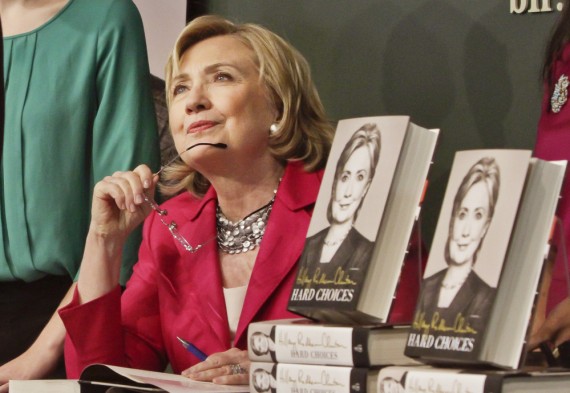 As Hillary Clinton begins her book tour, The Washington Post's Paul Farhi talks about the dirty secret of political biographies, namely the fact that they are rarely actually written by the person whose name is on the cover:
Hillary Rodham Clinton has written a new book. Except maybe she hasn't. It all depends on what the definition of "written" is.

The former first lady, U.S. senator and secretary of state had some help on her new memoir, "Hard Choices." Clinton employed a phalanx of aides and associates in producing the volume, which is being released Tuesday.

But don't expect to hear much about Clinton's "book team," as she calls those who helped her write the book, which carries her name alone on its cover.

Clinton's acknowledgment of her three-man team — Dan Schwerin, a former Senate and State Department aide to Clinton; Ethan Gelber, another State Department aide; and Ted Widmer, a Clinton adviser and Brown University historian — appears in just a few sentences on Page 597 of the 635-page book. Their exact contributions, however, aren't spelled out.

Such is the lot of the ghostwriter.

Actually, many ghostwriters get even less credit. The ghost behind Clinton's 1996 bestseller, "It Takes a Village," wasn't credited at all. That prompted complaints from Barbara Feinman Todd, a Georgetown University lecturer and writer who reportedly labored for seven months on the book (she declined to comment).

Given how frequently politicians use ghostwriters to churn out their hagiographic campaign books, Feinman's complaint implicitly raised a question: Is it ethical to pass off the work of someone else as your own?
Ghostwriting is a common occurrence in politics, of course. In addition to books, where it goes back at least as far as Profiles In Courage, a book for which John F. Kennedy won a Pulitzer Prize but which was largely written by Arthur Schlesinger Jr with Kennedy serving as, at best, an editor, it's also a common practice for Op-Ed and other opinion pieces published under the byline of politicians and high profile pundits. Sometimes, the contributions of ghostwriters to these efforts get acknowledging, albeit often inadvertently, but usually such people wallow in anonymity while the person with the well-known name gets the adulation, the media appearances, and, of course, the vast majority of the money paid by the publishers.
For her own part, Clinton is staying mum on who her ghostwriters were and what they might have contributed to the effort:
Initially, her spokesman, Nick Merrill, deferred the question to her publisher, Simon & Schuster, whose representative also punted. "I think all your questions will be answered when the book is out," said Cary Goldstein, executive director of publicity for the imprint.

Pressed for a response, Merrill said via e-mail, "If I told you, you wouldn't be as motivated to buy the book!"

Pressed again, he replied, "We just want the book to do the talking, that's all."

In fact, all three of Clinton's memoirs have been written with the help of others, if not by others. Her second book, "Living History," was ghosted by Maryanne Vollers, who has also collaborated on books with the actresses Sissy Spacek and Ashley Judd.

Citing confidentiality agreements, Vollers declined to offer specifics about her clients. But she said, "What I can tell you about Hillary is that she was a delight to work with, and we've kept in touch over the years. Although I have absolutely no knowledge of her intentions, I hope she runs again. I'd vote for her in a heartbeat."
There are pragmatic reasons why politicians, and celebrities and other people of note, use ghostwriters. Writing a book is a time consuming task, especially if we're talking about something the length of Hard Choices which clocks in at 635 pages in the hardcover edition, and publishers prefer that books be written on a reasonable schedule so that they aren't waiting years for a book that they may have paid huge advances for.  This is even more true for books such as Clinton, which are obviously being released according to schedules that have as much a political agenda as a business agenda. Writing is also a skill just as much as anything else, and someone who is a good at politics, delivering speeches, business, acting, or signing isn't necessarily going to be very good at writing a book that readers are going to find compelling and interesting. Above all, of course, people are going to be more likely to by a book about Hillary Clinton that is "written" by Hillary Clinton than they are to buy a book about her written by a bunch of ghostwriters that nobody has ever heard of before. Thus, the illusion is created that the subject of the book is the "author" of the book even when that obviously isn't the case.
The question, of course, is whether this is ethical. After all, what's the difference between the ghostwritten political biography and the student who pays someone else to write a college term paper? One obvious difference, of course, is that the student is defrauding his or her professor by passing off the work of someone else as his own, while the politician with the ghostwritten political biography is working with a publisher who is most probably aware of the fact they aren't actually writing the book themselves. Of course, that isn't necessarily the case with the people who buy the book, and the politician in question rarely ever acknowledges that the book isn't really the product of their labor, so the analogy does seem to fit in at least some respect.
Underlying all of this, of course, is the fact that the idea of the political biography is in itself largely absurd. For the most part, they are self-serving and, in the case of Hard Choices largely bland so as to not cause controversy for someone who is obviously intending to run for President. Why publishers pay so much for them is puzzling, as is why anyone chooses to read them.