Harvard Student Arrested For Sending Bomb Threat To Delay Exam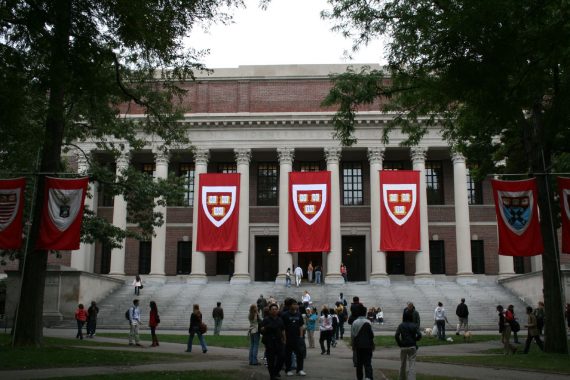 On Monday, four buildings on the Harvard University campus were closed, and the entire school was thrown into chaos, due to a bomb threat that had been emailed to school authorities. The threat led to the cancellation of several final exams scheduled to take place that morning and caused other finals to be moved to different locations to accommodate law enforcement, which didn't complete its searches until well into the afternoon. As it turns out, of course, there were no bombs or suspicious packages found. Immediately, some people speculated that there might be a connection between the bomb threats and the exam schedule and it turns out they were right:
A Harvard student trying to get out of a final exam admitted to the FBI that he sent a bomb threat that forced the university to evacuate multiple buildings and rattled the campus, federal officials said Tuesday.

Instead of going home for winter break, 20-year-old Eldo Kim was arrested Tuesday and held overnight on federal bomb hoax charges. He is scheduled to appear in US District Court Wednesday, said US Attorney Carmen M. Ortiz's office.

The FBI said Kim sent an anonymous e-mail to Harvard officials, campus police, and others at about 8:30 a.m. Monday warning of "shrapnel bombs" in four buildings.

"[Be] quick for they will go off soon," the message warned, according to the FBI, which said Kim admitted to adding the word "shrapnel" because it sounded more dangerous.

The threat prompted the university to evacuate three buildings in Harvard Yard — Emerson, Sever, and Thayer halls — as well as the massive Science Center nearby, just as the 9 a.m. exams were beginning. Coming eight months after the Boston Marathon attack, the threat drew a swarm of law enforcement agencies and attracted international attention.

The search for possible explosives disrupted the campus for much of the day and forced a number of exams to be postponed.

According to an FBI affidavit, Kim used a disposable, temporary e-mail address and a temporary Internet Protocol to send his warning — with the subject line "bombs placed around campus" — to two university officials, Harvard police, and the student newspaper.

But university officials determined by the end of the day that Kim had used a Harvard wireless network to create the IP, prompting an FBI agent and a campus police officer to interview him in his dorm Monday night.

The agent, Thomas M. Dalton, said Kim admitted to authoring the hoax, picking Emerson Hall, the site of his exam, and three other targets.

Then he walked to his exam. "According to Kim, upon hearing the alarm, he knew that his plan had worked," Dalton wrote in the affidavit.

The bomb-hoax charge under federal law carries a maximum sentence of up to five years in prison, three years of supervised release, and a $250,000 fine.
Not to mention the likelihood that he will be expelled from Harvard. How, exactly, he thought he was going to get away with this is beyond me.