Missouri Professor Resigns After Not Canceling Exam
The racial saga at Mizzou has not been solved with the ouster of the president and chancellor.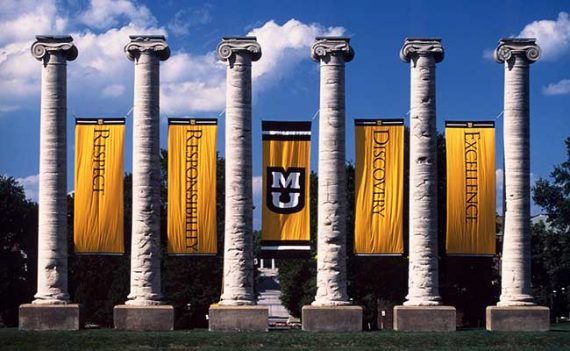 A white professor at the University of Missouri has resigned after making national news for not canceling an exam amid social media threats to black students.
The Washington Post reported ("As death threats spread fear at Mizzou, professor asks students to defeat 'bullies' and attend class") yesterday:
As members of the Missouri Legislative Black Caucus met with student activists at a closed meeting Monday morning, an anonymous caller phoned in a threat to MU's Oldham Black Culture Center.

"There was a call made to the Black Culture Center today a little before noon," MU Police Maj. Brian Weimer told the Columbia Missourian. "It was perceived as threatening, and we're looking into it."

[UM police arrest suspect in social media death threats]

As the day progressed, however, the threats turned to social media. Although their source and credibility were questionable, their ugliness was not, and they stoked fears of a school shooting and drove students — particularly minorities — from campus dorms.

[…]

On Wednesday morning, campus police said an arrest had been made.

"University of Missouri Police have apprehended the suspect who posted threats to campus on YikYak and other social media," the department announced on its Web site. "The suspect is in MUPD custody and was not located on or near the MU campus at the time of the threat."

[…]

Although concrete information was hard to come by Tuesday night, many students described real fear at the threat of an incident on campus Wednesday. Some vowed to stay home.

A white professor, however, challenged his students to come to class, to prevent the "bullies" from winning:

"If you don't feel safe coming to class, then don't come to class," Dale Brigham wrote in an e-mail to his Nutritional Science 1034 class. "I will be there, and there will be an exam administered in our class.

"If you give into bullies, they win. The only way bullies are defeated is by standing up to them. If we cancel the exam, they win; if we go through with it, they lose.

"I know which side I am on," Brigham said in the e-mail. "You make your own choice."

[…]

Brigham confirmed to The Washington Post that he had sent the e-mail.

"Students can come to class and take the exam tomorrow if they wish. My duty is to hold the class. If they choose otherwise, they can take a make up exam," he said in an e-mail. "By the way, the university has not cancelled classes or put out any other official statement regarding these rumors. If they confirm any of these threats, I will follow through appropriately."
By yesterday afternoon, Brigham has resigned his post, apparently under pressure from the administration.  Campus Reform:
Dr. Brigham was sharply criticized in the media for requiring his students to attend class and take their exam. Salon ran a story with the headline "White Missouri professor shames black students for heeding violent threats."The Washington Post featured similar coverage of "a white professor" who "challenged his students to come to class."

Those upset with Dr. Brigham's decision to hold class took to Twitter calling for Brigham to be firedand calling him "a failure as a human being."

[…]

Under intense pressure, Dr. Brigham has both cancelled the exam and resigned from the university, according to screenshots posted online of an email from Dr. Brigham to his students.

"The exam is cancelled. Our students will be able to take the exam at an alternate date with no loss of points," Dr. Brigham told students. "No one will have to come to class today. And, I am resigning my position."

[…]

One University of Missouri student told Campus Reform that Dr. Brigham, who he called "one of the most beloved professors at Mizzou," was forced to resign.

"His class was one of the most popular at Mizzou and he was the friendliest teacher I've ever had. It's a shame that he's leaving while Melissa Click stays," the student continued. The student also told Campus Reform that campus was open and classes were being held, but "false KKK threats" caused a "panic" among students.

[…]

Dr. Brigham confirmed his resignation to KOMU stating "I am just trying to do what I think is best for our students and the university as an institution. If my leaders think that my leaving would help, I am all for it. I made a mistake, and I do not want to cause further harm."
KOMU now reports that the university won't accept Brigham's resignation.
A University of Missouri spokesperson said the resignation was not accepted from a professor who came under fire for an email he sent to a student after threats against the university surfaced on social media.
A bizarre situation all around.
Certainly, in the wake of the firestorm over racial incidents that led to the ouster of the university's president and chancellor and the ensuing threats being propagated over social media, one could understand black students being afraid to come to class. Indeed, given that the administration had been forced to resign over their insensitivity to the previous iterations of the crisis, it's rather shocking that they didn't take the preemptive move of canceling classes until safety was assured.
Were I in Brigham's place, I'd have skipped the note about standing up to bullies even though I share his philosophy on the matter.  Absent a decision from the university otherwise, I'd have held class, seeing it as my place of duty. And I'd probably have postponed the exam unless the academic calendar required getting grades in.  (As best I can tell, it doesn't.)  Still, Brigham's actions here are perfectly defensible in light of a lack of leadership from the administration.
The closest I've been to a similar situation was during the reign of the DC snipers, from 2-24 October 2002. I had just moved to the national capitol region two months earlier and was living and working within the targeted area, having frequented at least one location where someone had been randomly murdered. So far as I know, no serious thought was given to closing the publishing house where I was working at the time and I reported in to work every day. And I continued to shop, refuel the car, and other activities that elevated my risk. While that was all partly motivated by sharing Brigham's view on letting the bad guys win, it was also simply a function of life having to go on.