Have Republicans Lost The Public Relations War Over Public Sector Unions?
As the standoff in Wisconsin drags on, there is no sign that the public accepts the argument being made about public sector unions by Governor Scott Walker and other Republicans.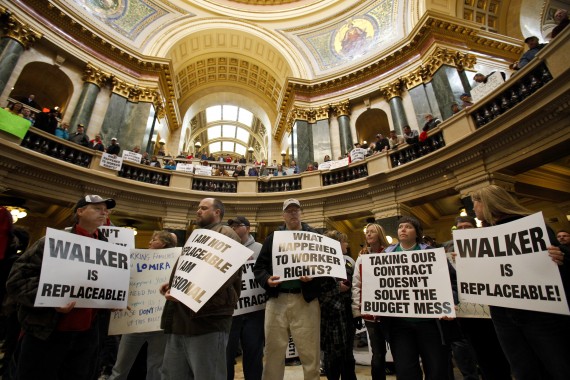 A new round of polls strongly suggests that the GOP's efforts to limit the power of public sector unions, epitomized by the nearly three week long standoff in Wisconsin, has not resonated well with the public, although the calls for public employees to contribute more to the cost of their benefits in an effort to control state budgets appear to be resonating with many voters.
First, a new CBS/New York Times poll shows strong support for the unions:
As labor battles erupt in state capitals around the nation, a majority of Americans say they oppose efforts to weaken the collective bargaining rights of public employee unions and are also against cutting the pay or benefits of public workers to reduce state budget deficits, according to the latest New York Times/CBS News poll.

Labor unions are not exactly popular, though: A third of those surveyed viewed them favorably, a quarter viewed them unfavorably, and the rest said they were either undecided or had not heard enough about them. But the nationwide poll found that embattled public employee unions have the support of most Americans — and most independents — as they fight the efforts of newly elected Republican governors in Wisconsin and Ohio to weaken their bargaining powers, and the attempts of governors from both parties to cut their pay or benefits.

Americans oppose weakening the bargaining rights of public employee unions by a margin of nearly two to one: 60 percent to 33 percent. While a slim majority of Republicans favored taking away some bargaining rights, they were outnumbered by large majorities of Democrats and independents who said they opposed weakening them.

Those surveyed said they opposed, 56 percent to 37 percent, cutting the pay or benefits of public employees to reduce deficits, breaking down along similar party lines. A majority of respondents who have no union members living in their households opposed both cuts in pay or benefits and taking away the collective bargaining rights of public employees.
Second, there's the NBC News/Wall Street Journal poll, which shows similar strong support for union bargaining rights, but also strong support for the idea that union members should contribute more to the cost of their benefits:
Eliminating collective bargaining rights for public-sector workers over health care, pensions or other benefits would be either "mostly unacceptable" or "totally unacceptable," 62% of those surveyed said. Only 33% support such limits.

(…)

The poll shows 68% of the respondents would like public employees to contribute more for their retirement benefits and 63% want these workers to pay more for their health care. Only 29% and 34% find these moves either "mostly" or "totally unacceptable." A clear majority, 58%, also find it acceptable to freeze government workers' salaries as governments get a handle on spending, whereas 40% think that would be unacceptable.

Similarly, 77% of the 1,000 adults interviewed for the poll think unionized state and municipal employees should have the same rights as those union members who work for private companies.
Finally, and perhaps more important in determining how the battle in Wisconsin will finally turn out, a new Rasmussen poll shows Wisconsin voters siding with the unions over Governor Walker:
Most Wisconsin voters oppose efforts to weaken collective bargaining rights for union workers but a plurality are supportive of significant pay cuts for state workers. Governor Scott Walker is struggling in the court of public opinion, but how badly he is struggling depends upon how the issue is presented.  There is also an interesting gap between the views of private and public sector union families.

A new Rasmussen Reports telephone survey of Wisconsin voters shows that just 39% favor weakening collective bargaining rights and 52% are opposed. At the same time, 44% support a 10% pay cut for all state workers. Thirty-eight percent (38%) are opposed. That's partly because 27% of Wisconsin voters believe state workers are paid too much and 16% believe they are paid too little. Forty-nine percent (49%) believe the pay of state workers is about right. (To see survey question wording, click here.)
These numbers mirror other poll results we've seen in the weeks since the stand-off in Madison started, and they suggest two things. First, despite the decline in labor union power and importance over the past several decades, Americans remain strongly supportive of unionism in general and the idea of the right to collective bargain with one's employer, even when that employer happens to be the government. Second, it seems clear that if Governor Walker had limited his dispute with the unions to the benefits issue, as Chris Christie has in New Jersey, rather than taking the entire idea of collective bargaining head-on, he would likely be in a much better position than he is right now.
Economically, it makes perfect sense to require public employers to contribute more to the cost of their benefits. To put it simply. the taxpayers simply cannot afford to do otherwise anymore. There are also common sense arguments in favor of other modifications to public employee contracts, such as the elimination of teacher tenure However, politically, taking on the very idea of unions on head-on was a mistake and may well end up hurting the long term goal of bringing state spending in Wisconsin, and elsewhere, in order.