Hearing Is So Secret That Its Subject Remains Secret
There's a hearing at Gitmo so secret that even the people having the hearing aren't allowed to know what it's about.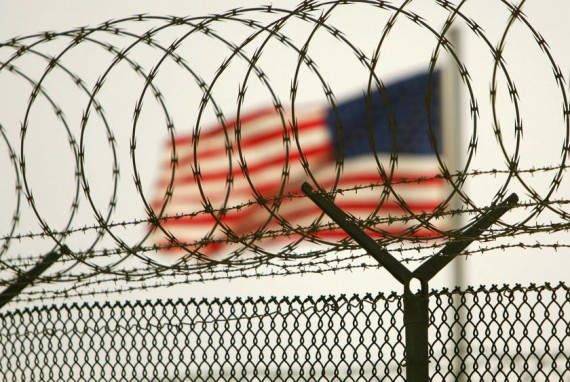 There's a hearing at Gitmo so secret that even the people having the hearing aren't allowed to know what it's about.
Miami Herald ("Guantánamo judge holds first secret hearing of 9/11 trial"):
An Army judge ordered accused Sept. 11 mastermind Khalid Sheik Mohammed and his co-defendants cleared from the war court Monday and held the first secret hearing of the 9/11 capital tribunal on a government motion that's so secret the public cannot know its name.

Army Col. James L. Pohl, the judge, ruled an open hearing would present a risk to national security, without specifying how. He rejected a defense request to include the men who, if convicted, could be executed for conspiring in the worst attack on U.S. soil, including 2,976 counts of murder.

They are Mohammed, 48; two alleged lieutenants in the plot, Walid bin Attash, 35, and Ramzi bin al Shibh, 41; as well as Mohammed's nephew Ammar al Baluchi, 35, and Mustafa al Hawsawi, 45, accused of helping move money and arrange travel for some of the 19 men who hijacked the aircraft on Sept. 11, 2001.

At issue was a motion labeled AE52 and listed as "government consolidated notice regarding ex parte, in camera filing and motion for finding" — in short a secret request from the government for a secret ruling from the judge. The hearing lasted 36 minutes, said Army Lt. Col. Todd Breasseale, a Pentagon spokesman who was unable to provide any specifics besides the motion's name.

James Connell III, Baluchi's Pentagon-paid defense lawyer, argued without specifics that the contents of the motion weren't classified. Even if the public were excluded, he said, the accused should be allowed to hear the arguments because they're held incommunicado, under lockdown at a secret prison on this base with no means to tell anyone but their lawyers what was said.

Prosecutor Joanna Baltes said the U.S. government chose to classify the motion and did not have to justify to the defense lawyers why they had one so. The judge agreed and rejected a request by Connell that at least a portion of the hearing be held in open court.
I'm naturally reminded of this:
There was only one catch and that was Catch-22, which specified that a concern for one's safety in the face of dangers that were real and immediate was the process of a rational mind. Orr was crazy and could be grounded. All he had to do was ask; and as soon as he did, he would no longer be crazy and would have to fly more missions. Orr would be crazy to fly more missions and sane if he didn't, but if he were sane he had to fly them. If he flew them he was crazy and didn't have to; but if he didn't want to he was sane and had to.
Title stolen from the Early Bird.