Helmut Schmidt, Cold War Chancellor Of West Germany In The 1970s, Dies At 96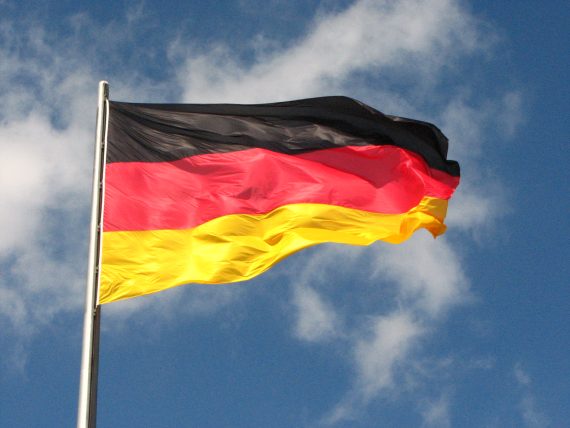 Helmut Schimdt, who served as Chancellor of West Germany for a good part of the 1970s and played a large role in the politics of the Cold War during that era, has died at the age of 96:
Helmut Schmidt, the former West German chancellor who marshaled personal dynamism, managerial brilliance and often acid-tongued impatience to push his country into an assertive international role as the Cold War dragged on into the 1970s, died on Tuesday at his home in Hamburg, according to German news reports. He was 96.\

His death was confirmed by Teresa Maria Frei, spokeswoman for Die Zeit, where Mr. Schmidt was co-publisher.

For decades, Mr. Schmidt was one of West Germany's most popular politicians. With a firm jaw and intense gray eyes, he was handsome, witty and supremely self-possessed, known to be a magnetic speaker and a pugnacious debater. (Early in his career, he was known as "Schmidt the Lip.") As recently as 2013, in a poll by Stern magazine, he was ranked asGermany's most significant chancellor.

His life all but traced the history of 20th-century Germany. A son of working-class Hamburg, he was born in the wake of Germany's humiliating defeat in World War I, witnessed the rise of the Nazis, joined the Hitler Youth, served in Hitler's army — while hiding the fact that he had a Jewish grandfather — and emerged politically in a postwar Germany divided against itself.

Mr. Schmidt rode a difficult period as chancellor after being elected in 1974: The global economy was in turmoil, and tensions with the Communist east had not slackened. And unlike his more accommodating predecessors, he openly jousted with the United States over global economics and relations with the Soviet Union. He barely concealed his disdain for President Jimmy Carter, a novice in international affairs, and his wariness of a bellicose President Ronald Reagan.

At home, he compelled his left-leaning Social Democratic Party to embrace pro-business policies and to support the buildup of the West German armed forces into a bulwark of the North Atlantic Treaty Organization.

At the same time, he pressed the Federal Republic of Germany to forge closer ties with the Communist regime in East Germany.

And working with his close friend President Valéry Giscard d'Estaing of France, he helped soften European distrust of his country for its Nazi past — a past that to many of its survivors was still fresh in painful memory 30 years on.

(Meanwhile, a cigarette smoker almost to the end of his life, he was the only public figure in Germany allowed to disregard smoking bans.)

Mr. Schmidt made grievous policy errors, which were compounded by his unwillingness to admit fallibility and his seeming disregard for diplomacy, with allies and foes alike. They were failings that led the Bundestag, Germany's parliament, to dismiss him after eight years in office.

His detractors accused him of being overwilling to accommodate Moscow in his desire to salvage détente, the notion, backed avidly by West Germany and France, that stronger economic and political ties with the Russians would entice them into a smoother relationship with the West.

Moreover, his intemperate criticism of Washington promoted neutralist, anti-American tendencies in his Social Democratic Party, which only helped undermine his chancellorship.

Mr. Schmidt was confident — too confident, some said — about his ability to sustain prosperity in West Germany. Under his stewardship, his nation fared better than the rest of Europe during the 1970s economic crisis, which was provoked by a sharp rise in petroleum prices controlled by OPEC, the cartel of major oil-exporting countries. But he was criticized in the early 1980s as having failed to prepare West Germans for a recession.

Still, Mr. Schmidt remained popular, owing in no small part to the affection West Germans felt for his down-to-earth wife, Hannelore Schmidt. A biologist and amateur botanist, she eschewed ceremony in favor of promoting conservation and protecting endangered plants. Flowers in Latin America and Africa were named after her, and she wrote or co-wrote books on plants and ecology. She died in 2010 at 91.

Mr. Schmidt might have been able to survive politically if he had antagonized opponents less. But in the Bundestag he was resented for his attacks on legislators who disagreed with him.
Schmidt served as Chancellor of the nation formally known as the Federal Republic of Germany, but more commonly known as West Germany from 1945 until reunification with the east, from 1974 until 1982 when his party lost a no confidence vote in the Bundestag and was replaced by a coalition led by his successor Helmut Kohl, who led a coalition dominated by the Christian Democratic Union. Kohl, in turn, led West Germany through the remainder of the Cold War, which included such issues as the controversial placement of mid-range nuclear missiles in Europe by NATO in an effort to counterbalance deployments of similar weaponry by the Warsaw Pact. Kohl, of course, also presided over the collapse of Soviet influence in East Germany, the dismantling of the Berlin Wall, and became the first Chancellor of a united Germany since the end of World War Two.
More details about Schimidt's life at the link.