Here's a Cult
Brought to you by the son of Moon.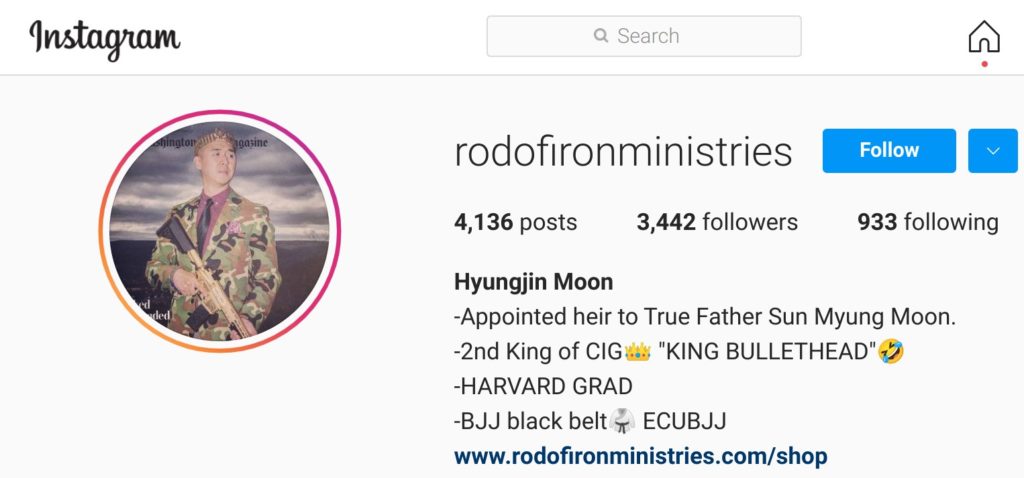 An ongoing topic of conversation here at OTB is about what is a cult or what isn't. I am not aiming to settle that issue here, but if one is looking for a clear example of a cult, I give you, via Vice News, the Gun Church That Worships With AR-15s Bought a 40-Acre Compound in Texas for Its 'Patriots'.
A religious sect known for worshipping with AR-15s and its MAGA politics has purchased a sprawling, 40-acre compound in central Texas, which it hopes will offer a safe-haven for "patriots" from what they believe is an imminent war brought by the "deep state," VICE News has learned.

[…]

The younger Moon, who set up shop in 2017 in Newfoundland, Pennsylvania, follows the doctrine of his late father—with a twist. Moon says he was inspired by a biblical passage in the Book of Revelation that talked about Jesus using a "rod of iron" to protect himself and others. He concluded this was a reference to AR-15s, and integrated high-powered firearms into regular church services, including wedding ceremonies. He founded the church with the support of his brother, Kook-jin "Justin" Moon, the CEO of Kahr Arms, a gun manufacturing company headquartered nearby. 
My first thought is that gun-loving religious sects setting up compounds in Texas have a really bad history. My second, perhaps impolitic, thought is that it is a bit on the nose for one of the founders to have "Kook" as part of his first name. A third thought is that a weird cult worshiping weapons of destruction is a major part of the plot of Beneath the Planet of the Apes (and that didn't end well, either).
Having made my flippant comments, I would state the obvious: this is a disturbing set of behaviors.
From its beginning, the church wholeheartedly embraced former President Donald Trump and incorporated Trumpian culture war and conspiracies into its rhetoric. Moon told VICE News in late 2019 that he believed God was working through Trump to rid the world of "political satanism" (for example, the "deep state" and "the swamp") and restore Eden. Through his gun-centric, MAGA-friendly outlook, Moon has been able to establish some fringe political alliances. Former Trump adviser Steve Bannon spoke at a recent event hosted by the church. Pennsylvania state senator and "Stop the Steal" organizer Doug Mastriano was also recently billed as a special guest at another church event. 
The group appears fully hooked into QAnon and its members were definitely at the Stop the Steal rally and were at least outside the Capitol on 1/6 (as photos on their Instagram account confirm).
Their compound acquisition is reminiscent of the behavior of the militia movement in the 1990s:
"It's a dangerous time, and this is a place of refuge and retreat if our community needs it," Moon said in one of his recent sermons, titled "The King's Report," which he typically delivers wearing a crown made of bullets and a golden AR-15 displayed before him. "Of course, in worst-case scenarios." 
And this is just weird:
He's also adopted a new biker-gang aesthetic, swapping out his camouflage blazers for biker jackets emblazoned with patches showing a crown and "Rod of Iron Ministries," as well as the words "Black Robed Regiment" above an image of an AR-15. 
Nothing says "Jesus of Nazareth" quite like a skull mask.
I guess when trying to follow in a cult leader father's footsteps, one has to find one's own spin on things.
Here is a Vice News feature on the group and a recent event:
More, very telling, photos on their Instagram feed.