Homeless Sweeps are Costly, Ineffective, and Immoral
Cities across the United States are taking the wrong approach to a crisis.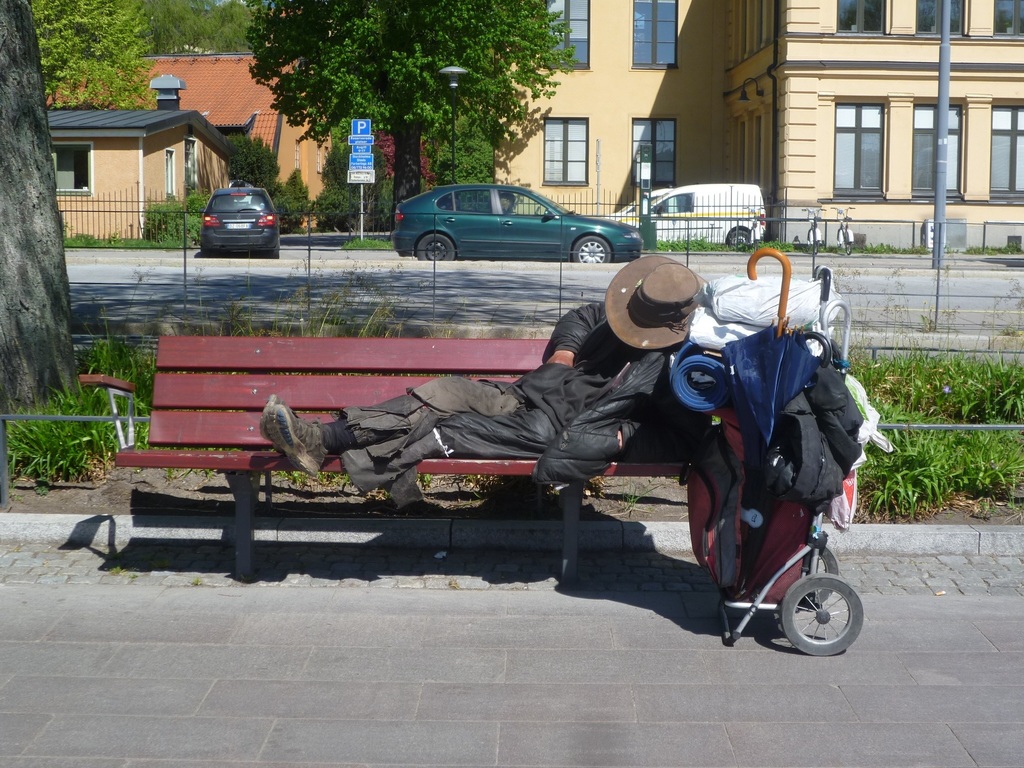 Housing Matters ("Homeless Encampment Sweeps May Be Draining Your City's Budget"):
Amid rising inflation and lack of available, affordable housing, homelessness has been increasing to crisis levels in the United States. According to the National Alliance to End Homelessness, between 2016 and 2020, there was a 6 percent jump in rates of overall homelessness.

During this period, unsheltered homelessness rates increased by 20 percent. Unsheltered homelessness was especially prominent on the West Coast and among women, Black and Latinx people, and people not experiencing chronic homelessness.

Though the reasons for recent increases in unsheltered homelessness are well researched and documented and include the rise of the cost of living, lack of affordable housing, and a lack of resources for people experiencing homelessness, many of the most common responses to homelessness encampments are implemented by law enforcement and fail to address the root causes—while costing cities substantial amounts of money.

People who experience unsheltered homelessness are more likely to have interactions with law enforcement (PDF), such as through homeless encampment sweeps. This contributes to the revolving door of homelessness and incarceration and other legal system involvement, which places immense financial burdens on communities.

[…]

In urban areas, homeless encampment sweeps, in which law enforcement officers or sanitation workers remove entire communities, are a common response to unsheltered homelessness. Sweeps reduce the visibility of homelessness, but evidence shows they only further displace unhoused people and do not address its root causes.

Sweeps exacerbate negative outcomes for people experiencing homelessness while straining city budgets. A United States Interagency Council on Homelessness report showed that responding to homeless encampments cost Houston, TX $3,393,000 and San Jose, CA $8,557,000.
There's quite a bit more to the report which, admittedly, is from an activist group with an agenda.
I've seen several news report headlines from across the country on the issue in recent days. Here's one from The Providence Journal from earlier in the week:
Residents of a tent encampment along the Blackstone River awoke on Wednesday to warnings they had a half-hour to pack up their possessions and leave before the site would be cleared.

"People lost tents. People lost sleeping bags. People lost clothes and food," said Michelle P. Taylor, vice president of social health services at Community Care Alliance.

Advocates for unsheltered Rhode Islanders said they spent the day scrambling to find emergency shelter for the nine or so people who made the state-owned site on Truman Drive their home. At least one man has lived at the site for more than a year.

The dismantling of the encampment came at the direction of Department of Public Works Director Steven D'Agostino, town officials said.

D'Agostino said that workers noticed some broken tree limbs and downed trees in need of clearing and warned people "weeks ago" that they needed to move.

"Obviously, it's unsafe if you are going to be clearing trees. They were given options of different places to go. It's not a surprise," D'Agostino said.

"In case anyone didn't notice, it's winter. No one should be [living] outside," he continued.

He observed that there are several nonprofit organizations operating in the city. "Maybe they should be doing better," he said.

Those comments didn't sit well with the people working on the ground with the unsheltered community.

"The state of RI is experiencing a housing and homeless emergency; we have yet to come to grips with this fact. The people most impacted are families with children struggling with poverty as well as people with serious mental illness, addiction and other health related concerns. … Bulldozing homeless encampments is not a solution, it only creates additional trauma. Without sufficient local shelter and supportive services, this approach does nothing other than to disperse people to other nearby locations," Benedict F. Lessing, Jr., CEO of the Community Care Alliance, said in an email.

Lessing said his organization has been pushing for months for additional shelter resources In Woonsocket.

"Unless the state and local municipalities work in collaboration with nonprofit organizations to develop more shelter, we will see more deaths and overdoses as we have recently. It is time for the governor and the General Assembly to declare this situation an emergency and work to resolve it in a comprehensive and dignified manner," Lessing said.
I don't live in a downtown area, so homelessness is not a hugely visible problem in my daily life. There is the occasional person holding up a cardboard sign panhandling at intersections; whether they're actually homeless, I don't know.
It's certainly a noticeable problem in DC proper, where I used to work and still visit with some regularity. And it was a huge issue in Philadelphia on a visit a few months back. The public parks had been turned into homeless encampments and someone was sleeping on the sidewalks just about every block. And the whole city smelled like piss unless it was obsured by the weed.
The impulse to clean up the problem is understandable. It turns public spaces into private ones, depriving taxpayers and tourists alike of their full enjoyment. And while, as a 220-pound man, I feel reasonably safe, that's presumably less true for women, children, and the elderly.
It's not just minor inconveniences, either, as these headlines from around the country, all within the last few days, suggest:
But criminalizing the problem is immoral and breaking up the encampments and forcing them to settle elsewhere not only shifts the burden to other areas but makes it even harder for the homeless to get on their feet.
Housing Matters suggests some alternatives:
Community response teams. Using community response teams can be a cost-effective strategy in addressing homelessness. The Crisis Assistance Helping Out on the Streets program in Eugene, Oregon, dispatches medical and mental health crisis workers instead of law enforcement. After the program began, the police department saved an average of $8.5 million a year (PDF) during a three year span (2014–17). For communities that have implemented community response teams, evidence shows increases in public safety, fewer and lower rates of suicide, and significant drops in the use of emergency departments.

Continuums of care. Coupled with Housing First, continuums of care provide services such as intensive case management, critical time interventions, and assertive community treatment (ACT). These interventions have been shown to reduce the number of days spent homeless as well as alcohol and substance use, and ACT has been shown to be cost-effective compared with standard case management. One 2020 study showed that 69 percent of the costs of an ACT intervention were offset by savings in other costs such as emergency shelters.

Supportive housing. Research shows it costs taxpayers $31,065 a year to criminalize a single person experiencing homelessness while the yearly cost for providing supportive housing is $10,051. And in the Urban Institute's evaluation of the Denver Social Impact Bond Initiative, researchers found that program participants experienced fewer interactions with law enforcement, reductions in jail stays and time spent in jail, reduced stays in shelters, and reduced use of short-term or city-funded services, such as detoxification services, when they receive such housing.
Again, let's acknowledge that this is an activist group (part of the Urban Institute) with an ideological lean. But it seems obvious that providing people with housing or housing subsidies (depending on their circumstances) along with whatever mental health and other counseling support they need is a more effective and humane response to non-criminal activity than incarceration. That it's also cheaper wouldn't surprise me but I'm a bit skeptical on that score. It's certainly more expensive than harassment but, again, that's immoral—both in terms of the homeless person and the new recipients of the problem.