Occupy Being Occupied
The tents at Occupy Wall Street are increasingly housing the homeless.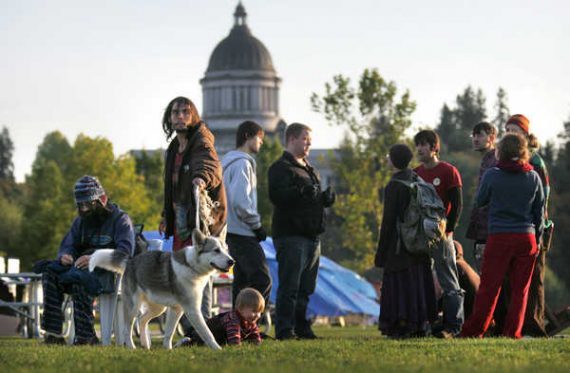 Many of us have predicted that, as the weather cools off, so will the Occupy Wall Street protests–at least the occupying part. It appears to be happening.
It's cooled off considerably in the DC area over the last week or so, with a couple of overnight freezes. So I was actually rather surprised to see just as many tents as before as I drove by the McPherson Square encampment of Occupy DC over the last week.
Last night, though, I had occasion to walk through it on my way back to the car from an event and virtually everyone I saw appeared to my semi-trained eye to be representatives of DC's homeless population rather than bright-eyed 20-somethings. It was a vastly different group of people than I saw just last Thursday night–and it was at least an hour earlier last night, so less likely that the protestors would have turned in.
This isn't hippy punching, just a predictable outcome of human behavior. It's one thing to spend a couple weeks camping out to show solidarity for a cause. It's quite another to do it in miserable, even dangerous conditions. The only time I've ever done it I was in the Army and there was a war on.
OTB Roving Correspondent Richard Gardner passes on word that the same thing has happened in the other Washington, where it's a wee bit cooler. A Tacoma News Tribune report from over the weekend is headlined "100-tent Occupy Olympia has become haven for homeless."
To the outside world, Occupy Olympia is a two-week-old political protest designed to make a point – spotlighting the growing income disparity of 1 percent of the wealthiest compared with everyone else. But inside the village of about 100 tents, the camp has taken on another role, serving as a harbor for the poor and homeless, a place to get food and shelter and connect with social services.

Camp resident Audrey Daye told the Olympia City Council this week that the camp is "probably at this point two-thirds houseless community members and one-third combination of young activists and older progressives." She has been staying there with her husband, Alex, and two children.

Mary Spokane, another camp resident, told the Olympia City Council on Tuesday that the state agreeing to open restrooms 24 hours a day "is what attracted many homeless to our camp." She estimated 50 homeless people have come in. "There's an equality that's happening," she said. "There's immense love that's happening."

Steve Valandra, spokesman for state Enterprise Services, said the camp is allowed there as an expression of free speech. But the rules might change if it is deemed a homeless encampment, he said. "It's not meant to be a homeless camp," he said. "It's not meant to be a place for people to have all the amenities of home."
Leaving aside from the jarring juxtaposition of the views of the Occupy folks and the state employees, this is just a natural evolution. The homeless have no choice but to sleep outside in the cold; not so much most of the protestors. It's apparently happening all over. Adam Nagourney for the NYT:
From Los Angeles to Wall Street, from Denver to Boston, homeless men and women have joined the protesters in large numbers, or at least have settled in beside them for the night. While the economic deprivation they suffer might symbolize the grievance at the heart of this protest, they have come less for the cause than for what they almost invariably describe as an easier existence. There is food, as well as bathrooms, safety, company and lots of activity to allow them to pass away their days.

"When the tents went up, everybody moved in," Douglas Marra, a homeless person in Denver, said. "They knew they could get stuff for free."

But their presence is posing a mounting quandary for protesters and the authorities, and divisions have arisen among protesters across the country about how much, if at all, to embrace the interlopers. The rising number of homeless, many of them suffering from mental disorders, has made it easier for Occupy's opponents to belittle the movement as vagrant and lawless and has raised the pressure on municipal authorities to crack down.

In Atlanta on Saturday, demonstrators who had been thrown out of Woodruff Park by the police moved into upper floors of the Peachtree-Pine homeless shelter in a full-scale embrace of the cause of the 600 residents who live below them. It gave the demonstration more of a political focus, and not incidentally expanded its size.

"The homeless bring numbers," said Alex Smith Jr., 50, a former repairman who lives at the shelter and joined the protests. "They bring a voice."

But in places like Nashville, New York, Los Angeles and Oakland, Calif., protesters talk about feeling unsafe because of the presence of homeless people.

"There are a lot of them here that have mental problems and that need help. They are in the wrong place," said Jessica Anderson, 22, who is herself homeless, sitting with friends on a tarp at the Los Angeles site. "They have been creating more problems. There was one guy who showed up last night and he would not shut up: Saying all kinds of crazy stuff all night."

In Nashville, organizers described the homeless as more of a detriment to the movement than an asset. "This is keeping people away: It distracts a lot of energy away from the issues we're fighting for when we're just managing life in the camp," said Bob Titley 56, one of the participants in Occupy Nashville. "A lot of women felt unsafe camping out at night. It discourages a lot of people from participating."

The influx of homeless has been continuing at a steady pace, even as the overall populations of some of the demonstrations have faded under the pressures of dropping temperatures, the passage of time and increasingly aggressive police tactics. Some organizers estimated that as many as 30 percent of the people camping out in some cities were chronically homeless, a figure that seems impossible to verify.
There's some predictable schadenfreude on the part of some on the right about the irony of a protest movement that has annoyed the residents of some in the impacted communities now having to contend with some of the same issues. Then again, as Glenn Wright notes, there's a more tragic irony at work here:
If you want to understand one acute irony of the current Occupy Wall Street and other occupation protests going on around the nation, you have to consider that the real permanent occupation protests against inequality have had little impact—i.e. the protests represented by America's homeless population.

Widely hated by people who find the homeless dangerous or at best a blight against business, homelessness is a constant reminder that the USA has another 1%—the people who are economically the worst off in the nation. Many of these people are homeless, although the USA as a nation keeps no accurate figures on the number of homeless people.

[…]

Increasingly, homeless people are recognizing that they have every right to be included in the occupation protests such as Occupy Wall Street. Media reports have often attempted to depict basic divisions between the occupiers and the homeless, quoting OWS protesters, for example, as wanting to distinguish themselves and their aims from what have been described as the "professional homeless".

The latter label, describing homeless people skilled at surviving on the streets, has been used to suggest that many of the occupations were infiltrated by people looking only for a meal and a safe place to sleep—as if such a need disqualified someone from making a valid protest against economic inequality.

However, more and more, the occupation movement has come to realize an essential link between the aims of the movement, and the permanent and difficult existence of America's homeless, who are the most explicit example of the human cost of inequality in the USA.
Homelessness is a more complex issue than mere economic inequality. A remarkable number of the population are mentally ill or addicted to drugs or alcohol and we simply have a failed system at dealing with those issues, to the extent we deal with them at all.
The "occupy" part of the Occupy movement has served its purpose, likely beyond the expectations of the organizers. It became a national and international sensation and helped bring  a conversation that was happening on the sidelines front and center.
Apparently, they're already abandoning their campouts in droves, along with their tents. Which I'm sure the homeless appreciate. Now it's time for the protestors to figure out a new way to keep the conversation going and, hopefully, help direct it to something beyond talk.