Occupy Wall Street Outside The Mainstream?
Does "Occupy Wall Street" really represent the people they claim to be speaking for?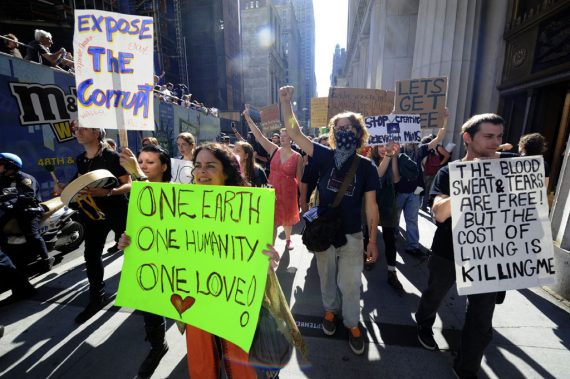 As Steven Taylor has already noted today, there's a lot of discussion going on in political circles right now trying to understand what the whole "Occupy" movement is all about, what motivates, and what it means politically. As I noted yesterday, there is an element of the phenomenon, focusing as it does on the interactions between a government that is too big and spends too much and the businesses that seek to profit from that, that has merit. At times, though, it also seems like much of what we're seeing from this movement isn't all that different from the leftist/anarchist groups that used to tie up traffic in D.C. and other world capitals protesting the World Bank and the IMF, not to mention a rehash of may of the same left-wing diatribes against capitalism we've been hearing for decades now. The truth, perhaps, lies somewhere in between.
In an effort to try to understand this movement, Democratic Pollster Douglas Schoen went down to the Occupy Wall Street protest and polled the participants. He came back with a warning for his fellow Democrats:
President Obama and the Democratic leadership are making a critical error in embracing the Occupy Wall Street movement—and it may cost them the 2012 election.

Last week, senior White House adviser David Plouffe said that "the protests you're seeing are the same conversations people are having in living rooms and kitchens all across America. . . . People are frustrated by an economy that does not reward hard work and responsibility, where Wall Street and Main Street don't seem to play by the same set of rules." Nancy Pelosi and others have echoed the message.

Yet the Occupy Wall Street movement reflects values that are dangerously out of touch with the broad mass of the American people—and particularly with swing voters who are largely independent and have been trending away from the president since the debate over health-care reform.

The protesters have a distinct ideology and are bound by a deep commitment to radical left-wing policies. On Oct. 10 and 11, Arielle Alter Confino, a senior researcher at my polling firm, interviewed nearly 200 protesters in New York's Zuccotti Park. Our findings probably represent the first systematic random sample of Occupy Wall Street opinion.
When I first heard about this piece this morning, I had doubts mostly because its not clear that whatever sample of people Schoen's group had interviewed would be a representative sample of the people at Zuccotti Park, and it would seem hard to argue that they are necessarily a representative sample of the groups participating in similar protests in other parts of the country. Nonetheless, the post has generated plenty of discussion across the blogosphere, and the finding are interesting to say the least:
Our research shows clearly that the movement doesn't represent unemployed America and is not ideologically diverse. Rather, it comprises an unrepresentative segment of the electorate that believes in radical redistribution of wealth, civil disobedience and, in some instances, violence. Half (52%) have participated in a political movement before, virtually all (98%) say they would support civil disobedience to achieve their goals, and nearly one-third (31%) would support violence to advance their agenda.

The vast majority of demonstrators are actually employed, and the proportion of protesters unemployed (15%) is within single digits of the national unemployment rate (9.1%)

An overwhelming majority of demonstrators supported Barack Obama in 2008. Now 51% disapprove of the president while 44% approve, and only 48% say they will vote to re-elect him in 2012, while at least a quarter won't vote.

Fewer than one in three (32%) call themselves Democrats, while roughly the same proportion (33%) say they aren't represented by any political party.

What binds a large majority of the protesters together—regardless of age, socioeconomic status or education—is a deep commitment to left-wing policies: opposition to free-market capitalism and support for radical redistribution of wealth, intense regulation of the private sector, and protectionist policies to keep American jobs from going overseas.

Sixty-five percent say that government has a moral responsibility to guarantee all citizens access to affordable health care, a college education, and a secure retirement—no matter the cost. By a large margin (77%-22%), they support raising taxes on the wealthiest Americans, but 58% oppose raising taxes for everybody, with only 36% in favor. And by a close margin, protesters are divided on whether the bank bailouts were necessary (49%) or unnecessary (51%).

Thus Occupy Wall Street is a group of engaged progressives who are disillusioned with the capitalist system and have a distinct activist orientation. Among the general public, by contrast, 41% of Americans self-identify as conservative, 36% as moderate, and only 21% as liberal. That's why the Obama-Pelosi embrace of the movement could prove catastrophic for their party.
The reactions to Schoen's Op-Ed are about what you would expect. On the right, it's being seen as confirmation of what they already thought about Occupy Wall Street. On the left, there is rejection, the assertion that Schoen is mis-stating his own results,  and an attempt to discredit Schoen by pointing out, for example, that he's done work for Citibank. It's worth noting, though, that Schoen's findings are consistent with a smaller survey taken earlier in October by New York magazine, and also seems to jibe with the Nate Silver's examination of the geography of the protests. Silver found that participation in the protests has been proportionally larger in the Western United States, and comments:
This could be due to a number of factors. Perhaps it has something to do with race, for instance. Cities where African-Americans make up a majority of the population, like Detroit, New Orleans and Cleveland, have tended to have underwhelming numbers of protesters and poorly organized Occupy groups. (There are plenty of those cities in the South, the Northeast and even the Midwest — but not really in the western United States).

Or maybe it has something to do with technology: Much of the organizational activity for the Occupy movement has taken place online, and the West Coast is particularly tech-savvy.

I suspect that more than anything, however, it reflects the politics of the protesters. Specifically, they tend to be more liberal than they are Democratic partisans. Take liberalism, subtract the Democratic Party, and the remainder might look something like Occupy Wall Street
The New York Times took a different approach than Schoen did, and at least outside New York City the common theme seems to be anger at the status quo:
PHOENIX — Ken Alandt's guitar, which he covered with bumper stickers and waved in the air at the Occupy Phoenix protest on Monday, is a symbol of the movement itself — a mélange of disparate causes, all of which prompt his blood to boil.

Mr. Alandt, 53, an out-of-work stagehand and one of hundreds participating in Phoenix's version of Occupy Wall Street, is furious that people are dying in foreign wars. He is angry that medical marijuana was still considered illegal despite Arizona voters' approval of it. He is livid about his lot in life.

"Bro, I have been lied to so many times that I don't know who to believe," Mr. Alandt said. "All the world's problems run downhill, and I'm at the bottom."

Protesters have taken to the streets and parks in cities across America, and in foreign capitals to boot, all under the banner of the Occupy movement. But not every group that has embraced the name, nor every individual who answers its call, necessarily marches in the same contentious lockstep.

While the protesters seem united in feeling that the system is stacked against them, with the rules written to benefit the rich and the connected, they are also just as often angry about issues closer to home, like education and the local environment. Each gathering bubbles up from its own particular city's stew of circumstances and grievances, and the protesters bring along their pantheons of saints and villains.

"Peace activists, indigenous rights activists, immigrant activists — they're all here," said Liz Hourican, 40, who belongs to the antiwar group Code Pink and was scrawling a message in pink chalk on a sidewalk in downtown Phoenix, calling on American troops to come home. "It may sound different to you, but it's all the same. We're all stepping up and saying something's wrong."

There may be no common manifesto or list of goals — something that has drawn criticism from both inside and outside the movement — but there is one common thread: anger. Some have looked for jobs for months; others have lost their homes to foreclosure. Angry, they all are.

"What brings me out here? Outrage — outrage with what's going on in this country," said Lucy Horwitz, 79, who participated in Occupy Los Angeles. "Right now, the first issue on my mind is that corporations can buy congressmen."

(…)

The ad hoc nature of the protests led to some discord.

Jean Marie Simpson, an actor and peace activist, objected when her fellow demonstrators at Occupy Tucson surrounded a man who had assailed the movement, shouting at him and thrusting signs in his face. "I left disappointed and disillusioned," she said of her fellow occupiers.

But the inclusive nature of the movement, many said, gave it its strength. In Occupy Los Angeles, mothers from Malibu gathered outside City Hall with homeless people who took advantage of the free food offered in a tent city that is growing by the day.

"Everyone is here for very separate reasons, and that's one of the reasons that this movement works," said Sam Agger, an Occupy Tucson participant.
Actually, it strikes me that a lack of unity beyond some generalized sense of anger and economic uncertainty is nowhere near enough for the creation of a movement that has a shot of having an impact on political discourse in this country. The Tea Party ultimately succeeded, I would submit, largely because it quickly became focused on a limited number of issues and limited goals. Primarily, of course, there was the debate over health care reform that started at nearly the same time that the Tea Party protests themselves were beginning. During the summer of 2009, that led to many highly contentious constituent town halls where opponents made their voices known, as well as protests of one kind or another in various parts of the country. Add into that mix the fact that the economy was not improving and that the stimulus package passed in February 2009 was not appearing to have any real impact on the economy, and you've got a perfect political storm in many respects. Had these factors not been present, it's possible that the Tea Party would've fizzled out or remained too divided on what the "important issues" were to have any real impact on politics.
The "Occupy" movement faces the same problem, it seems. Remaining unfocused and appealing to the public's general disdain with the political system, something which Americans of all ideological stripes seem to share at the moment, can only last for so long. At some point, the movement either has to focus on clear goals, or it will end up fading away into something similar to the anti-globalization and anti-war protests we used to see during the Bush Administration, both of which were dominated by groups on the far left of American politics. That seems to be what findings like those reported by Schoen, New York, and Silver are suggesting.