Occupy Wall Street Not Our Arab Awakening
A meme is emerging that the Occupy Wall Street protests are America's version of the Arab Awakening. That meme must die.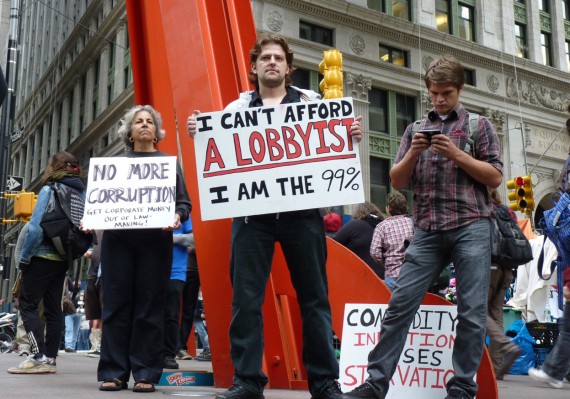 A meme is emerging that the Occupy Wall Street protests are America's version of the Arab Awakening. That meme must die.
NYT columnist Charles Blow ("Hippies and Hipsters Exhale") seems to have started it:
Ever since the Arab Spring, many people here have been pining for an American Autumn.

The closest we've gotten so far is Occupy Wall Street.

For two weeks, a "leaderless resistance movement" of a couple hundred people (depending on whom you ask) have camped out and sat-in at a tiny park in Lower Manhattan to protest greed and corruption, among other things. The protests were first called for in July by the magazine Adbusters, which calls itself "a global network of culture jammers and creatives."
His colleague Nicholas Kristof ("The Bankers and the Revolutionaries") piles on:
The "Occupy Wall Street" movement has taken over a park in Manhattan's financial district and turned it into a revolutionary camp. Hundreds of young people chant slogans against "banksters" or corporate tycoons. Occasionally, a few even pull off their clothes, which always draws news cameras.

"Occupy Wall Street" was initially treated as a joke, but after a couple of weeks it's gaining traction. The crowds are still tiny by protest standards — mostly in the hundreds, swelling during periodic marches — but similar occupations are bubbling up in Chicago, San Francisco, Los Angeles and Washington. David Paterson, the former New York governor, dropped by, and labor unions are lending increasing support.

I tweeted that the protest reminded me a bit of Tahrir Square in Cairo, and that raised eyebrows. True, no bullets are whizzing around, and the movement won't unseat any dictators. But there is the same cohort of alienated young people, and the same savvy use of Twitter and other social media to recruit more participants. Most of all, there's a similar tide of youthful frustration with a political and economic system that protesters regard as broken, corrupt, unresponsive and unaccountable.

"This was absolutely inspired by Tahrir Square, by the Arab Spring movement," said Tyler Combelic, 27, a Web designer from Brooklyn who is a spokesman for the occupiers. "Enough is enough!"
Micah Sifrey ("#OccupyWallStreet: There's Something Happening Here, Mr. Jones") joins in:
America is about to experience the same youth-driven, hyper-networked wave of grassroots protests against economic inequality and political oligarchy that have been rocking countries as disparate as Tunisia, Egypt, Israel, Greece and Spain. The occupation of the Wisconsin state legislature last winter was a harbinger, but now all kinds of previously disconnected individuals, loosely centered on a core of beautiful-style troublemakers and inspired by events and methods honed overseas, are linking up and showing up to occupy symbolically important centers in their cities, from near Wall Street in downtown Manhattan 15 days ago, next to Chicago a week ago, to an explosion of events all over major cities across America this weekend, including at the Federal Reserve building in Boston, MacPherson Square in Washington, DC, to city hall in Los Angeles, plus more than 100 others. This thing is growing in Internet time and no wonder, for it is built on networked culture.

[…]

The protest, or occupation, is now in its third week, and in addition to a steadily increasing level of media coverage, this coming Wednesday a range of local unions and progressive groups are planning to rally their members to join in. Stubborn resilience plus some outraged media attention to police brutality seems to have been enough to light the spark, but beneath that, credit must go to the horizontal adhocracy running the occupation downtown, which has developed its own infrastructure for internal and external communication and social support. And it's doing this without obvious leaders (who could be arrested and held to suppress the movement) or institutional backers (who could be pressured), and with a wide array of networked support that is being marshaled via Internet Relay Chat, blogs, Facebook pages, Twitter, livestreaming, online video and street theatre.
What these movements have in common: frustrated youth loosely organized using social media.  What differentiates these movements: size, political climate, and consequences.
In cities all the Arab world, disaffected youth are rising up in mass form against brutal dictators at the peril of being gunned down in the streets. In cities all around America–but mainly New York City–the usual suspects are showing up in small numbers to protest often contradictory things only tangentially related to their democratic political system, facing the peril of being detained for a few hours and issued a misdemeanor citation for disturbing the peace or impeding traffic.  It's simply insulting to compare the two.
Indeed, all three of the columns acknowledge as much.
Blow notes that "it feels like a festival of frustrations, a collective venting session with little edge or urgency, highlighting just how far away downtown Manhattan is from Damascus — the hyper-aggressiveness of the police not withstanding."
Kristof adds:
Where the movement falters is in its demands: It doesn't really have any. The participants pursue causes that are sometimes quixotic — like the protester who calls for removing Andrew Jackson from the $20 bill because of his brutality to American Indians. So let me try to help.

I don't share the antimarket sentiments of many of the protesters. Banks are invaluable institutions that, when functioning properly, move capital to its best use and raise living standards. But it's also true that soaring leverage not only nurtured soaring bank profits in good years, but also soaring risks for the public in bad years.

[…]

Much of the sloganeering at "Occupy Wall Street" is pretty silly — but so is the self-righteous sloganeering of Wall Street itself. And if a ragtag band of youthful protesters can help bring a dose of accountability and equity to our financial system, more power to them.
Sifry is more sympathetic but, still:
The notion of "taking" Wall Street didn't make physical sense: as a longtime New Yorker who has been down there at protests, I knew that the police would never let protesters get anywhere close to shutting down the Stock Exchange. Nor did it seem likely that you could get enough people to mass in the area to effectively stop business as usual. There are obviously lots of people who are hurting in today's economy, but the larger immediate environment of Manhattan is hardly representative of the rest of America; we're floating on a bubble of rich people who makes their homes here, plus tons of tourists, and many of the ordinary people who live or work near downtown make their money from Wall Street's trickle down. Sure, we have many struggling folks in New York, but many of them choose to be here because they're seeking their fortune in one of the city's many glittering industries. Without real roots in the outer borough (and outer suburb) working communities–where the cops, firefighters, teachers, construction workers, health service workers and small business operators mostly live–and with a seeming surplus of misfits and the usual Hollywood liberals showing up to send their off-putting signals to the rest of the country, Occupy Wall Street seemed ill-suited to strike the chord of American discontent with the economy and see its message resonate.
Still, Blow pleads, "While it lacks the clarity and size — at least so far — of other protests we've seen in this country, let alone in other countries, it does highlight a growing sense of disillusionment among Americans and the failures and ineffectiveness they feel from the current government in addressing their concerns." He points to findings from some recent polling:
• 81 percent of Americans said they were dissatisfied with the way the country is being governed.

• Confidence in Congress reached a new low last month.

• Americans' confidence in the people who run for or serve in office is also at a new low.

• The 15 percent of Americans approving of Congress in the September poll is just 2 percentage points above the all-time low recorded twice in the past year.

• At 43 percent, fewer Americans today than at any time in the past four decades said they have a great deal or fair amount of trust in the federal government to handle domestic problems.

• Americans' sense that the federal government poses an immediate threat to individuals' rights and freedoms is also at a new high.

• Americans are more than twice as likely to say President Obama and the current Congress are doing a poor job as a good job of dealing with the nation's most important problems. Most even believe that they're doing worse than their predecessors.
But Occupy Wall Street isn't addressed at any of these issues. They should be occupying Capitol Hill, not Wall Street, if these are their concerns.
Indeed, Blow seems to agree:
But even with high levels of unhappiness and star power involved, there is something about Occupy Wall Street that feels like a spark set down on wet grass: It's just hard to see how it truly catches fire. (Some of the city's largest labor unions and liberal groups are expected to join the protest next week. Maybe that will help.)

This has less to do with what began as a mission — after all, it's hard to argue with the idea of fighting greed and corruption — than with the fact that it has nowhere to go.

While many Americans are feeling the pain from this financial crisis and our leaders' at-times-wrongheaded-at-other-times-heartless attempts to deal with it, many of the most adversely affected have yet to find a way to funnel their pain into political passion. Many still don't seem to see the fight the way that many activists frame it: as a zero-sum game of taxation or belt-tightening between the haves and have-nots.

[…]

Although the protest is framed as a partyless movement, New York Magazine said in its preview that one of the organizers essentially said that Occupy Wall Street was meant as a "rebuke of 'neoliberal economics,' and a youth-driven lefty answer to the Tea Party."

But the Tea Party has a specific political agenda. This protest does not. The Tea Party did a great job of channeling anger into electoral outcomes and shifting electoral sentiment.
There's a lot of frustration out there, much of it legitimate. While I'm less sympathetic to the protesters than these columnists, I opposed the bailouts of the big financial companies and the whole notion of Too Big To Fail.
Random protests years after the fact are a bizarre reaction to all that in a representative democracy. If there's really a movement out there to change the way we do business, then organize that effort into a political movement and get into the arena rather than clogging up the Brooklyn Bridge.
Sifry disagrees:
I think it's time to recognize that we're no longer in a what veteran activist Myles Horton would have called an organizational phase of political activity, where meetings have walls around them, messages have managers, advocacy is centrally paid for and done by professional lobbyists, marches have beginnings and endings, and the story line goes neatly gives from petition to legislation to reform.

Instead, in America we're now entering into a third wave of movement politics (the first being the rise of the "netroots" within the Democratic party after its leadership collapse between 2000-2003; and the second being the rise of the Tea Party after the conservative losses of 2006 and 2008). I don't pretend to know where the "Occupy" movement is going to go, though its main purpose appears to be to show first of all that it is here to stay, and to force a different perspective into a national discourse that up until now has marginalized and ignored grassroots anti-corporate social justice advocacy. By putting their bodies down at the figurative center of power in America and refusing to leave, the Occupy Wall Street protestors are inventing a new way to gain voice in the national political process. In the coming days, we will see whether this rising new movement is listened to, or if the same people who gave us the Washington Consensus will, despite their failings and their need for an American spring, choose to close their ears and call in the cops in force.
Mob rule is a poor substitute for democracy. A few hundred–or even a few thousand–angry people in the streets is not representative of 310 million people. The last thing we need in America is to increase the level of rancor and noise.