One Year Later, The Failure Of Occupy Wall Street Is Apparent
The Occupy movement began one year ago today. It's no surprise that it ended up being a failure.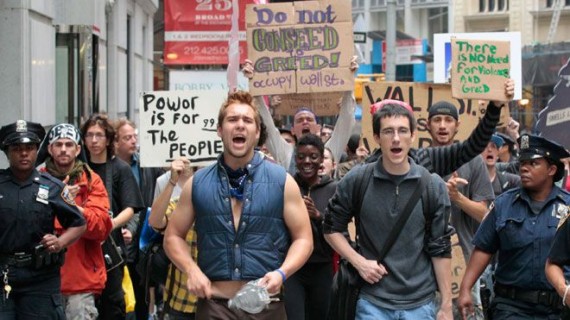 It was one year ago today that a group of protesters ended a march by setting up camp in Manhattan's Zuccotti Park and the Occupy movement was born. This original group of protesters would be mimicked by groups in other cities across the United States, but it was always Occupy Wall Street that was the focus of the media attention that the movement received. What exactly these people were protesting about was never quite clear, largely because they never wanted to agree on an agenda or have any real impact on politics or government. With their drum circles, bizarre hand signals to b used during "debates," and the clear influence of a counter-culture that average Americans had absoultely no familiarity with, they seemed to revel in their strangeness. Indeed, in Denver the local Occupy group took itself so unseriously that it named a dog called Shelby as their movement's official spokesperson (spokescanine?). The Zuccotti Park occupation essentially came to an end in November when the NYPD finally put an end to their practice of overnight camping and, as winter fell, the movement itself faded from the spotlight. There were some demonstrations in the spring, but noting near what we had seen last September and, outside of a few diehard hangers-on, the movement appears to be largely dead just one year after it began.
Late last week, New York Times columnist Joe Nocera tried to diagnose the cause of the movement's fall:
Sept. 17, 2011, was the date Occupy Wall Street took over Zuccotti Park in Lower Manhattan, which soon led to similar actions in cities across the country. The movement's primary issue was income inequality — "We are the 99 percent," they used to chant. Reporters swarmed into the park, interviewing Occupy protesters and speculating on whether Occupy had the potential to be a lasting force. "Can Occupy Wall Street Become the Liberal Tea Party?" asked The American Prospect magazine.

A year later, we know the answer: It can't, and it isn't. For all intents and purposes, the Occupy movement is dead, even as the Tea Party lives on. But why?

One reason, it seems to me, is that the Occupy protesters were purposely — even proudly — rudderless, eschewing leadership in favor of broad, and thus vague, consensus. It's hard to get anything done without leaders. A second is that while they had plenty of grievances, aimed mainly at the "oppressive" power of corporations, the Occupy protesters never got beyond their own slogans.

But the main reason is that, ultimately, Occupy Wall Street simply would not engage with the larger world. Believing that both politicians and corporations were corrupt, it declined to dirty its hands by talking to anyone in power. The takeover of the park — especially as the police threatened to force the protesters out — became an end in itself rather than the means to something larger. Occupy was an insular movement, whose members spoke mainly to each other.

The Tea Party did just the opposite. It, too, believed that politicians were venal, but rather than turning away from politics, its adherents worked to elect politicians who believed in the same things they did. Yes, the Tea Party had wealthy benefactors, but their money would not have succeeded without enormous grass-roots support. Two years ago, 87 new Tea Party-elected candidates showed up in Washington. Much as you or I may not like it, they have largely succeeded throwing sand in the wheels of government. That was their goal.
Nocera largely gets it right here. Leaving aside the merits of the OWS agenda, although as I noted back in October, that agenda was largely incoherent, the movement simply didn't do anything to try to get advance its ideas in mainstream American, or to push the political agenda in a direction that they wanted it to go. Indeed, the movement at times seemed to revel in the idea that it was anything but mainstream, engaging in some of the kind of "shock" tactics that the social movements of the late 60s did. Of course,  that movement reached its nadir at the Democratic National Convention in 1968, and suffered its political defeat in the George McGovern campaign of 1972. What the two movements have in common is that they both seemed to be more interested in shocking society than actually changing anything. Indeed, Occupy Wall Street explicitly rejected the idea of engaging in politics and apparently believed that the change they advocated would come about simply be playing the drums while occupying a park in Lower Manhattan. It's no real mystery that the whole thing turned out to be a failure.
Back in October, I made this observation:
[I]t strikes me that a lack of unity beyond some generalized sense of anger and economic uncertainty is nowhere near enough for the creation of a movement that has a shot of having an impact on political discourse in this country. The Tea Party ultimately succeeded, I would submit, largely because it quickly became focused on a limited number of issues and limited goals. Primarily, of course, there was the debate over health care reform that started at nearly the same time that the Tea Party protests themselves were beginning. During the summer of 2009, that led to many highly contentious constituent town halls where opponents made their voices known, as well as protests of one kind or another in various parts of the country. Add into that mix the fact that the economy was not improving and that the stimulus package passed in February 2009 was not appearing to have any real impact on the economy, and you've got a perfect political storm in many respects. Had these factors not been present, it's possible that the Tea Party would've fizzled out or remained too divided on what the "important issues" were to have any real impact on politics.

The "Occupy" movement faces the same problem, it seems. Remaining unfocused and appealing to the public's general disdain with the political system, something which Americans of all ideological stripes seem to share at the moment, can only last for so long. At some point, the movement either has to focus on clear goals, or it will end up fading away into something similar to the anti-globalization and anti-war protests we used to see during the Bush Administration, both of which were dominated by groups on the far left of American politics.
Quite obviously, that's exactly what has happened. By eschewing politics and choosing to largely forgo any effort to appeal to mainstream America, the OWS movement essentially doomed itself to failure. Catchy slogans and signs are all well and good, but at the end of the day a protest is a waste of time unless there's some kind of followup, and OWS never had any kind of followup. Partly, I think, that's because they really had no idea what they wanted to achieve, or how to achieve it, and they largely rejected the efforts of politicians from either side of the aisle, including at one point then Republican candidate for President Gary Johnson. At some point, even MSNBC, which had been blatantly cheering for the movement from the start on nearly every program on its network, gave up on what had clearly become just a hodgepodge of grievances put forward by a bunch of people who had apparently decided that camping out in a park was now a Constitutional right and an end in itself. When the movement turned violent in cities such as Oakland and Portland, any chance they had of being taken seriously by mainstream America was over.
Some will argue that the Occupy movement did succeed in bringing attention to the issue of income inequality and "tax fairness," but I'm not sure that's even true. In and of itself, income inequality has not been an issue in the political campaign and is unlikely to become one, and the issue of raising taxes on high income earners is one that has been a Democratic advantage for years now. The goalposts haven't really moved on those issues because of Occupy and, in all honestly, the movement wasn't saying anything new about either of them anyway. Besides, those issues only became a topic of discussion when they started to be used by political leaders, the same political leaders that the Occupy movement shunned. In both of those cases, the movement just happened to be on the political advantageous side of an issue.
Nocera was right to compare Occupy to the Tea Party, because Occupy's own history shows why it failed and the Tea Party succeeded:
The Tea Party  succeeded because it focused limited issues and limited goals, and because it worked within the system rather than merely standing outside it yelling clever slogans.  It's not easy, it's not always necessarily fun (sitting in a campaign office stuffing envelopes can be pretty darn boring, you know), but it's how things work in this country. If you don't even try to get involved any change things, then your complaints just end up being so much noise in the background.
And, after awhile, people just tend to tune out the background noise.