Gary Johnson: Don't Dismiss Occupy Wall Street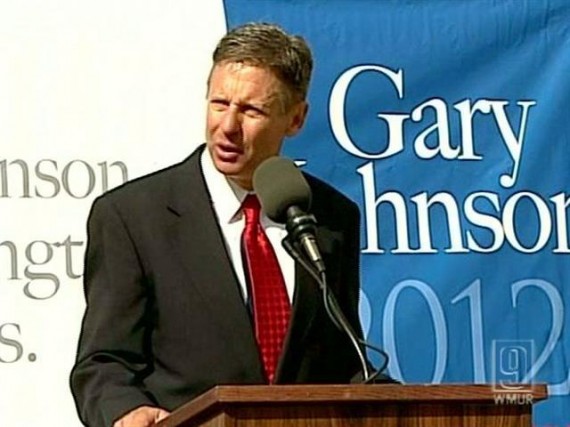 Reason's Mike Riggs summarizes some interesting  comments made by former New Mexico Governor and current Republican Presidential candidate Gary Johnson made this afternoon during a conference call with bloggers:
Corporatism exists in this country. it is real and alive. There is a real awareness [of this] right at the moment that makes change in this country ripe.

I have to express my solidarity with everyone [at Occupy Wall Street] that we have a country that doles it out unfairly. We bailed out banks that made horrific decisions. They should have been rewarded for those decisions by losing their money. We bailed them out at a cost of almost $1 trillion. I'm outraged by that.

[On crony capitalism at the state and municipal levels] You can be a public official and not have that influence what you do in office. I offer myself as an example of not being influenced by any campaign contributions. Yet I fully recognize you are speaking about reality.

I had a dozen conversations last night asking individuals if they could distinguish between capitalism and crony capitalism. How do you spread that truth message? Well, running for president of the United States offers that forum up. Last night, just for the people I was able to talk to, and regardless of where people were on the spectrum–there were communists and socialists all the way up to free market anarchists–it was civil.

The notion that Occupy Wall Street is misguided, well I was there last night. I don't know that it's misguided at all. This country is not equal. We don't treat everyone equally. I would like to see us focus on the root cause, which is in my estimation politicians that are getting paid off. That's the corporatism and the outrage.
Johnson has a point. As I've said, the incestuous relationship between business and government is good for nobody, bad for the economy, and destructive of liberty. The problem with finding common ground with this group, though, is that they seem more interested in protesting for the sake of protesting and releasing silly, unrealistic manifestos that read like they were drafted back in the 70s by a couple of rejects from the SDS. That, and their apparent inability to come up with anything resembling coherent demands so far, makes it hard to take the movement, as opposed to the general nature of their grievances, seriously.
Nonetheless, it's good to see someone in the Republican Party addressing these issues, rather than taking the approach of people like Herman Cain or the founders of the idiotic "We Are The 53%" movement. And it brings to mind something Matthew Yglesias said on Twitter ealier this afternoon: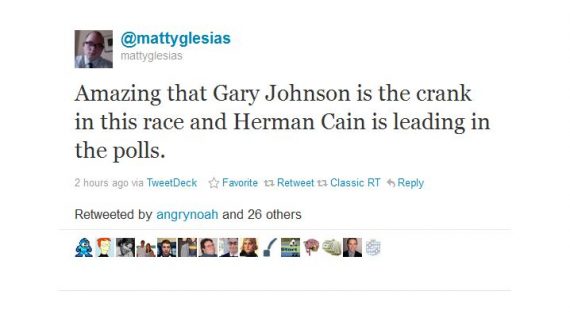 Indeed, I've been saying something like that myself for weeks now.