The Incoherent Agenda Of Occupy Wall Street
Judging them by their own manifesto, the Occupy Wall Street protesters are pretty silly people.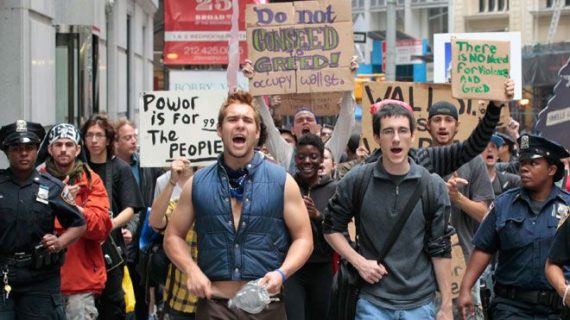 With the "Occupy Wall Street" protest getting national attention thanks to the ridiculous stunt of staging a sit-in on the Brooklyn Bridge, and the even more ridiculous comparisons that some have made between this relatively insignificant protest and the massive populist movements that have helped bring political change to at least three nations, it's time to take a look at exactly what these people are protesting about. Not surprisingly, it turns out that there's not much there:
Michael Moore and Susan Sarandon have dropped in. A seasoned diplomat dispenses free advice. Supporters send everything from boxes of food and clothes to Whole Foods gift cards. They even have their own app, for the legions of fans following them on iPhones and Androids.

Nearly two weeks into a sit-in at a park in Manhattan's financial district, the "leaderless resistance movement" calling itself Occupy Wall Street is at a crossroads. The number of protesters on scene so far tops out at a few hundred, tiny by Athens or Cairo standards. But the traction they have gained from run-ins with police, a live feed from their encampment and celebrity visits is upping expectations. How about some specific demands, a long-term strategy, maybe even … office space?

So far the group, which generally defines itself as anti-greed, has none of those.

"At a certain point, there's a valid criticism in people asking, 'What are you doing here?'" protester Chris Biemer, 23, said on Wednesday, Day 11 of the demonstration. In an exchange that illuminated one of the dilemmas that any movement for change faces in trying to sustain momentum, Biemer and protester Victoria Sobel made it clear they had different visions for Occupy Wall Street.

Biemer, who recently moved to New York from Florida with a degree in business administration, says that ideally the group should team up with a nonprofit organization and get office space.

(…)

On its website, Occupy Wall Street describes itself as a "leaderless resistance movement" drawn from people of all backgrounds and political persuasions.

"The one thing we all have in common is that we are the 99 percent that will no longer tolerate the greed and corruption of the 1 percent," the website says. The posters in Zuccotti Park speak to the lack of a narrow platform: "End financial aid to Israel"; "End greed, end poverty, end war"; "No death penalty"; "Tired of racism."

Some supporters of the premise wonder how far Occupy Wall Street can go in galvanizing others if it does not translate its anger into specific demands.
A valid question indeed. For the most part, the message, of "Occupy Wall Street" seems to be little different from the same leftist critiques of free market capitalism that we've been seeing for decades, and just as intellectually incoherent as those ideas were back then. Politically, it's an odd movement simply because it's rather obvious that these are people inclined to vote for Democrats. Likely, they were people swept up in the Obamamania of 2007 and 2008. To some degree, then, one wonders if they aren't motivated as much by disappointment in a President who clearly never really shared the "progressive" goals that they hold dear, with a little bit of soak-the-rich resentful populism mixed in for good measure.
On Friday, this group of a few hundred people that purports to be the vanguard of some populist movement issued the ambitiously titled "Declaration of the Occupation of New York City" purporting to set forth the reasons they're protesting:
As one people, united, we acknowledge the reality: that the future of the human race requires the cooperation of its members; that our system must protect our rights, and upon corruption of that system, it is up to the individuals to protect their own rights, and those of their neighbors; that a democratic government derives its just power from the people, but corporations do not seek consent to extract wealth from the people and the Earth; and that no true democracy is attainable when the process is determined by economic power. We come to you at a time when corporations, which place profit over people, self-interest over justice, and oppression over equality, run our governments. We have peaceably assembled here, as is our right, to let these facts be known.
This "corporations run the government" meme has been around since the 1970s, and it's no more true now than it was then. As Rick Moran points out, if corporations really ran the government would we have an EPA, OSHA, SEC, the EEOC, the FHA, the Department of Labor, or any of the other number of state and federal agencies regulate corporate behavior? If corporations truly "ran" the government, then why would any of these organizations exist?
Corporations do influence the government, of course. But then so do labor unions, the legal profession, the medical profession, special interest groups based on one form of racial or ethnic grievance or another, and lobbying interests ranging from Iowa corn to Texas oil. The problem isn't corporations, the problem is that we have a government that has its fingers in nearly every aspect of the economy. That means that policy makers have the ability to pick economic winners and losers every day, and it's only natural that those policies would be of concern to the people that they're going to impact most directly, the businesses affected by them. That's lobbying and petitioning the government for redress of grievances, not "running the government." This kind of reflexive anti-business mentality seems to be quite common in some sectors of society, but it has little basis in reality and seems firmly entrenched in resentment and envy rather than an honest examination of the country's political system.
Other portions of the manifesto are similarly silly. Here's just a few of the highlights:
They have taken our houses through an illegal foreclosure process, despite not having the original mortgage
Yes it's true that the collapse of the real estate market and the foreclosure process revealed many documentation problems in the mortgage industry, but what about the fact that in the overwhelming number of these cases, these foreclosure proceedings were brought against people who didn't pay their debts? Some of these people who just ran into bad luck when they lost their job, some of them irresponsibly bought houses they couldn't realistically afford, and some of them were just plain old deadbeats who walked away from their justly incurred debts. Blaming corporations for the fact that people lost their houses in foreclosure is like blaming McDonald's for the fact that we have an obesity crisis. It eliminates any element of personal responsibility so that these people can claim to themselves and others that they were the victims of some faceless corporation. In reality, they lost their houses because they didn't live up to their contractual duties. That's how things are supported to work.
They have taken bailouts from taxpayers with impunity, and continue to give Executives exorbitant bonuses.
Well, this is true, and there is plenty to criticize in the TARP and aut0 bailouts. However, if they really have a problem with these policies, why aren't they protesting outside 1600 Pennsylvania Avenue, where the man who implemented many of these bailouts that they oppose resides and works?
They have profited off of the torture, confinement, and cruel treatment of countless animals, and actively hide these practices.
So this is an animal rights protest now? What, exactly, does that have to do with Wall Street?
They have continuously sought to strip employees of the right to negotiate for better pay and safer working conditions.
No, what's happened is that several states have started to ask public employee unions to contribute to the cost of benefits that are far more generous than most people in the private sector ever receive. What's wrong with that? Moreover, while unions have done good over the years they've also helped hold American industry back, just ask the auto companies.
They have held students hostage with tens of thousands of dollars of debt on education, which is itself a human right.
Seriously? It that what this is about, you don't want to pay your student loans? There's much that can be said about the rising costs of education, and the extent to which universities are not preparing students for the world of work, but if you spend four years going to college, you're going to have to pay for it at some point. It's part of being a responsible adult, just like making your mortgage payment on time every month. Don't like it? Then don't incur student loan debt, nobody is putting a gun to your head. Saying your held "hostage" to a justly incurred debt just shows you have no understanding of how the real world works. And since when did a free ride at a university become a "human right"?
They continue to block generic forms of medicine that could save people's lives or provide relief in order to protect investments that have already turned a substantial profit.
In other words, they enforce their patent rights. If it weren't for those rights, the live  life saving drugs we have now likely wouldn't exist at all. Unless you're saying that we can cure cancer using some bizarre herbal remedy.
They determine economic policy, despite the catastrophic failures their policies have produced and continue to produce.
Henry Blodget responds quite nicely to this one:
No, they do not "determine" economic policy. They do have a lot of influence over economic policy But inasmuch as economic policy directly and primarily affects corporations—and the ~100 million Americans who work for corporations—it seems reasonable that they should have some influence here. Or do you exclude those ~100 million employees from "the people."?
Precisely. As I noted above, as long as we have a government that picks economic winners and losers then the parties who stand to benefit or lose the most from that are going to be highly motivated to have their interests considered by policy makers. The solution isn't to demonize corporations, the solution is to get the government out of the business of substituting political favoritism or whim for the judgment of the marketplace.
They have sold our privacy as a commodity.
No, "they" (by which I assume you mean companies like Facebook, et al) have shared information you provided based upon their easily accessible privacy policies. If you don't like it, you can control what information you give them, or you can decline to use their services at all.
They have used the military and police force to prevent freedom of the press.
What? Did the 82nd Airborne take over the offices of The New York Times without my knowledge?
They purposefully keep people misinformed and fearful through their control of the media.
It's too bad there isn't some alternative source of information out there that's easily accessible from a device that fits into the palm of your hand. Oh wait, there is.
There's more, of course, all of which you're free to check out for yourself, but what's clear is that if this is the intellectual vanguard of the movement that has set up camp in Lower Manhattan then what we're looking at is more of a fad than a social movement. Letter From A Birmingham Jail it most certainly is not. But then, protests like this usually are little more than temper tantrums. Nothing that these people are doing is going to lead to real reform in government, and none of them strike me as the kind of people willing to do the hard work necessary to bring about that kind of change, unless maybe there was a Radiohead concert involved.
As I noted in a comment to James Joyner's post this morning, the message I hear sounds to me like the same old warmed-over leftism I used to hear on my college campus back in the late 1980s. Corporations are evil. People over profits. Make love, not war. The slogans have been around for 30 years or more, but that's all they really are, slogans. If these people were interested in bringing about political change, they wouldn't be wasting their time like this. This isn't a political movement, and in a city of 7 million people the only way they could get themselves noticed is by shutting down the Brooklyn Bridge. There really isn't a coherent agenda here, just a bunch of spoiled children throwing a temper tantrum