Mortgage Foreclosure Fiasco
Banks are faced with a huge number of foreclosures and that resources they've allocated towards handling them was woefully inadequate.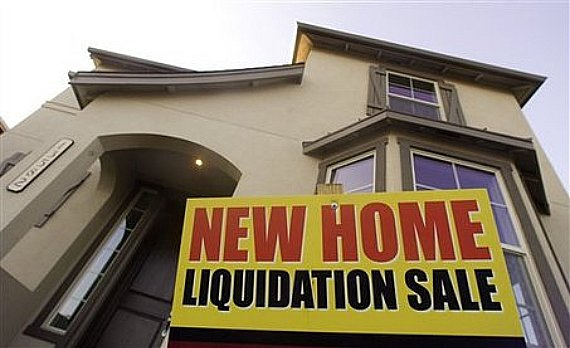 I'm a bit late to this, but it looks like quite a few banks have managed to create a nice little mess while foreclosing on homes. The problem appears to be that banks are faced with a huge number of foreclosures and that resources they've allocated towards handling them was woefully inadequate. Here is what got the ball bouncing on this issue,
But what really kicked off the latest developments was the deposition of a GMAC loan officer named Jeffrey Stephan, which revealed deep and perhaps pervasive flaws in the foreclosure practices of our largest banks.

Stephan admitted in a sworn deposition in Pennsylvania that he signed off on up to 10,000 foreclosure documents a month for five years. He said that he hadn't reviewed the mortgage or foreclosure documents thoroughly. He quickly became known by the pejorative "robo-signer" for this way of getting mortgages through. This prompted Ally, which owns the GMAC mortgage company, to halt foreclosures in 23 so-called "judicial states."

Because Stephan also signed foreclosures for hundreds of other mortgage companies, including J.P. Morgan Chase [JPM 40.05 -0.35 (-0.87%) ], the problem is not limited to GMAC. In fact, JP Morgan Chase also halted foreclosures in the judicial states.
Whoops indeed.
And to make matters worse the way securitization has developed an additional problem has cropped up: who has the note on the house?
But as the "show me the note" movement took off, more and more homeowners began to contest foreclosures by demanding to see the notes and, if the loan had been transferred or securitized, the assignment agreements. This typically was not fatal to banks seeking foreclosures. They could make up for the lost notes with lost note affidavits and retro-actively build an assignment chain. The worst that would happen, from the bank's perspective, was that the foreclosure would be delayed.

In some cases, however, banks seem to have not even been able to manage even this kind of corrective action. Evidence has been produced to show that notarizations have been faked, documents forged, and folks like Stephan have simply been operating as foreclosure bots.
So what does this all mean? Well lots of things. For starters it isn't at all inconceivable that some of the poor people being booted from their houses are not behind on their mortgage. Indeed some might even own their homes outright, or be up-to-date on payments. After all, describing the validation of foreclosure documents as cursory is likely to be overly generous.
Another thing that it could mean is that it will take longer for banks to foreclose and make this whole process drag on longer than it otherwise would. The implication of this is that it could mean a longer time till recovery in the housing market than we otherwise would have had….which isn't good for the over all economic recovery was well. Also, there is this problem as well,
In the first place, the slowdown in foreclosure sales might hit the revenues of the banks. The defaulted loans aren't spinning off revenue and now the foreclosures aren't producing revenue either. If the foreclosure freezes last long enough, this could it the bottom lines of the banks. At the very least, banks should be adjusting the estimates on the likelihood of short-term recovery values for their mortgage portfolios.
Banks may raise rates to try and compensate for this lost revenue as well as for dealing with this problem in the future–i.e. hopefully making the necessary changes so that the problem doesn't continue. Also not good for the housing market and the recovery overall.
Then there is a larger issue of who really owns these homes. If the paper work is for all intents and purposes lost, then what? Frankly I don't know. One aspect of a market economy is that there are strong property rights. But in this case it appears that property rights have been seriously undermined. Again not a good thing for promoting a healthy growing economy. Also there is the issue of increased uncertainty which is often not a good thing when it comes to economic growth. If a prospective buyer is worried about the legitimacy of foreclosures he might delay buying. A lack of foreclosures in a neighborhood might no longer signal a stable market, but one with quite a few foreclosed homes just waiting to hit the market. So buyers might leave the market till things settle down leaving sellers only one real option: lowering the price.
Arnold Kling and Megan McArdle on the issue. A Washington Post article on the topic. This part from the Washington Post is a just a wee bit disconcerting,
But if courts increasingly begin to nullify the MERS model – different judges have issued differing rulings – this could call into question the legitimacy of millions of mortgages, wreak havoc on the real estate market, spur costly litigation against Wall Street banks and ultimately harm the broader financial system.
Especially, when reading it after reading this article from James Henry and Laurence Kotlikoff,
The serial collapse of Wall Street behemoths led Uncle Sam to step in and issue his own suspect securities – some $24 trillion (as measured by Neal Barofsky, Congress' TARP watchdog) in contingent guarantees to all manner of financial creditors.

This is a colossal liability – more than twice U.S. national income. Were another massive bank run to hit Wall Street, say, next week, Uncle Sam would be forced to print trillions to cover these guarantees. But the prospect of getting paid back in watered-down dollars would lead people to run quicker — to get their money and buy something real before prices skyrocketed. Hence, Uncle Sam's guarantees are ultimately worth what they are written on – paper.
Could this mortgage foreclosure problem be such a crisis? I really can't tell since with all the securitization, CDOs, credit default swaps, and so forth a byzantine processes have been put in place that makes it extremely difficult to tell what kind of damage could be done if any. Maybe nothing at all as it is just a paper work issue to whoops, that collapse we spent trillions to prevent is going to happen anyways.
[Note: Yes, I'm aware of the MediaMatters claim that the $24 trillion is not the total cost of the bailouts. The $24 trillion is the total value the TARP and TARP related programs could reach, it is a worst case scenario.]