It's Not A Housing Bubble Anymore, And That's A Good Thing
The U.S. housing market is a long way from the glory days of the housing bubble, and that's a good thing.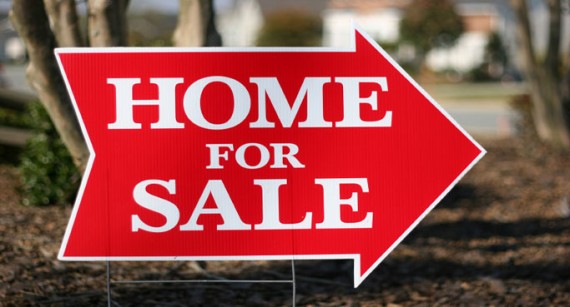 A number of new reports confirms that the housing market in the United States is far from recovered from the collapse of the mid-2000's housing bubble.
First, we learned today that new home sales in January fell more than 12% after the fifth straight year of bad sales:
WASHINGTON — Sales of new homes fell significantly in January, a dismal sign after the worst year for that sector in nearly a half-century.

New-home sales dropped to a seasonally adjusted rate of 284,000 homes last month, the Commerce Department said Thursday. That's down from 325,000 in December and less than half the 600,000-a-year pace that economists view as healthy.

Bad winter weather likely hampered some sales, although the industry has been struggling since the housing bubble burst in 2006.

Last year was the fifth consecutive year that new-home sales have declined after hitting record highs during the housing boom. Buyers purchased 322,000 new homes last year, the fewest annual total on records going back 47 years. Economists say it could take years before sales return to a healthy pace.
Calculated Risk provides this handy graph that shows just how depressed the new home market still is: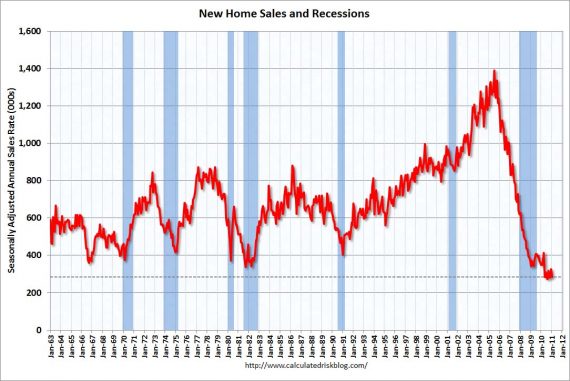 Even with the small upticks that we had last year in sales, the market is still at the work point it's been in nearly 50 years, and there doesn't seem to be any hope of a quick turnaround.
Yesterday, there was some seemingly good news in the report that existing home sales had increased in January, but even there the bad news still drives the story:
WASHINGTON (AP) — More people bought previously occupied homes in January, but sales increased on a rising number of foreclosures and all-cash deals.

The National Association of Realtors said Wednesday that sales of previously occupied homes rose slightly last month, to a seasonally adjusted annual rate of 5.36 million. That was up 2.7 percent from 5.22 million in December.

The rate is still far below the six million homes a year that economists say represents a healthy market. And the number of first-time home buyers shrank to 29 percent of the market. A more healthy level of first-time home buyers is about 40 percent, according to the trade group.

Foreclosures represented 37 percent of sales in January. And all-cash transactions accounted for 32 percent of home sales — double the rate from two years ago when the trade group began tracking these deals. In places like Las Vegas and Miami, cash deals represented half of all sales.

One reason cash sales are rising is that a growing number of purchases are being made by investors, the association said.
Even with this uptick in foreclosure sales — which likely represents banks finally beginning to clear their inventory of foreclosed properties — there are still 3.38 million unsold homes on the market, which would take nearly 8 months to sell at the current pace of sales. Generally, any time the market is above a 6 month supply of unsold homes, it means there's a glut of homes on the market. On the new home side of the market, the situation is nearly identical with 7.9 months of supply on the market right now, less than the highs seen in January 2009 but still far above normal.
What that means, of course, is that the laws of supply and demand take over, and home prices decline yet again:
U.S. home prices fell 4 percent in the fourth quarter from a year earlier as record foreclosures sapped the confidence of homebuyers, according to the Federal Housing Finance Agency.

The drop was the 13th consecutive year-over-year retreat and the largest since 2009's third quarter, the Washington-based agency said today in a report. Prices fell 0.8 percent from the prior three months. On that basis, economists projected a 0.6 percent decline, the median estimate in a Bloomberg survey.
These price drops are likely to continue for quite some time, until the market reaches an equilibrium point. That isn't going to happen until the foreclosure and at-risk properties are dealt. And that isn't going to happen until the economy itself recovers far more than it has to date. This much seems clear though, we aren't returning to the days of the Housing Bubble that started in the late 90's and collapsed in 2006. Given the fact that it was characterized by risky lending, faulty decision making on the part  of homebuyers, and irrational exuberance on the part of everyone. For the longest time, a home was viewed as a long-term investment, not something you bought for more than you could really afford on the hope that you'll be able to sell it for a profit in a couple years. We seem to be returning to those days, and while it may mean fewer "McMansions" in America's suburbs and a less robust home building industry, it strikes me as a good thing in the long run.