A Lesson For Occupy Wall Street: Get Involved, Or Go Home
Not surprisingly, people who are politically involved tend to be the ones that politicians listen to.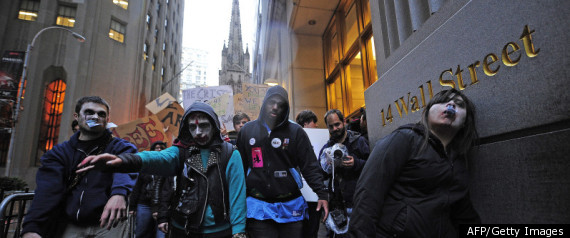 Nate Silver took a look at the political positions of the so-called "one percent" recently, and one of the tidbits stands out:
In the Chicago sample, 99 percent reported voting in 2008; in the 2008 American National Election Study, only 78 percent of a nationally representative sample reported voting.  Both numbers are probably inflated – nowhere near 78 percent of Americans actually voted in 2008 — but it seems unlikely that misleading survey responses would fully account for the gap between the 1 percent and Americans as a whole.  Other measures of participation show even larger gaps.  For example, 41 percent of the very wealthy reported attending a political meeting.  Only 9 percent of Americans did so in 2008.  And 68 percent of the very wealthy reported giving money to a political candidate, party, or cause in the last four years.  In 2008-a year in which "small donors" were numerous-only 13 percent of Americans donated to a political candidate or party.  Again, there are small differences in the wording of the questions between the two surveys, but they are not likely responsible for the 55-point gap.
Matthew Yglesias comments:
There's considerable evidence that the rich have a much higher proclivity to actually show up and vote. I always liked the old Woody Allen line about how 90 percent of life is just showing up, and part of the story of the top one percent is that they show up. The median American household is economically struggling in a variety of ways, but isn't so cash strapped as to be incapable of offering a political donation or two. Indeed, the American middle class is pretty passionate about donating to church groups and other charities. If more of that energy were directed into the political process, politicians would pay more attention. But as things stand, the wealthy are more highly engaged across the whole range of activities and so the political process is heavily tilted in favor of their preferences.
In other words, if you spend your time hanging out in parks rather than actually getting involved in the political process, you're not really going to accomplish anything. The same goes with trying to shut down ports, as Occupy Oakland tried to do last week.  The Tea Party learned this lesson rather quickly, and notwithstanding the fact that they put forward several candidates that were, to put it mildly, kooks (i.e., O"Donnell, Angle, Miller) they were nonetheless quite effective in 2010, and they've been just as effective in 2011 in holding those newly elected representatives feet to the fire. The Tea Party  succeeded because it focused limited issues and limited goals, and because it worked within the system rather than merely standing outside it yelling clever slogans.  It's not easy, it's not always necessarily fun (sitting in a campaign office stuffing envelopes can be pretty darn boring, you know), but it's how things work in this country. If you don't even try to get involved any change things, then your complaints just end up being so much noise in the background.
It's been three months since the Occupy protests began and all we've really seen is an incoherent agenda, disruptions to local life, and more arrests than ever occurred in the entire history of the Tea Party protests. Instead camping out during the autumn, these people would have done themselves much better had they gotten involved in the political process. Instead, the seem to still revel in the fact that they have no real goals, no legislation they want to get passed, and no message that the rest of America can relate to, then they're going to find themselves left behind in 2012. Get involved, or go home, but don't complain about the system if you don't even bother trying to do anything to change things. If that's the course they choose then, I'll just have to think that my initial opinion of this entire movement was correct.