Do Violent Protests Get Results?
If the goal is to change politics, not just vent frustration, messaging is important.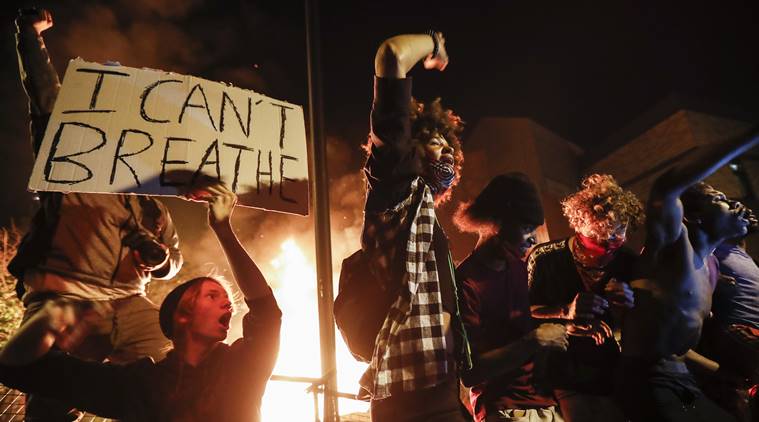 Searching for evidence that "outside agitators" were behind most of the violence surrounding the George Floyd protests, I stumbled on a fascinating interview by Isaac Chotiner in the New Yorker on "How Violent Protests Change Politics."
His interlocutor was Omar Wasow, a professor of politics at Princeton, who studies protest movements and their effects on politics and elections. He's also the co-founder of the social network BlackPlanet. Emphases all mine.
How would you summarize your work on the political effects of protest?

I would say that nonviolent protests can be very effective if they are able to get media attention, and that there is a very strong relationship between media coverage and public concern about whatever issues those protesters are raising. But there is a conditional effect of violence, and what that means, in practice, is that groups that are the object of state violence are able to get particularly sympathetic press—and a large amount of media coverage. But that is a very hard strategy to maintain, and what we often see is that, when protesters engage in violence, often in a very understandable response to state repression, that tends to work against their cause and interests, and mobilizes or becomes fodder for the opposition to grow its coalition.

What we observe in the nineteen-sixties is that there was a nontrivial number of white moderates who were open to policies that advanced racial equality, and were also very concerned about order. The needle that civil-rights activists were trying to thread was: How do you advance racial equality, and capture the attention of often indifferent or hostile white moderates outside of the South, and at the same time grow a coalition of allies? And over time the strategy that evolved was one of nonviolent protest, which actively sought to trigger police chiefs like Bull Connor [in Birmingham, Alabama,] to engage in spectacles of violence that attracted national media and would, in the language of the nineteen-sixties, "shock the conscience of the nation." So it isn't just nonviolence that is effective, but nonviolence met with state and vigilante brutality that is effective.

The interesting thing to me that came out of this research was that civil-rights leaders were picking Birmingham and Selma specifically because they had police chiefs with hair-trigger tendencies toward violence. So there was this strategic use of violence by the civil-rights movement, but it was to be the object of violence, not the instigators of violence. At the same time, what was very hard about, with that strategy, is that you had images of people observing their kinfolk being brutalized on television, and that helped fire up a more militant wing of the civil-rights movement, which endorsed violence in self-defense and was much less committed to tactics of nonviolence. When we observed a wave of violent protests in the mid- to late sixties, those white moderates who supported the Democratic Party after the passage of the Civil Rights Act of 1964 defected to the Republican Party in 1968. So, when the state was employing violence and protesters were the targets of that violence, the strategy worked well, and when protesters engaged in violence—whether or not the state was—those voters moved to the law-and-order coalition.
While I am not by any means a specialist in the topic, this is precisely my longstanding understanding, as expressed, for example, in my 2009 post "Protests Don't Work"
Protests reached their zenith during the civil rights movement of the 1960s when a group of literally disenfranchised people were able to demonstrate their grievance in a very visible way. People dressed in their Sunday best quietly marched, listened to speeches, and questioned why the country wasn't living up to its creed that all men are created equal, that they are endowed by their Creator with certain unalienable Rights, that among these are Life, Liberty and the pursuit of Happiness. Their dignity contrasted with the brutality with which they were sometimes met and shocked the nation's conscience.
Wasow's research into the political impact, at least at the ballot box, offers useful insights as well, both as to how social scientists can effectively study these things and how protestors should craft their message.
What did you find in your research, specifically about the 1968 election?

There has been a debate in social science for a long time about whether there was a backlash to the waves of violent protest in 1967 and 1968. Commonly, people will say "riot," but I am using "violent protest" and "nonviolent protest" as the two categories. I looked at a hundred and thirty-seven violent protests that followed Martin Luther King, Jr.,'s assassination, in April, 1968. There is a bunch of evidence that protests are sensitive to weather, and when rain happens it is much less likely people engage in protests. And so we should expect that when there is more rainfall there is less likelihood that people will engage in protest, and when there is less rainfall there is more likelihood. So we get a crude natural experiment—it's as if some places were randomly assigned a violent protest and some were not.
And what I find is that, in the week following King's assassination, when ninety-five per cent of those violent April protests occurred, if your county was proximate to violent protests, then that county voted six to eight percentage points more toward Nixon in November. But maybe there was something correlated with rainfall driving this result, and so to address the possibility of a confounding factor, like geography, I also looked at rainfall in periods where we should expect no effect of rainfall on voting—e.g., periods before and more than a few days after the assassination. This is called a placebo test. It is only rainfall in the one week after the assassination that predicts this conservative shift in November, and, in the absence of a plausible alternative story for why rainfall in April was predicting voting in November, the most obvious explanation is that the violent protests were the cause. And so we can then claim a causal relationship between violent protests and the shift away from the Democratic coalition.
The interview was published Friday; it's not clear when it took place. But the Floyd protests were underway and Wasow has some insights:
What protest tactics would you recommend for people concerned about police brutality today? On the one hand, these current protests were already sparked by state violence, so they don't need to incite more of it. On the other hand, we have had these viral videos of police brutality for years, and it is not clear all that much is changing.

If you are an activist and there is this outrageous incident (like a knee on a neck) and you say, "How can we advance our interests?," it might be that both violent and nonviolent protests are legitimate—but it still might be more effective to employ nonviolence, if we get everything we would from a violent protest, plus we don't splinter a coalition that favors change. One puzzle is, if you are an activist, are nonviolent tactics going to get you more of what you want, or are violent tactics? And what I found from the sixties is that nonviolent protest achieved many of the same sorts of outcomes that the more militant activists were fighting for without splintering the Democratic coalition. There was a pro-segregation media at the time, and there were all kinds of state and federal repression—and, despite all of that, the nonviolent wing of the civil-rights movement was really able to move the country from tolerating Jim Crow to breaking Jim Crow.

So I think there is a lot of evidence that nonviolent tactics can be effective. You saw this on the first day in Minneapolis, where the police showed up with an excess of force, and you had these images of children running away and police dressed like stormtroopers. There are a set of narrative scripts in the public mind, and I think we interpret the news through those preëxisting narratives. And so a nonviolent protest where we see state excesses is a very powerful and sympathetic narrative for the cause of fighting police violence. And as soon as the tactics shift to more aggressive violent resistance—and, to be clear, as best I can tell, police were shooting rubber bullets and there was tear gas. It seemed like an excessive police response, and so in reaction protesters escalated as well. That has an unfortunate side effect of muddying the story. Instead of talking about the history of police killings in Minneapolis, we are talking about a store going up in flames, and the focus in reporting tends to shift from a justice frame to a crime frame. And that is an unfortunate thing for a protest movement. It ends up undermining the interests of the advocates.

That's long been my anecdotal take. It seems commonsensical to me. But it's possible that both Wasow and I are over-relying on evidence from the civil rights movement of the 1950s and 1960s—a mature movement that was reacting to a longstanding crisis and already had widespread sympathy among the majority population.
Chotiner takes an interesting turn with his next question:
Your answers are making me think about the Régis DeBray line that "the Revolution revolutionizes the Counter-Revolution." Because whether intentional strategy or not, firing rubber bullets and police violence against protests may have the effect of making the protests more violent, and thus hurting the cause.

It's a great question, and, in cross-national studies, that has definitely been shown to be a strategy. We definitely observe politicians in other countries ginning up ethnic conflict before an election, to try and heighten people's sense of in-group identification before they vote. The evidence in the United States I have seen points more toward a kind of racialized incompetence, where the police chief in Los Angeles can behave with a certain disregard—I am thinking of the uprising in 1992. [The authorities'] response was so ham-fisted and hands-off that it allowed something to escalate to an epic scale. And I suspect most of what we saw in Minneapolis was not a strategic effort to inflame protesters, but an idiotic and incompetent over-response that also had the effect of inflaming protesters.

And it was an idiotic and incompetent response tinged by race. You don't see these kinds of overreactions to the armed white militias. So I don't have evidence about these being strategic efforts. I do think there is a lot of evidence that there are overreactions when the protesters are black, and that this excess of force is deployed in ways that have precisely the opposite effect of what a police chief is intending. Instead of trying to bring order, they create more chaos.
One presumes the interview came before some of President Trump's tweets that definitely seemed designed to inflame racial tensions. But Chotiner at least anticipated they would come.
Trump has run as a law-and-order candidate, and today repeated the looting-and-shooting comment that was made by the Miami police chief Walter Headley, in 1967. At the same time, it seems like Nixon was fundamentally selling stability, and Trump often tries to destabilize situations. How do you think this will or won't have political ramifications?

On the first part, I have looked at polling data from the sixties, and the numbers are really surprising. It was something like eighty per cent of Americans said that law and order had broken down. We had King's assassination, and two Kennedys assassinated, and these waves of violent protests. So it was more than just urban unrest. There was a sense that the social fabric was tearing, and I think Nixon was clearly appealing to voters for whom that was an anxiety. And I also found that, in the 1966 gubernatorial election in California, Democrats who thought Pat Brown, who was the Democratic governor at the time, had handled the Watts riots poorly were hugely less likely to support him. [Ronald Reagan defeated Brown by fifteen percentage points.] So it really was pivotal in the nineteen-sixties.

What's often hard for people to see is that there are these white moderates who are part of the Democratic coalition as long as they perceive there to be order, but when they perceive there to be too much disorder they shift to the party that has owned the issue of order, which is the Republican Party. For some people, the idea that there are these swing Democratic-minded voters is hard to grasp, but there is pretty strong evidence that in 2016, and in 1968, that was an important and influential niche of voters.

You are absolutely right that Trump, to a lot of people, is an instigator of chaos rather than a restorer of order, so I think that potentially works against him. But if you are this white moderate, and perceive the disorder to be coming from African-Americans in cities, then turning to Trump, even if you see him as a rough character, is appealing: He's a street fighter, but he is our street fighter. So the real danger for advocates of reform in Minneapolis trying to get better policing, and for those trying to pursue racial justice nationally, is that there are people who are turned off by Trump but who have a strong taste for order, and so if they are more concerned about racial disorder, then Trump is their racial order.
It's inconceivable to me that people who aren't already in Trump's hard-core base would flock to him, especially with an innocuous candidate like Joe Biden rather than a polarizing one like Hillary Clinton as the alternative. But if there is still widespread political violence happening months from now, it seems much more likely.
Yes, essentially, to view Trump as a figure who will bring order, in any rational sense, is to have a racially tinged view of order. The only kind of order he promises—even if he can't actually deliver it—is an order based on racial issues. This is a guy who cheers on protesters showing up with automatic weapons to state capitols.

That's right. There was a tweet that said something like, "Who could want four more years of this?" It's got a sort of Rorschach-like quality. If you are exhausted by Trump's chaos, you think about who could want four more years of Trump. But it could also be that, if this is how you perceive Democratic governance—letting a police station go up in flames—then who could want four more years of disorder and lawlessness, particularly if you are someone who has a bunch of stereotypes about African-Americans and Democrats in cities.

And so, to your point, I think it is exactly right that there are different kinds of chaos people are weighing in their minds. I might say the pandemic and economic dislocation are my top priorities, but if you are someone who has deep-seated anxieties about an unsettling of the racial hierarchy in America, about an egalitarian society where you might lose some status, or a society where there isn't enormous state capacity brought to bear on controlling out-groups, then you might say, "I want Trump because he is promising to maintain the racial hierarchy. I want someone who is tough on crime. Those are my top priorities."
That's a scary thought because, as we've seen, there are a whole lot of Americans in that category.