There's More Than One Kind of Anthropogenic Climate Change
Is China's drought caused by human action?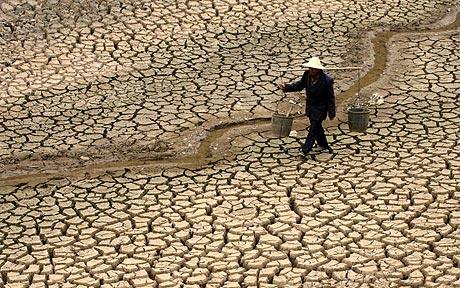 When I first read this remark from "Tyler Durden" at Zero Hedge in a post on the severe drought that's afflicting China and reducing harvests in some central provinces to alarming levels:
The PBoC may be guilty of many things, but manipulating the weather is not one of them.
my immediate reaction was to chuckle and think "Don't be too sure." I don't believe that the Chinese regime has deliberately produced a drought and I'm very sympathetic with ordinary Chinese people for whom buying food comprises the greater portion of their budget. A drought as severe as the one going on in China's central provinces can be life-threatening for them. What I was thinking about was the frenzy of dam-building that has gone on in China over the last couple of decades and, in particular, the mammoth Three Gorges Dam. I wouldn't be at all surprised if that was changing local climate and, specifically, producing droughts.
As it turns out I'm not the only person to whom this thought has occurred. There's an article at the Scientific American musing on the very same subject:
Experts say that the 600-km (350-mile) long reservoir required to serve the 26 700-megawatt turbines at the Three Gorges hydropower plant prevents considerable volumes of water from flowing downstream.

But some environmentalists and climate specialists have also said that the reservoir acts as a giant heat reflector that affects the microclimate of the region, raising temperatures and reducing rainfall.

They also point to longer-term impact, saying that large reservoirs like the Three Gorges are net greenhouse gas producers because they submerged vast tracts of forest and farmland that would otherwise have absorbed climate-altering carbon dioxide from the atmosphere.
This isn't unique to China. Big dams causing droughts has been reported, at least on an anecdotal basis in Canada, Turkey, and in Venezuela:
Way way back in the late 70's early 80's I was working for Citi. One role I had was related to the construction of the Guri Hydroelectric dam in Venezuela (a minor involvement). The World Bank and Inter-American Development Bank provided a big chunk of the financing. All the big banks were lending money to the Venezuelan government and to the local electric company EDELCA. There were foreign contractors from every country involved. Money was moving in every different direction. I handled some of the FX transactions. As I result I became familiar/interested in this mega-construction project.
What happened?
I noticed that the MW production was substantially below what had been projected. I asked a guy I knew at the World Bank about it:

BK: Where's the juice at Guri?

WB: Bad question to ask. The rainfall that historically fed the region has changed its pattern and annual flow. There are some who think that the enormous lake that was created changed the way the rain fell. Less water, less electicity.

BK: Incredible! Has this been proven? It would create a big stink if this were to come out.

WB: There will be no study. The dam has been built. No one wants to hear any bad news about this project. There are too many others like it being built around the world. The World Bank is promoting hydro power. We don't want to tarnish what we build.
I did a little casual looking around and found that the Chinese had, indeed, done some studies of the potential environmental impact of the Three Gorges Dam with a focus on prospects for drought. Unsurprisingly, in a country in which you will be rewarded for coming up with the right answer and punished for producing the wrong one (this happens here, too, but it's done at a different level and the punishment is more likely to be losing your career than being thrown in prison), the studies found no impact.
I think these studies were severely flawed. In particular, they only looked at the evaporative effects of the water retained behind the dam and didn't consider either the reflective effects or the increased production of greenhouse gases, particularly methane in the more or less stagnant water behind the dam.
Obviously, the Chinese authorities are desperate to deflect blame from the Three Gorges Dam:
The Three Gorges Dam, the world's largest hydroelectric project, should not be blamed for the lingering drought in south China, a government official said.

"The drought would have been more severe without the dam," said Liu Xuefeng, an official at the State Flood Control and Drought Relief Headquarters, as was reported by the Beijing Times on Thursday.

China's southern areas are suffering from their worst drought in 60 years, which has triggered debates over whether the dam caused the prolonged drought.

There is no evidence to support such claims. In fact, it has played an important role in relieving the drought by increasing water in the Yangtze downstream of it, Liu said.
The dam is located, roughly, on the border between Hunan and Hubei:
Government drought relief programmes have brought in water carriers, pumps and generators to parts of Hunan and Hubei provinces, which lie at the heart of China's rice-growing region.

The state's efforts have even included cloud seeding to induce rain artificially, which resulted in light rainfall in some parts of Hubei province over the weekend.

"Lots of villagers don't have water to drink," Chen Tianlin, a rice farmer in Jielin village, Hubei province, told the Financial Times.

He has to travel for 40 minutes by tractor over steep mountain roads to buy water in a neighbouring village. "It hasn't rained for six months," he sighs. "All the rice fields have dried up."

Lake systems around the central Yangtze river have also dried up. In Hubei province, 1,400 small lakes have become so shrivelled that authorities have declared them "dead" and banned any water pumping, state media reported.

"Human activities have intensified the drought [in Hubei]," says Guo Qinghan, an economics professor at the Hubei Academy of Social Sciences.

"Because of improper developments like land reclamation and soil erosion, some lakes are as shallow as dinner plates."
And then there's the dam. The location of the dam and its proximity to the area affected by drought may be just a coincidence. If so, it's a pretty darned big one.
My point here is not to slam the Chinese. As my title suggests, there's more than one kind of anthropogenic climate change and, while we're worried about greenhouse gas emissions from power plants and vehicles and global climate change, we shouldn't lose track of localized anthropogenic climate change which can be induced by massive construction projects, bad land management, and air pollution just to name a few possibilities.