Trying to Understand OWS
Pondering Tea Party comparisons as well as the "does it matter?" question.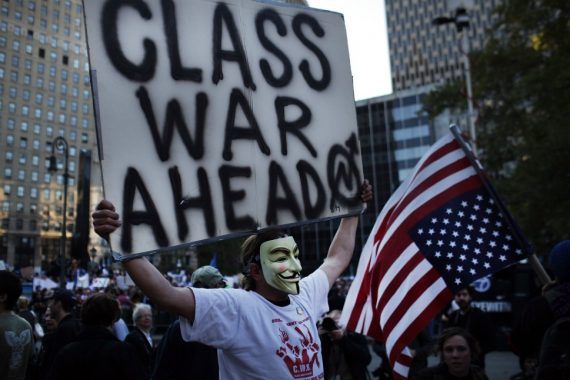 Sidney Tarrow (an expert on social movements*) writes for Foreign Affairs online as to Why Occupy Wall Street is Not the Tea Party of the Left.
Specifically he describes the Occupy Wall Street Movement as follows:
Charles Tilly, the late Columbia sociologist, divided movements into three types, based on the policies they demand, the constituencies they claim to represent, and the identities they are trying to construct. Both the civil rights movement and the Tea Party combined the first and second goals. Occupy Wall Street is what we might call a "we are here" movement. Asking its activists what they want, as some pundits have demanded, is beside the point. Participants are neither disillusioned Obama supporters, nor or a "mob," as House Majority Leader Eric Cantor cynically described them. By their presence, they are saying only, "Recognize us!"

[…]

Periodically, thousands of Americans from no single social class or region, and with no explicit goal, come together in what the Cornell political theorist Jason Frank has called a "constituent moment." Likewise, the Yale constitutional theorist Bruce Ackerman names three such moments in American history. The most recent was during the Great Depression, when hardship and outrage came together in a wave of strikes and demonstrations, some of them far more mob-like than Occupy Wall Street. They had no specific policy agenda, but they demanded recognition and radical change in the relations between government, the people, and corporations.

[…]

"We are here" movements often flare up rapidly and fade away just as quickly, or disintegrate into rivulets of particular claims and interests. Others, like the new women's movement, eventually coalesce into a few organized sectors, each with its own set of policy demands and political identities. It is too soon to tell which of these will be the fate of Occupy Wall Street. But one thing is certain: we are hearing a wake-up call to a complacent corporate sector and its Washington enablers, signaling that there is a new force demanding change at the grassroots of American society.
All of this gets to the question, which has been raised on several occasion here at OTB, as to whether this movement matters.  The political scientist's answer (as opposed to the pundit's) is a rather unsatisfying:  we don't know yet.
The Tea Party ultimately mattered because it had electoral significance both in terms of winning (there is a key Tea Party faction in the House GOP caucus, and to a lesser degree in the Senate) and losing (had it not been for the Tea Party's influence in CT, the Republicans would have picked up that seat).  It seems unlikely that OWS will matter in that regard.
However, while it is impossible to know for sure if this movement (which has spawned, it should not be forgotten, spin-offs nationally and globally) matters or not, we can reasonably consider some possible ways that they might and I think that Tarrow's classification of this as a "we are here" movement is where such discussion should focus.
If these movements, coupled with the general economic difficulties we are having, spurs a national conversation about things like wage stagnation, the lack of growth of the middle class, and the growing gap between the extremely wealthy and the rest of the society, then this could be a movement of significance.  The prevailing attitude in the United States remains that everyone has a high degree of social mobility if they simply work really hard.  However, the numbers don't actually bear out that reality.  If the attitudes of the general population come in line with the actual numbers, then a serious shift in politics could take place.  I am not, by the way, talking about radical shifts, but rather a revival of a truly left-liberal politics.
(I know, btw, that many regular commenters on this site think that we are already in a left-liberal era, but I would submit that anyone who thinks this does not understand what these terms mean.  To wit:  the PPACA–the height of socialism of late in American politics according to some– is not a left-liberal program, it is a center-right program.  Just ask Mitt Romney or the Heritage Foundation back in the 1990s in a moment of candor).
There is already a burgeoning conversation about the relative influence of large corporations and the extremely wealthy within the government.
I think, by the way, that even right-libertarians have reason to be motivated to think about these issues, as if one is truly a devotee of free markets, then one has real reasons not to like a lot of what has been happening over the last several years concerning government policies towards corporations (and, indeed, many libertarians have complained about issues such as TARP, the GM bailout, and "too big to fail").  While it is easy to make fun of OWS for being a bunch iPhone totin' anti-corporation types, the bottom line appears to be that the movement is not as much anti-corporation/business as it is angry at the financial sector.  Quite honestly, there are reasons to be angry at the financial sector.
All of these also has relevance to actual legislation in terms of regulation.
It also dovetails with the student loan issue.  The loan issue becomes all the more salient in the moment because of the various bail-outs of the financial sector.   It is not illegitimate for a kid who was told to go to school, even if it meant coming out the other end of the process with debt, to graduate with no job and wonder why Citigroup and such were helped out by the taxpayers for their poor decisions, while he is being told that he didn't work hard enough.
All of this (and the economic crisis in general) hits directly on questions such as the power of large financial corporations versus the power of individuals and the degree to which the government is looking out for the former and not the latter.  It, therefore, does get to social and economic policy issues that are not inconsequential.
As usual, by the way, all of this bring us to question of taxation and social policy.
A parting thought:  as the Republican Party appears to be going further right of late, it stands to reason that there would be some sort of reaction from the leftward regions of our politics.  Consider a simple fact:  in the midst of ongoing economic difficulty, the main argument of the GOP has been that we need to cut taxes and cut spending.  Such tax cuts would help those who are already doing quite well (and would certainly benefit the aforementioned financial industry).  Further, spending cuts equals less services and a less complete safety net to the less economically fortunate in the society.
In short:  those who helped cause the economic crisis are seen as benefiting from the current structure of politics, while those who are the most effected by it (and who feel like they played by the rules) feel alienated by the current structure of politics (and to be sure, the exact concerns of any particular participant in OWS may be quite varied).
Is there is any wonder that there are segments of the society which are upset?
This is more, therefore, than just a bunch of 21st century hippies to be dismissed.  Granted, whether OWS brings serious political attention there issues (by getting people to think actively about them) remains to be seen.
—-
*He is the Emeritus Maxwell M. Upson Professor of Government at Cornell University.  His book on this general subject area include Power in Movement (Cambridge, 1994, 1998), Dynamics of Contention (with Doug McAdam and Charles Tilly, Cambridge, 2001), Contentious Europeans (with Doug Imig, Rowman and Littlefield 2001), Transnational Protest and Global Activism (with Donatella della Porta, Rowman and Littlefield 2004), The New Transnational Activism (Cambridge 2005) and Contentious Politics (with Charles Tilly, Paradigm, 2006).  See more here.