Horrifying Graphic of the Day
Overfishing may mean a near term future in which there are no more fish in the sea.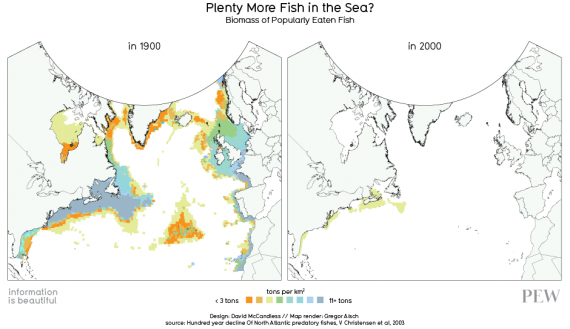 The horrifying graphic of the day, above, contrasts the biomass of popular fish in the North Atlantic in 1900 with the biomass of the same species in 2000. A dramatic change. Source: Villy Christensen of the University of British Columbia Fisheries Centre via Henry Blodget.
There are any number of reasons for the depletion of wild fishery resources worldwide including ocean acidification, other environmental degradation, poor resource management, and just plain too many fishermen and not enough fish. However, according to the United Nations's Food and Agriculture Organization the single largest cause of over-fishing is government subsidies of domestic fishing fleets.
Historically, Japan's seafood consumption has been the largest in the world, Japanese consumers have determined world prices, and Japan's commercial fishing fleet the largest in the world. That has begun to change. China's commercial fishing fleet is now the largest, much of its catch is sold to Japan, and Japan is importing an increasing percentage of its fish.
Collectively, the European Union's fishing fleet may well be the largest and most destructive, particularly in the North Atlantic. Our European cousins have an edge in methods, technology, and numbers over other major commercial fishing nations.
Solutions to the problem are elusive. The Neolithic Revolution, the beginning of the transition from hunting and gathering to sedentary agriculture and herding, began ten thousand years ago. If we were still dependent on wild game as our major protein source, we'd have starved to death millennia ago (or be vastly reduced in numbers). Aquaculture, particularly ocean farming, does not appear to be a near term solution to the problem of depletion of the oceans. Most of the desireable species are carnivorous and at the present state of the art ocean fish farming remains heavily dependent on wild catches with each pound of cultivated protein requiring more than a pound of wild protein albeit of different species.
Ocean fisheries would appear to be a classic "tragedy of the commons", granting or selling exclusive fishing rights to private individuals and companies has frequently been suggested as a solution to overfishing, but I have my doubts. Fishermen operate according to laws of economics not those of conservation. Just to give an example, the amount of edible fish discarded every year is unconscionably vast. When the catch in a net is hauled in it's not all a single species: multiple species are intermingled. More valuable fish are retained; the others are discarded to make room for the more valuable. In this way every year thousands of tons of perfectly good haddock are discarded from the catch in the North Atlantic. By the time the market has worked its way down to the less desireable species the ocean ecology may well have been disrupted enough to be irrecoverable.
Onboard inspectors have been suggested. IMO this is an utterly unworkable proposal, enormously expensive, suffers from time inconsistency and knowledge issues, and incentivizes piracy, already a substantial problem in fishing.
"Flags of convenience" provide a strategy for evasion of catch limits.
Unless some solution is found within our lifetimes there may be no more fish in the sea.