Ichiro Suzuki 'Passes' Pete Rose Hit Total
The most underrated superstar of this era has passed a special milestone, albeit with a big asterisk.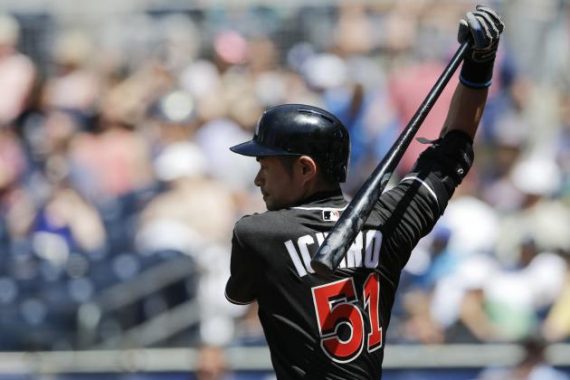 Ichiro Suzuki got his 4,257th "major league" hit last night, surpassing the career Major League total of Pete Rose. Alas, the first 1,278 of them came in Japan.
Rose was his usual gracious self in anticipation of the milestone:
"It sounds like in Japan," Rose told USA TODAY Sports, "they're trying to make me the Hit Queen. I'm not trying to take anything away from Ichiro, he's had a Hall of Fame career, but the next thing you know, they'll be counting his high-school hits.

"I don't think you're going to find anybody with credibility say that Japanese baseball is equivalent to major-league baseball. There are too many guys that fail here, and then become household names there, like Tuffy Rhodes. How can he not do anything here, and hit (a record-tying) 55 home runs (in 2001) over there?

"It has something to do with the caliber of personnel."
Alas, Rose is mostly right. The Nippon Baseball League is widely considered a AAAA league—somewhere above the highest of the US minor leagues but below Major League Baseball. One can't mix statistics from the two leagues for purposes of records.
That doesn't mean that Ichiro's performance has been anything less than astounding.
ESPN's Jim Caple:
Ichiro's MLB career slugging percentage is .405. Rose's wasn't much higher — just .409 — and their home run per at-bat rates are roughly the same: 1.1 percent for Ichiro and 1.0 percent for Rose. Ichiro has 37 leadoff homers in his career, among the top 10. He also hit a walk-off home run against Mariano Rivera in 2009.

Rose reached the 3,000-hit mark in his 16th big league season. With 22 more hits, Ichiro will also reach 3,000 hits in his 16th season. If he reaches that mark, he will have done so despite being nearly four years older in his big league debut than anyone else in the 3,000-hit club. The majority of the club's members began their big league careers by age 20 or 21.

In addition to leading Japan's Pacific League in batting seven times, Ichiro led the American League twice (2001 and 2004), while Rose led the National League in batting three times (1968, 1969 and 1973). Ichiro hit .372 in 2004, 24 points higher than Rose's highest average (.348). His major league career average is .314, compared to Rose's .302. Throw in his NPB numbers, and Ichiro's career average is .323.

By the way, is the NPB league truly a lower level than our majors? Probably, but consider this: Ichiro averaged 1.3 hits per game in his seven full seasons in Japan. He averaged 1.41 hits per game his first 10 seasons in MLB, before he turned 37. Rose never averaged more than 1.3 hits per game in any 10-year stretch. Also, Ichiro is playing in an era in which pitchers are throwing a good 10 mph faster than they did in Rose's time. But Rose hit .335 in 1968, the famed Year of the Pitcher.

When you go to non-hit comparisons, Rose, famous for his head-first dives, stole 198 bases in his career — and was caught stealing 149 times. The speedier Ichiro has stolen 504 bases, most among active players. Rose barreled into Ray Fosse to score the winning run in the 1970 All-Star Game, one of the most famous in All-Star history. Although not nearly as well-remembered, Ichiro had an important race to the plate when he hit the only inside-the-park home run in All-Star Game history in 2007.

Add Rose's minor league numbers (all at Class A or lower) and his postseasons, and he had 4,769 hits as a professional player, the most in history. Ty Cobb is second with 4,379, and Ichiro is third with 4,256. But throw in Ichiro's minor league numbers from Japan, and he has 4,434 hits, which puts him second.

That's still significantly behind Rose, but bear in mind that when Ichiro played his first three seasons in Japan, the NPB season was only 130 games, and it was just 135 games his final four years (though he missed 62 games due to injuries his final two years). Despite those injuries, if it had been a 162-game season like in MLB and he had maintained his 1.34 hit per game average, Ichiro likely would have had at least 125 more hits in Japan, which would bring his professional total to over 4,575. That still wouldn't match Rose's total, but Ichiro's career isn't over yet.
Now, some of those arguments actually cut against Ichiro. In particular, spending his first six years in Japan means that he hit MLB is the prime of his career, whereas Rose and most others' career averages are brought down by struggles in their late teens and early 20s.  But the much shorter seasons in Japan are a strong point: Ichiro would likely have at least as many hits as Rose had he started here given so many more at-bats. Alas, we'll never know and can't simply crown Ichiro the "hit king" by virtue of adding apples and oranges.
Regardless, there's not much doubt that Ichiro is the better overall baseball player. And none whatsoever that he's a better sport.