Idiot Congressman Wants to Force Supreme Court Justices into ObamaCare Exchanges
A Congressman wants to force Supreme Court Justices to get their health care through the ObamaCare exchange.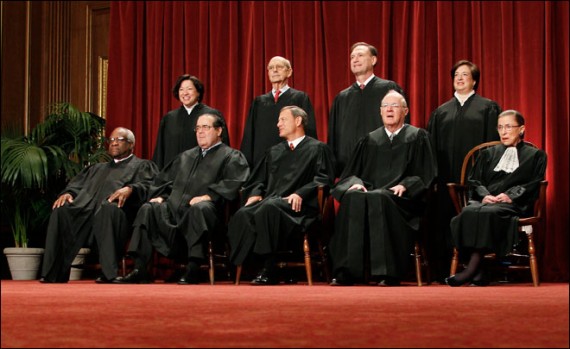 A Congressman wants to force Supreme Court Justices to get their health care through the ObamaCare exchange.
The Hill ("House bill would force the Supreme Court to enroll in ObamaCare"):
A House Republican on Thursday proposed forcing the Supreme Court justices and their staff to enroll in ObamaCare.

Rep. Brian Babin (R-Texas) said that his SCOTUScare Act would make all nine justices and their employees join the national healthcare law's exchanges.

"As the Supreme Court continues to ignore the letter of the law, it's important that these six individuals understand the full impact of their decisions on the American people," he said.

"That's why I introduced the SCOTUScare Act to require the Supreme Court and all of its employees to sign up for ObamaCare," Babin said.

Babin's potential legislation would only let the federal government provide healthcare to the Supreme Court and its staff via ObamaCare exchanges.

"By eliminating their exemption from ObamaCare, they will see firsthand what the American people are forced to live with," he added.
Let's stipulate at the outset that this is mere grandstanding and has zero chance of being passed into law.  Still, the sheer absurdity of this is remarkable.
First off, it's plainly unconstitutional. The opening clause of Article III states that "Judges . . . shall . . .  receive for their Services a Compensation which shall not be diminished during their Continuance in Office." Given that health coverage is now a significant part of Americans' compensation and that federal employees' coverage is heavily subsidized, moving the Justices from their present insurance package to the diminished fallback of the exchange is clearly in violation.
Second, it's just nonsensical. Nobody was "forced" to get their healthcare through the Obamacare exchanges before yesterday's ruling. Nobody is being "forced" to get their healthcare through the exchange now. The exchange is a mere fallback position for those whose employers don't provide coverage, those who are unemployed, or those who otherwise can't afford or are ineligible for coverage.
Third—and relatedly—Federal Judges aren't so much "exempt" from ObamaCare as unaffected by it. While I opposed the Act's passage, for a variety of ideologically conflicting reasons, that I would somehow be forced into an exchange was not among them. Those of us with good jobs simply have better options available to us. Presumably, Supreme Court Justices, who are on the Executive scale, have better insurance packages available than I do but all federal employees have a plethora of highly subsidized options. In my previous jobs—in the public, private, and nonprofit sectors—I've always had good coverage. Indeed, the only time I was uncovered was the three years I was in graduate school over twenty years ago.
UPDATE: I see that Steven Taylor already posted this under a more cryptic title. Our takes are similar.