Illinois Abolishes Death Penalty
Illinois became the 16th state to abolish capital punishment today. That's far too few.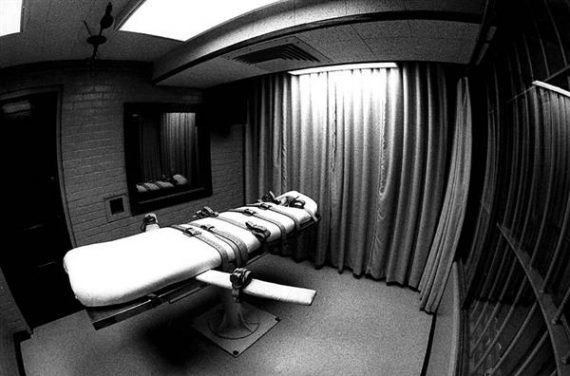 Today, Illinois became the 16th state to abolish the death penalty:
SPRINGFIELD — Gov. Pat Quinn today signed into law a historic ban on the death penalty in Illinois and commuted the sentences of 15 death row inmates to life without parole.

The governor said he followed his conscience. He said he believed in signing the bill he also should "abolish the death penalty for everyone," including those already on death row.

"Fellow citizens, we cannot escape history," Quinn told reporters afterward. "I think it's the right, just thing to abolish the death penalty."

Quinn signed the legislation during a private ceremony in his Capitol office surrounded by longtime opponents of capital punishment in a state where flaws in the process led to the exoneration of numerous people sentenced to death.

"For me, this was a difficult decision, quite literally the choice between life and death," Quinn wrote in his signing statement. "This was not a decision to be made lightly, or a decision that I came to without deep personal reflection."
"Since our experience has shown that there is no way to design a perfect death penalty system, free from the numerous flaws that can lead to wrongful convictions or discriminatory treatment, I have concluded that the proper course of action is to abolish it," Quinn wrote. "With our broken system, we cannot ensure justice is achieved in every case."

"For the same reason, I have also decided to commute the sentences of those currently on death row to natural life imprisonment, without the possibility of parole or release," the governor wrote.

(…)

The ban comes about 11 years after then-Gov. George Ryan declared a moratorium on executions after 13 condemned inmates were cleared since Illinois reinstated capital punishment in 1977. Ryan, a Republican, cited a Tribune investigative series that examined each of the state's nearly 300 capital cases and exposed how bias, error and incompetence undermined many of them.
False conviction issues aren't just limited to Illinois. The Innocence Project has been involved in nearly 300 post-conviction exonerations based on DNA evidence, including nearly two dozen cases where a convict was sitting on death row at the time of his conviction.  Moreover, there's at least one case on record where it now seems fairly apparent that the State of Texas executed a man for a crime that he didn't commit.
There was a time when I was a supporter, albeit a reluctant one, of capital punishment, but that time has come to an end. For one thing,  I've come to the general conclusion that the state should not have the power to take anyone's life, even when they've committed a violent and horrible crime. Additionally, ever since the advent of DNA evidence, we've seen far too many instances of innocent men imprisoned for crimes that they clearly did not commit to think that it hasn't happened in a capital punishment case.  Finally, my own professional interaction with the criminal justice system on a regular basis made it clear to me fairly early on that the system was far too imperfect to trust it with the power of life and death, and this is especially true when a defendant facing a death sentence is forced to accept court-appointed counsel that lacks both the experience and the resources that a private-hired attorney would. The question of whether you live or die shouldn't depend on whether or not you're rich enough to hire a good lawyer, but, far too often, it does.
Illinois has taken the right step here. Let's hope that more states follow their lead.