Immigration Outrages Preceded but Exacerbated by Trump
An inordinate amount of cruelty is being perpetrated in the name of border security. It's only partly the fault of the current President.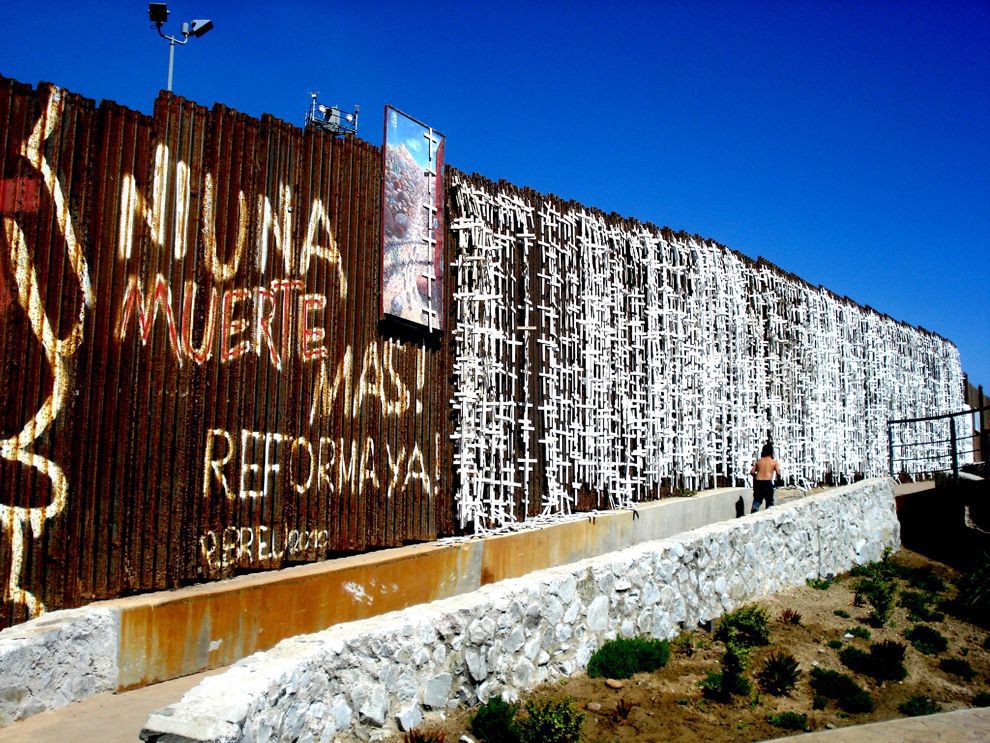 There has been a spate of awful stories in recent days about cruelty, malfeasance, and misfeasance committed by American officials in the enforcement of our immigration laws. Because they're all coming out at around the same time and because President Trump ran on a racist platform and continues to spout racist diatribes about "shitholes" and "animals," they're not unreasonably being conflated. In reality, though, they're separate stories, many of which have little to do with the current occupant of the White House.
Most notably, the "1500 lost immigrant children" story that Doug Mataconis and others have picked up on simply isn't a function of the Trump administration. Rather, it's actually a relatively humane response to the fact that we have more children seeking asylum here than we can process in real time.
Micah Psych (presumably a pseduonym) and Josie Duffy Rice have excellent Twitter threads on the story. They're both professionals in the field (a therapist and an attorney, respectively), neither of whom are remotely sympathetic to Trump.  Their accounts were brought to my attention by people whose views I trust.
Because of the vagaries of the medium, I've turned their tweets into prose, with minimal editing. The links above will take you to their original tweetstorms.
Psych:
When I first heard the headline, it sounds shocking. "ICE loses 1500 immigrant children!" I know that I got enraged just hearing that. But you dig a little deeper and find out what is actually being reported.

So before going any further, I guess I should say that I work for one of the shelters that temporarily houses unaccompanied minors. After they are detained and processed, ICE transfers those children to our care. If the child is from a non-contiguous country (e.g. not Mexico), they have certain protections and have a legal right to be seen in front of a judge to determine if they may qualify for the right to live in the US.  However, that process takes an extremely long time. Years and years. There are too many kids and not enough judges. So programs like mine work to identify someone in the US who can sponsor them.

The sponsor is responsible for providing all their needs. Sponsors can be parents, family members, or a family friend with a proveable relationship. Many of our sponsors are undocumented. There is not enough space in foster homes for all of these children and it simply makes humane sense to send these kids with loved ones. And the sponsor has to be on top of their stuff. They provide a LOT of information to even get close to sponsoring. If there are concerns with the sponsor, we might send someone to examine their home or just deny the sponsor rather than take the risk. And when a sponsor is finally approved, that means that we have confidence that these kids will continue going to school, attend their legal appointments, and receive all the love and care that they should receive.

This is where the article comes in. After the children are reunified, we do not have contact with them. We make one 30-day call to see if they are safe. This is what the article is reporting on. Of all the calls we made, approximately 1500 couldn't be contacted.

I think there are a lot of reasons for that. On one hand, it may due to a change in phone number or address. Changes like these are common for the immigrant population. On the other hand, there is a lot of fear around immigration. Maybe they dropped off the map for fear.

However, there is an issue with tracking after they're released. We don't put ankle bracelets on these kids. They aren't criminals. They don't have parole officers. But the concern for safety is legitimate. So the real question becomes, how do we appropriately protect them?

The articles I've read reference a 2014 case where kids were trafficked and found working in an egg factory. That was a huge deal. Our program and HHS made drastic changes to how they vet sponsors. Trafficking is at the top of our minds for every case.

I know that our program does excellent work. But there are limits to our control once kids leave our doors. I don't want any child being abused or neglected. And one victim is too many. At the same time, the response cannot be keeping these kids in a facility indefinitely.
Rice [One presumes she was typing this on her phone, so excuse the punctuation and whatnot] is more emphatic:
Now that we're all on twitter because of this game, I am making a public service announcement: PLEASE STOP SHARING THAT STORY ABOUT 1500 KIDS MISSING. The outrage I've seen is a result of a total misinterpretation and could SERIOUSLY threaten the children you want to save.

Before I get into it, I'll answer the question 99 million ppl will inevitably ask: I know this because I'm a lawyer, i works on criminal justice issues (sometimes incl immigration), and 4 of my closest friends are immigration attorneys dealing with this EXACT THING

There are two things going on. 1) HHS doesn't know where 1500 unaccompanied minors are. 2) we are separating parents and children at the border. These are different. The kids in 1) were not separated from their parents at the border. They crossed the border alone or arrived here without a parent.

[…]

These kids were dealt with by ORR, the office of refugee resettlement. They were released into the care of people that almost always fit within one of these three categories: 1) immediate family 2) extended family 3) other people that the child has a pre-existing relationship with. If none of those categories apply, then the kids normally stay in a shelter. (After a number of children were trafficked in 2014, these restrictions got tighter.)

So those kids are released and then they are no longer ORRs responsibility or problem. THIS IS A GOOD THING. One analogy I heard from my dear friend who I won't tag without her permission, is that ORR is basically a jailer. Do you want the jail keeping track of where every former inmate is?

Now I have more to say about that but before we do that, let's talk about the word missing. Basically by all accounts HHS did a cursory reach out to check on these kids, and couldn't find out where they were exactly. When I say cursory I mean cursory. We're talking about phone calls. Phone calls!! Like, no door knocks. No checking school records. They called. They didn't find answers.

There are so many reasons people wouldn't answer. Maybe these kids are living with someone undocumented. Maybe they aren't but their sponsor is (legitimately) completely scared of immigration authorities in trumps America.

They aren't missing! They are almost certainly living with family members who almost certainly don't want to interact with the government and WE SHOULDNT ASK THEM TO. ORR's job is NOT to track and monitor these kids and it shouldn't be. As my friend said, if there were an issue – abuse, or other wrongdoing – it should go through the appropriate agency: children's services or what have you. It SHOULDNT GO THROUGH HHS/ORR OR DHS/ICE.
Both of these experts caution against conflating that issue—which is actually not an outrage at all—with another, which is.
Rice:
Now, I started out identifying two things that were happening. The second – the separation of children and their parents at the border – is goddamn unconscionable and sickening.

But DO NOT confuse the two. The potential for it backfiring is real. What we're demanding is that ORR, which works hand in hand with ICE, "keep better track" of kids they basically would like to deport if giving the chance. We don't want that!!!

You're asking immigration authorities in TRUMPS AMERICA to BETTER MONITOR UNDOCUMENTED CHILDREN AND THEIR FAMILIES. You don't want this. I promise you don't.
Psych:
The new Trump-era policies that separate children from their parents are reprehensible. Not only does it traumatize these children, but it crowds facilities, extends the length of stay in our program, and limits sponsorship options for these kids.

I imagine that's part of the malicious intent. By separating families and sending parents back to home country, the children are more likely to want to be with mom and dad, even if it means returning to a dangerous situation.

We need a humane solution. How do you protect and track hundreds of thousands of kids going through legal proceedings across the entire country after they leave federal guardianship? I don't have that answer, but I want to find one.
So, we have what is, at best, a bureaucratic SNAFU in the case of 1500ish "missing" children, most of which we could likely find if necessary. And we have a draconian newish policy of separating children and their parents for deportation.
I say "newish" because it's actually more complicated than just the cruelty of an administration that's incredibly hostile to non-white migrants to the country, whether they be Latin Americans seeking economic security or Muslims seeking asylum from civil war. Last week, we saw significant coverage of a new ACLU report on mistreatment of detainees, particularly children.
NPR ("ACLU Report: Detained Immigrant Children Subjected To Widespread Abuse By Officials"):
Immigrant children in the custody of U.S. border authorities allegedly suffered pervasive abuse ranging from insults and threats to physical assaults, according to documents reviewed by the American Civil Liberties Union.

A report released this week by the ACLU is based on more than 30,000 pages of documents obtained through the Freedom of Information Act. The documents, it says, "expose of culture of impunity" within U.S. Customs and Border Protection and the Department of Homeland Security.

In response, Customs and Border Protection issued a strongly worded statement in which it called the ACLU report "unfounded and baseless."

The documents describe hundreds of cases of alleged abuse said to have occurred between 2009 and 2014, according to Mitra Ebadolahi, staff attorney with the ACLU's Border Litigation Project.

"These documents provide a glimpse into a federal immigration enforcement system marked by brutality and lawlessness," Ebadolahi said in a statement.

The allegations include reports of physical, verbal, sexual and psychological abuse of migrant children and the denial of clean drinking water and adequate food.

Among the allegations, U.S. officials are said to have:

Denied a pregnant minor medical attention when she reported pain, which preceded a stillbirth.
Subjected a 16-year-old girl to a search in which they "forcefully spread her legs and touched her private parts so hard that she screamed."
Left a 4-lb. premature baby and her minor mother in an overcrowded and dirty cell filled with sick people, against medical advice.
Threw out a child's birth certificate and threatened him with sexual abuse by an adult male detainee.
Ran over a 17-year-old with a patrol vehicle and then punched him repeatedly.

Customs and Border Protection said the ACLU report "equates allegations with fact" and ignores reforms that have been made recently.

It said an investigation by the DHS Office of Inspector General (OIG) "found these claims unsubstantiated" and that OIG officials making a series of unannounced visits to CBP facilities "did not observe misconduct or inappropriate conduct by DHS employees."

Ebadolahi, however, said investigations into the allegations were "structurally inadequate."

"These agencies have taken no meaningful action to hold federal officials accountable for abusing children or to ensure that such abuse never occurs again," she said.

The ACLU report, co-written by the University of Chicago Law School's International Human Rights Clinic, says the U.S. government "has failed to provide adequate safeguards and humane detention conditions for children in CBP custody."

"These failures," it says, "have allowed a culture of impunity to flourish within CBP, subjecting immigrant children to conditions that are too often neglectful at best and sadistic at worst."
These are truly awful revelations. Americans ought be outraged and ashamed that our law enforcement agencies are conducting themselves in this fashion. But, in the flurry of awful, immigration-related news coming out during the Trump administration, it's easy to miss the salient point that the ACLU report is based on "hundreds of cases of alleged abuse said to have occurred between 2009 and 2014." That is, one hundred percent of these abuses occurred during the Obama administration. One presumes they haven't stopped. One wouldn't be surprised if things are worse now, given the tone from the top. But these were all Obama-era cases.
The point isn't that "Obama did it too!" Whatever his failings as President, Barack Obama was a decent human being and certainly not an advocate for cruelty towards would-be immigrants to America. Rather, as in my last several postings on this broad topic, it's that the fact of a vast, essentially uncontrollable border with a developing country and a public who wants our borders protected virtually invites outrageous conduct. I've focused previously on the seeming inevitability of racial profiling, which essentially turns people who "look Hispanic" into second-class citizens. But the ACLU report points to something more sinister, still: it's probably impossible to staff a massive apparatus designed to keep these people out of the country primarily with the sort of people who will treat them with dignity.
Like Psych, I want to find a humane solution. Like him, I don't have one at hand.