Income Inequality and the Social Contract
The rich are getting richer and more politically powerful.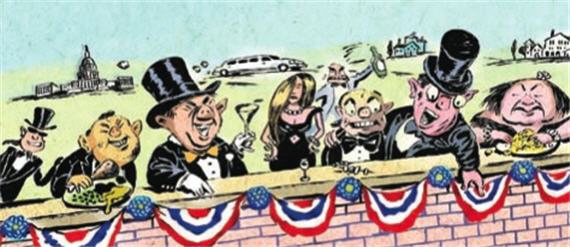 Income inequality has bubbled to the top of the national conversation again, at least briefly, in the wake of the sequester, the general austerity debate, and the jobless recovery.
Business Insider CEO Henry Blodget notes that "we have reached a point where corporate profit margins are at all-time highs and corporate wages are at all-time lows as a percent of the economy" and argues that this is a violation of an unwritten social contract.
Paying employees more simply means sharing more of the vast wealth that corporations generate with the people who generate it. It means investing in your people, so they don't have to work full time for you and yet still be poor (hello, Walmart). It means investing in the economy and your customers. It means creating value for all four constituencies that great companies serve:

Customers
Shareholders
Employees
Society

[…]

Great companies do this not just because they are forced to by unions or taxation, but because it's the right thing to do. It's the right thing for employees, customers, shareholders, and the broader economy. And, for companies with a long-term focus, it's the right thing to do for the companies themselves.
This strikes me as perfectly reasonable in theory, if difficult in application.
Most obviously, the four constituencies have conflicting interests. Doing the right thing for one's employees tends to also benefit society but often at the expense of the customers and almost always at the expense of shareholders, at least in the short term.
Customers for many products and services, especially those they perceive as commodities, are incredibly price sensitive. Generally speaking, then, they're only willing to pay higher prices if they perceive a direct benefit in terms of quality of service. Starbucks can pay their baristas more than McDonald's or Duncan Donuts pay their countermen because they sell a luxury good. In industries where both the margins and the perceived difference in products or services are low, it's hard to see how an employer could get by paying more than the industry prevailing wage.
Indeed, income inequality is largely driven by the fact that those in certain industries are perceived as much more individually valuable than others. It simply matters more who the CEO is than who's ringing up the orders.
Still, Blodget's larger point remains: If the company is raking in record profits, it seems only right that the cashier gets some benefit from it. Or, at the very least, that the company not try to ratchet profits up a bit higher by dividing the cashier's job into three positions, none of which carry benefits. Or do away with cashiers altogether and have customers handle their own orders and payments. Alas, companies are constantly doing exactly that, even in flush times.
Presumably, that's a function of the the CEO seeing his primary fealty to the shareholders—i.e., the company's owners—who naturally wish to maximize the return on their investment.
Meanwhile, longtime Republican economic strategist Bruce Bartlett argues that there's pretty clear evidence that the wealthy have disproportionate political power and that "his is a powerful reason for the federal government to take active measures to reduce income and wealth inequality — even if it comes at an economic cost to the nation."
A new study by the political scientists Benjamin I. Page, Larry M. Bartels and Jason Seawright presents strong evidence that the wealthy are more aggressive and more successful than the poor at influencing the political system in their favor. This study is based on interviews with 83 wealthy people in Chicago.

The authors contrast the views of those in their survey with those of the general public based on national public opinion polls. They find that the wealthy are much more concerned than the general public about budget deficits, much more in favor of cutting social welfare programs, much less in favor of government jobs programs and much more opposed to government regulation, among other things.

Professors Page, Bartels and Seawright were unwilling to draw firm conclusions about whether the wealthy have disproportionate influence in American politics, owing to the small size of their survey sample. But it is at least obvious that the economic policy preferences of the wealthy strongly overlap with those of the Republican Party.

On the other hand, research by the political scientist Martin Gilens in his book "Affluence and Influence: Economic Inequality and Political Power in America" shows that the wealthy tend to be more liberal than the Republican Party on social issues. By and large, the wealthy are not religious, favor abortion rights and support gay rights.
It seems much less clear what, if anything, ought be done about this. That the wealthy, educated, and older cohorts are more interested in politics and devote more of their time, energy, and effort into informing themselves about and seeking to influence its outcomes isn't particularly worrisome on its face. The problem is the degree to which the influential class is static and self-perpetuating and/or seeks to rig the rules of the game to keep it that way.
Bartlett points to things like registration requirements and long voting lines, which disproportionately impact low income, hourly workers. Fixing those would be relatively simple, if we had the notion to do so. Most obviously, we could move voting from a workday to the weekend, declare Election Day a national holiday, or extend voting over several days.
Otherwise, attempts over the last four decades to "take the money out of politics" have proven futile. If anything, they've backfired. Even aside from Citizens United, the simple fact is that the wealthy and powerful have teams of lawyers who will find loopholes in any set of rules and exploit them until they're closed. At which point they'll find new loopholes. We live in a massive regulatory state—and while I decry it on the margins, it's largely necessary given the nature of the modern society and economy—and it's simply worth a lot of time and energy to shape it to their benefit.
Regardless, the forces which make income inequality so stark would seem to be growing. There's more money to be made by those at the very top of the pyramid and less for those even slightly further down. And the demand for unskilled labor is at an all-time low.