Is It Okay To Steal Internet Bandwidth From Your Neighbor?
People find the most interesting ways to justify something that is obviously wrong.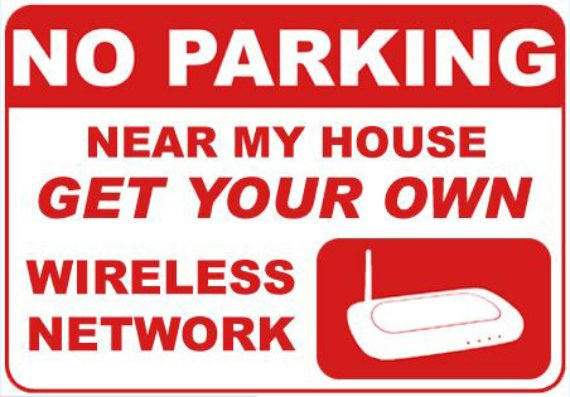 Over at The New York Times, Helen Rubenstein, a Professor at Brooklyn College, laments the fact that she recently found herself unable to access her neighbors wi-fi networks after doing so with little apparent regret for five years:
Suddenly disconnected, I realized how lucky I'd been all those years, having that tremendous body of information and awesome communication technology at my fingertips, all basically free. It may have been unfair, but I don't believe I was stealing: the owners' leaving their networks password-free was essentially a gift, an ethereal gesture of kindness. Sometimes I'd imagine my anonymous benefactors, those people behind Netgear 1 or belkin54g, thinking, "Well, I have Internet to spare."

And, really, who doesn't? Home wireless networks can usually support five or more computers, yet there are only about 1.4 computers per American household.

For a few blindered weeks, I debated whether or not to finally "buy" the Internet. The whole system, though, seemed wasteful: paying a company to come wire my apartment, then paying a monthly fee so that I could maintain my own private territory within the cloud of 20 or so wireless networks that were already humming around my apartment. It would be all the more wasteful given the likelihood that, just as cellphones made landlines optional, smartphones and tablets will soon replace the need for home networks at all.

Why couldn't I instead shell out a nominal fee — to someone, anyone — to partake of the riches that were all around me in abundance?
Of course that isn't what Rubenstein was doing. Instead of, say, paying her neighbors under the table for the right to access their wi-fi network (something that likely would have  been a violation of the Terms of Service between the neighbor and their ISP, by the way), she just accessed whatever unsecured network she could find. From the column, it doesn't even appear that she told the neighbors she was doing it. Much like the people who refused to recognize the reality of music piracy during the Napster era, Rubenstein finds a way to justify her theft:
Paying for Internet access, after all, isn't like paying for cable TV, where cable providers pay cable networks in turn. My establishing a new network instead of sharing with neighbors does nothing to benefit the Web sites whose content benefits me and whose value to advertisers is based on views and visits.

Nor is it like paying for phone service, where the physical object that makes and receives calls is inseparable from your unique number. My e-mail address is utterly portable: it's not bound to an I.P. address or one computer — and, like the vast majority of the Internet's services and information, it's free.
What Rubenstein ignores, of course, is the fact that the access fee that her neighbors pay to the ISP are in part meant to pay for the costs associated with maintaining and expanding the network. By leeching off her neighbors rather than paying for it, she was using a service she hadn't paid for, and she was stealing both from her neighbors and the ISP.
Rubsenstein goes on:
In an ideal world, the Internet would be universally available to anyone able to receive it. Promisingly, the Federal Communications Commission in September announced that it would open up unused analog airwaves for high-speed public wireless use, which could lead to gratis hotspots spreading across cities and through many rural areas.

But an Internet as freely obtainable as broadcast TV hasn't yet arrived.
Of course, even if that day arrives, the Internet still won't be free, it's just that the costs of maintaining the network will be paid for by other means, like higher taxes. And if the U.S. Postal Service is any indication, a government-run ISP will be inefficient, unresponsive, and inferior to the private alternatives. To paraphrase Milton Friedman, Their Ain't No Such Thing As A Free Internet. Unless you're name is Helen Rubenstein and you steal it.