Israeli Strikes Kill Hamas Commander, Women, and Children
Ali Qadhi, who led the terrorist attack on Israel last week, has been killed by the IDF. So have fleeing civilians.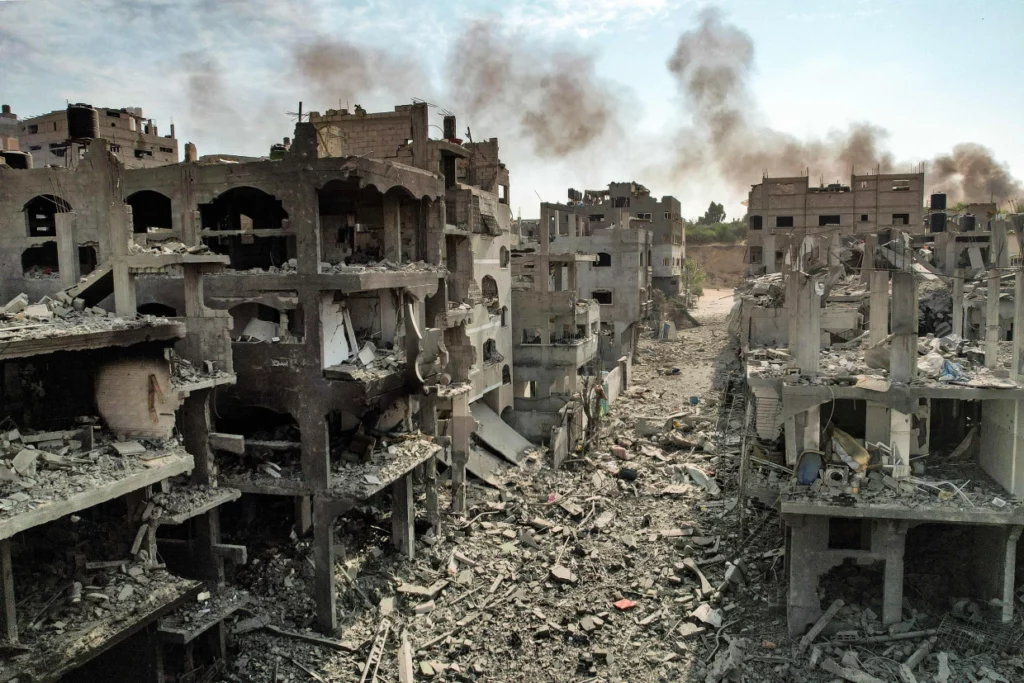 AP ("Palestinians scramble to flee south in Gaza as Israel urges a mass evacuation and conducts raids"):
Palestinians scrambled to flee northern Gaza on Saturday after the Israeli military ordered nearly half the population to evacuate south and carried out limited ground forays ahead of an expected land offensive a week after Hamas' bloody, wide-ranging attack into Israel.

Israel renewed calls on social media and in leaflets dropped from the air for some 1 million Gaza residents to move south, while Hamas urged people to stay in their homes. The U.N. and aid groups have said such a rapid exodus would cause untold human suffering, with hospital patients and others unable to relocate.

Families in cars, trucks and donkey carts packed with possessions crowded a main road heading away from Gaza City as Israeli airstrikes continued to hammer the 40-kilometer (25-mile) long territory, where supplies of food, fuel and drinking water were running low because of a complete Israeli siege.

Egyptian officials said the southern Rafah crossing would open later Saturday for the first time in days to allow foreigners out. Israel said Palestinians could travel within Gaza without being harmed along two main routes from 10 a.m. to 4 p.m. local time.

The Israeli military said "hundreds of thousands" of Palestinians had already heeded the warning and headed south. But some live up to 20 kilometers (12 miles) away, and roads demolished by airstrikes and fuel shortage hindered their journeys.

Thousands of people crammed into a U.N.-run school-turned-shelter in Deir al-Balah, a farming town south of the evacuation zone. Many slept outside on the ground without mattresses, or in chairs pulled from classrooms.
BBC is live-blogging here. Alas, their reporting belies the notion that there are safe evacuation routes.
Children among dead after Palestinian convoy hit while fleeing northern Gaza
Reports first emerged yesterday evening of a strike on a convoy of vehicles heading towards southern Gaza. Videos showing the carnage at the scene emerged shortly afterwards.

BBC Verify has confirmed the strike occurred on Salah-al-Din street; one of two evacuation routes from north Gaza to the south.

The road was full of traffic all day yesterday as Gazans based in the north adhered to Israeli warnings to vacate the area.

At least 12 dead bodies are visible in the footage, which is too graphic for us to show.

They are mostly women and children – some of whom appear to be as young as two to five years old. The positioning of shadows in the video suggests it was filmed at around 17:30 local time.
Fleeing Palestinian convoy was struck on designated evacuation route
The strike on the convoy of civilians in Gaza that we've been telling you about comes as Gazans are being told by Israel to head south on designated routes.

The strike happened on one of those two routes.

More than a million Palestinians were told on Friday to relocate ahead of an expected Israeli ground offensive. And today, Israel has said it is giving those civilians in northern Gaza another few hours to leave.

The evacuation area includes the whole of Gaza City and two major refugee camps, Jabalia and Beach Camp.

Taken together, this represents one of the most densely populated parts of the Gaza Strip – you can see a map of the area below.

Human rights organisations have said such a mass movement of people will inevitably prove chaotic and extremely hazardous – the UN called a movement of this many people in a short time frame "impossible".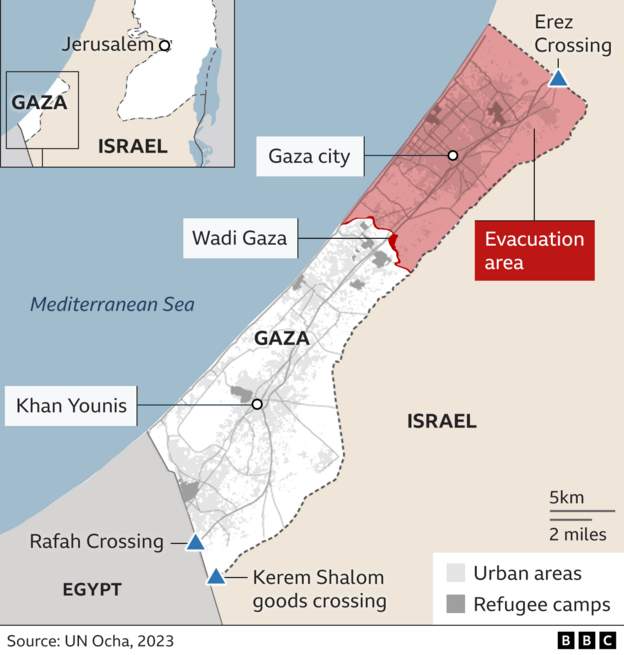 New deadline for Gaza hospital evacuation
Amid the ongoing evacuation from northern Gaza, the Palestine's Red Crescent Society (PRCS) has received a revised deadline of 13:00 GMT (16:00 local time) to move patients and staff from their Al-Quds Hospital in Gaza City.

In a statement, posted to X, the PRCS says an initial deadline of 03:00 GMT (06:00 local time) was given. This was then revised to midday, before finally being changed to this afternoon.

It adds, however, that they cannot evacuate the hospital and it is obliged under a humanitarian mandate to continue providing services to the sick and wounded.
Hamas commander who led attack on southern Israel killed – IDF
Israel's air force has said it has killed Ali Qadhi, the Hamas commander who led the cross-border attack on Israeli settlements last Saturday.

The Israeli military said Ali Qadhi was killed in a drone strike following intelligence efforts by the Shin Bet security agency and Military Intelligence Directorate.
Dead Hamas commander was freed in 2011 prisoner swap
More on the death of Ali Qadhi, the Hamas commander who led the militant group's attack on southern Israel a week ago.

The Israeli military said that "aircraft killed Ali Qadi, a company commander of the Hamas 'Nukhba' (elite) commando force".

According to the Israel Defense Force, the 37-year-old was one of around 1,000 Palestinian prisoners released in 2011 in exchange for Gilad Shalit, an Israeli soldier who was captured by Hamas.

In 2005, Qadi was arrested for the kidnap and murder of an Israeli man who was reported to have worked for the Shin Bet internal security agency.
The forced evacuation of civilians, including hospital patients, is being almost universally condemned but it quite possibly the least bad option available. Israel can't be expected to refrain from taking the war to Hamas simply because they're ensconced among non-combatants. At the same time, establishing "safe" evacuation routes and offering a deadline should surely be an indication that travel along those routes will be safe from Israeli military attacks before that deadline.
The targeting of civilians was the main BBC story this morning, surpassing that of the killing of the man who led the raid on Israel. That's surely not what the Netanyahu government or its allies, including the Biden administration, want.
I vividly remember the tail end of the Gulf War more than 30 years ago and the so-called "Highway of Death." US military superiority was such that we were simply blowing up Iraqi military vehicles at will. The Bush Administration rightly feared that images of this would turn world public opinion against us and pressed for a speedy end to the fight. And this was legitimate military targets far away from the civilian population.