It's Not 'Misleading,' It's A Lie
When a President lies with the ease and regularity of Donald Trump, it's the responsibility of all of us to call it what it is and not hide behind weasel words like "misleading."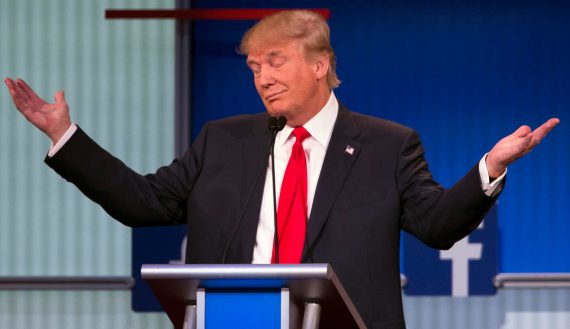 Even during a seemingly routine White House ceremony honoring military spouses and mothers, the President can't help himself:
President Donald Trump just wanted to tout his commitment to the military on Wednesday but ended up misstating the facts.

He claimed during a celebration of military spouses and mothers that the defense spending measure he approved earlier this year included the first pay raises for service members in a decade.

In fact, pay has increased every year for more than three decades.

"First time in 10 years," Trump claimed during his remarks from the White House East Room.

My administration is totally committed to every family that serves in the United States Armed Forces," he went on. "I was proud to sign that big pay raise that I've already spoken about. And I am proud of it. And I guess there will be others, too. Would you like one sooner, or do you want to wait another 10 years? I don't know."

Trump has heralded the pay raise before, but hasn't mistakenly suggested it was the first increase to troops' paychecks in a decade.
The first thing to point out is the fact that the CNN headline for this article reads "Trump misleads about military pay raises." No, he didn't mislead. He lied.
As his own Defense Department figures show, there have been pay raises for members of the military every year going back to 2008, including several years, from 2008 through 2010, during which the percentage increase in pay was higher than the 2.4% that Trump is trumpeting. As the article goes on to note that it is accurate to note that the 2.4% increase provided for in the 2018 Defense Department budget is the largest in eight years, but it's although worth noting the context of that fact. The intervening years between the 3.4% increase in 2010 and the 2.4% increase in 2018 were ones in which the economy was relatively stable and inflation was quite low if not altogether non-existent. Also, this was a period during which Congress was acting within the constraints of budget restraints that were meant to keep federal spending in check such as the Budget Control Act of 2011, which was adopted in the wake of the showdown in the summer of 2011 over the debt ceiling and included mechanisms such as sequestration and a requirement for offsets for new spending that placed at least some limits on new spending. The budget that was adopted for Fiscal 2018 essentially nullified most of the provisions of that law, busting through the sequestration caps and ignoring the other methods supposedly intended to control Federal Government spending going forward. Add to this the fact that the 2018 Defense Department budget exceeds what the Pentagon was asking for in the first place and it's not surprising that pay would increase accordingly in that context.
In any case, I suppose it's not exactly new news to point out that this President lies. As I noted earlier this month, President Trump has told lies with such regularity that, according to current projections, he would have told nearly 9,500 lies by the end of his first four years in office and more that 18,000 lies if he is elected to a second term in office. Admittedly, previous Administrations, and politicians since time immemorial, have lied, misled, and fudged the truth in the past and will continue to do so in the future. However, with this Administration is happens with such regularity and ease that it is really quite extraordinary. Pointing out these lies on every occasion they're made is a seemingly impossible task, but at least when it's done one would expect the media to call them what they are. What Trump said last week wasn't misleading, it was a lie. Call it what it is and stop trying to sugarcoat it.