Jane Roberts, the Supreme Court, and Conflicts of Interest
The Chief Justice's wife is making a lot of money.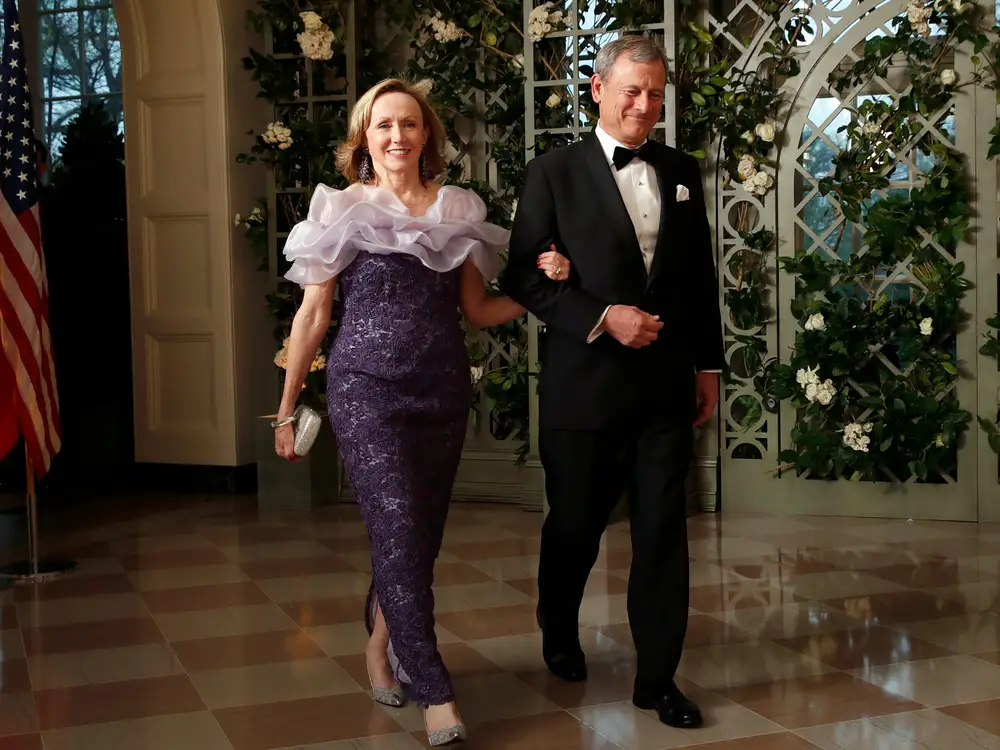 Business Insider ("Jane Roberts, who is married to Chief Justice John Roberts, made $10.3 million in commissions from elite law firms, whistleblower documents show"):
Two years after John Roberts' confirmation as the Supreme Court's chief justice in 2005, his wife, Jane Sullivan Roberts, made a pivot. After a long and distinguished career as a lawyer, she refashioned herself as a legal recruiter, a matchmaker who pairs job-hunting lawyers up with corporations and firms.

Roberts told a friend that the change was motivated by a desire to avoid the appearance of conflicts of interest, given that her husband was now the highest-ranking judge in the country. "There are many paths to the good life," she said. "There are so many things to do if you're open to change and opportunity."

And life was indeed good for the Robertses, at least for the years 2007 to 2014. During that eight-year stretch, according to internal records from her employer, Jane Roberts generated a whopping $10.3 million in commissions, paid out by corporations and law firms for placing high-dollar lawyers with them.

That eye-popping figure comes from records in a whistleblower complaint filed by a disgruntled former colleague of Roberts, who says that as the spouse of the most powerful judge in the United States, the income she earns from law firms who practice before the Court should be subject to public scrutiny.
I know very little about Mrs. Roberts. Her LinkedIn shows an impressive enough path: mathematics degrees from Holy Cross and Brown followed by a 1984 JD from Georgetown after which she clerked for James Sprouse in the 4th Circuit and made partner in a BigLaw firm shortly thereafter. She stayed there for 20 years, leaving to become a partner in the DC recruiting services firm Major, Lindsey, and Africa shortly after her husband became Chief Justice.
She made $10.3 million in commissions over eight years, or $1.3 million a year on average. That's a lot of money and, according to the above-linked report, was far and away more than anyone else in her position at the firm made. But a January NYT report that I missed when the allegations were first raised notes that "Partners at leading law firms in Washington on average make well over $1 million a year, and at the high end, they can be paid over $7 million."
Let's take her at her word that she pivoted from her legal career to the recruiting one to avoid conflicts of interest. On the surface, it certainly seems plausible. On the surface, you wouldn't think being a headhunter for big law firms would implicate the Supreme Court. And, two decades into a promising professional career, it's unreasonable to expect that she completely leave the field of law just because her husband is a major player.
That said, as with all power couples, it's really impossible to disentangle how much one's success feeds the other's.
Legal headhunting firms typically receive a share of a partner's projected compensation as a matchmaking fee. (In other scenarios, like placing lawyers in-house, recruiting firms are often paid a retainer instead of a commission.) A large chunk of that fee is typically paid to the individual recruiters who made the deal happen, and it's those payments to Jane Roberts that Price criticized.

"She restructured her career to benefit from his [John Roberts'] position," Price wrote in an affidavit accompanying his complaint. "I believe that at least some of her remarkable success as a recruiter has come because of her spouse's position."
Again: while $1.3 million per annum is big money to me, it's quite possibly considerably less than she was making at Pillsbury.
Mark Jungers, another one of Jane Roberts' former colleagues, said that Jane was smart, talented, and good at her job. "To my knowledge," he told Insider, "friends of John were mostly friends of Jane, and while it certainly did not harm her access to top people to have John as her spouse, I never saw her 'use' that inappropriately. In fact, I would say that Jane was always very sensitive to the privacy of her family and when she could drop the name or make certain calls, she didn't."
I have no reason to believe she acted anything but ethically. But here's the thing: while she may have fully believed she was recruiting as Jane Sullivan Roberts, super talented former lawyer, and been incredibly scrupulous in not dropping her husband's name, the big players damned well knew she was Mrs. John Roberts. There's simply no way to know how much that factored into her success.
Insider spoke with with three legal recruiters who said $10.3 million in commission was a plausible amount for someone with Roberts' experience and network to have made over those years.
Again, though, her "network" was very much enhanced by being married to John Roberts.
In a prior statement to the Times, a spokesperson for the Supreme Court said that the justices, including Roberts, are "attentive to ethical constraints" and obey laws governing financial disclosure. The spokesperson also told the Times that the Robertses had complied with the code of conduct for federal judges, citing an advisory opinion finding that "a judge whose spouse owned and operated a legal or executive recruitment business need not recuse merely because a law firm appearing before the judge engaged the judge's spouse." (Other advisory opinions have held that when a judge's spouse is actively recruiting for a firm appearing before that judge, or when a spouse has personally done "high level" recruitment work that generated "substantial fees," recusal would be appropriate.)
Honestly, though, that strikes me as silly. There are only so many top-drawer law firms in the country, so a legal recruiter would likely do business with all of them.
We're going to see more, not less, of these sorts of problems. I'm old enough to remember the days when essentially all major government officials were men whose wives were mostly homemakers and socialites. The first time I remember this being an issue was with Bill and Hillary Clinton, both incredibly talented people whose careers were intertwined, constantly raising exactly these sorts of questions. What was once rare is now common: talented women maintain their careers after marriage and tend to marry men of similar talent and promise.
The Chief Justice makes just under $300,000 a year and is allowed to earn another $30,000 from outside teaching. That's a good living! But I would imagine Jane was making at least double that when she married John in 1996; she'd already been a partner at Pillsbury for nine years by that point.
We could, I suppose, simply require that people in a handful of top offices be free from any possible conflict of interest. We could mandate that their assets be in blind trusts. I don't think, though, that we're going to mandate that their spouses quit earning money. And it's hard to imagine a job that wouldn't present some potential conflict for a Supreme Court justice.