Kansas Supreme Court Appears Prepared To Allow Democrat Chad Taylor To Get Off Ballot
Kansas's highest court heard argument today in a legal dispute that could play a huge role in deciding who controls the Senate after November 4th.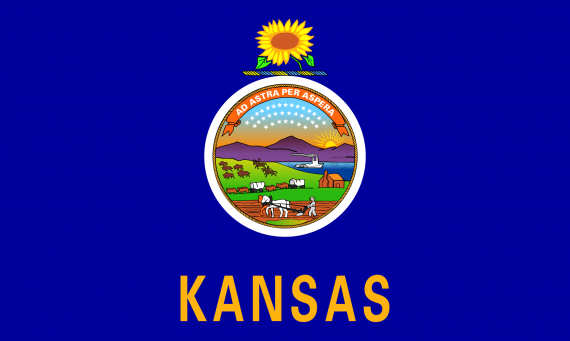 The Kansas Supreme Court heard arguments today in the case brought by Democratic Senate nominee Chad Taylor to have his name removed from the ballot and, at least based on the initial reports, it appears that Taylor may end up succeeding and thereby cause Republicans to have something to worry about in the Sunflower State:
Kansas Supreme Court justices grilled Secretary of State Kris Kobach's attorney at a special court hearing Tuesday about whether Democrat Chad Taylor should remain on ballot as a candidate for U.S. Senate.
Taylor's suit to remove his name from the ballot is unprecedented in Kansas history.

Republicans see Taylor's attempt to withdraw as a not-so-covert plan by national Democrats to boost Greg Orman's independent candidacy against Republican incumbent U.S. Sen. Pat Roberts in November. Democrats say that Kobach, a supporter of Roberts, has overstepped his bounds as secretary of state to keep Taylor on the ballot against his will.

The suit hinges on whether Taylor adhered to a statute that requires candidates to declare that they are incapable of serving in order to withdraw.

Earlier this month, Kobach determined that Taylor, the district attorney of Shawnee County, failed to do that in a letter he submitted to the Secretary of State's Office on Sept. 3, the deadline to withdraw.

Pedro Irigonegaray, Taylor's attorney, argued that Kobach lacked the legal authority to make that determination because the statute does not specifically say that it's up to the secretary of state to decide whether candidates have met the standard.

He also contended that the statute does not specifically say the declaration has to be in writing.

Edward Greim, who represented Kobach, argued that as the top election officer, Kobach has the power and duty to enforce the statute.

"If it (the declaration) could be made at home to someone's goldfish, then the statute is meaningless," Greim said.

However, Justice Lee Johnson said it's the court's role to interpret the plain language, not to provide meaningful enforcement.

"We have to add language to get to your interpretation," he told Greim.

The justices flooded Greim with questions.

Before Greim could describe why Taylor's letter missed the requirements, Justice Carol Beier cut in with a question about another letter submitted to the Secretary of State's Office by Miranda Rickel, a House candidate who withdrew from a race in District 5 this year.

Rickel described in her letter how multi-year course work at Kansas State University and juggling jobs made it "nearly impossible" to mount a campaign.

"Her letter says it will be 'nearly impossible'…she does not say 'incapable,' " Beier said.

Greim said the letter contained facts that were tantamount to a declaration of incapability, but Irigonegaray said Rickel's letter showed that she was incapable of running, not of serving.

Justice Dan Biles also questioned whether Rickel's letter had been properly notarized, another requirement of the statute. Her letter was stamped by a notary, but unlike Taylor's letter, the notary did not note whether the letter was signed in front of her

Biles said enforcement of this requirement appeared "loosey goosey."

Greim said notarization was a side issue.

"What we're talking about is what the secretary of state can and can't do," Johnson said in response. "You're saying he can ignore a critical procedural aspect but can exercise discretion (about what constitutes a declaration)."
Law Professer Rick Hasen live blogged the live audio stream of the arguments and, afterwards, observed that it appeared to him that the Justices were inclined to remove Taylor from the ballot:
While it is always hazardous to predict outcomes from oral argument (because Justices sometimes ask rhetorical questions or minds change after argument), I think it is likely the Justices will quickly issue an order removing Taylor's name from the ballot. Nothing is a sure thing, but enough of the Justices speaking seemed to indicate their belief that Taylor should be allowed to withdraw because Taylor's declaration of withdrawal complied with the statute (by stating he was withdrawing "pursuant to" the statute even if he did not mention the magic words of withdrawal), or substantially complied with the statute, or he complied because only the request to withdraw but not the declaration of incapability needs to be in writing, or because Kobach lacked the discretion to judge if the letter complied, or because the court should view Taylor's declaration as complying with the statute to avoid the risk of voter confusion.

Much of the discussion at oral argument concerned other letters of withdrawal which the SOS had received in recent years, including some earlier letters which were submitted (late) to the court. It seems to show a pattern of the SOS exercising discretion in deciding which letters complied. The Justices seemed to get Kobach's lawyer to admit that substantial compliance may sometimes be enough. With that concession, there is a relatively easy path to finding the letter substantially complied.

Nothing in the argument seemed to turn on whether Taylor received incorrect assurances that the letter was accurate from someone in the Secretary of State's office. It looks like the Court will avoid the disputed factual issue by finding that the letter (substantially) complied with statutory requirements.
As Hasen goes on to note, absentee and military ballots are scheduled to begin being printed on September 19th, and they will be required by law to be mailed out shortly after that. Given that deadline, the Justices in Kansas are on a very short timetable and will likely rule in the coming days on the issue. While Hasen is correct that one should not always judge the potential outcome of a case based on oral arguments, indeed that is something I've learned on a professional level myself over the past 20 years, it does some from all of the descriptions of the oral arguments that the Justices are inclined to give the law in question a strict construction that, potentially, could lead to a ruling that Taylor's letter was sufficient under the law. Essentially, they seem to be hinting at the idea that the statute does not specifically state that the declaration that a candidate is unfit to fulfill the duties of office be set forth in the letter to the Secretary of State, nor does the statue state exactly what that letter must say. Additionally, the fact that other parts of the statute, including the requirement that the letter be sworn to before a Notary Public, have only been loosely enforced in the past suggests that the Secretary of State's argument this time is motivated by something other than a desire for specific adherence to the statute. I hit upon this possible interpretation of the statute when I first wrote about the legal dispute that arose after Taylor's attempt to remove his name from the ballot. If this is the direction the Court is headed, then it would appear that Taylor's challenge to Kobach's decision was a wise one.
On the political side, meanwhile, another poll shows Senator Pat Roberts trailing Independent candidate Greg Orman:
Independent Greg Orman has opened up a lead in his effort to unseat Republican Kansas Sen. Pat Roberts, according to a new poll from Democratic firm Public Policy Polling.

Orman leads Roberts 41-34, with Democrat Chad Taylor — who announced plans to end his campaign earlier this month — capturing 6 percent of the vote. Libertarian Randall Batson earned 4 percent support in the poll, which was first provided to the Huffington Post. The automated phone and online survey of 1,328 likely voters was taken between Sept. 11 and Sept. 14. The margin of error is plus-or-minus 2.7 percentage points.

In a head-to-head matchup, Orman's lead grows to 10 percentage points, according to the poll.

The poll is the first to show Orman with a clear lead, even with Taylor included among the pool of candidates. Taylor has attempted to withdraw from the race entirely and is suing to remove his name from the November ballot.

Even more significantly, PPP did not prompt respondents about Taylor ending his campaign before conducting the ballot test. The majority of Taylor supporters said they know that he has asked to be removed from the ballot, and a subsequent question showed 63 percent of likely voters think he should be allowed to withdraw his name.
This follows on the poll that was released last week that showed Roberts trailing Orman by one point, with Taylor garnering 10% of the vote. Assuming these numbers hold up, then Pat Roberts will officially be in trouble of losing re-election if he isn't already. At that point, the GOP and third party groups are going to have to decide how much money they want to send into Kansas to try to save him, money that they will of course not be able to send to other candidates in other states where the GOP has a chance of winning a seat currently held by a Democrat. If they lose Kansas, though, then the Republicans may well find their dreams of winning control of the Senate dashed for the third election in a row. As unlikely as it may have seemed even a couple week ago, then, it does appear that Kansas is going to be a state to watch over the next 49 days.