Korean War II Not Easy As It Looks
The Army has war gamed a conflict to secure a failed North Korea. It would not be a cakewalk.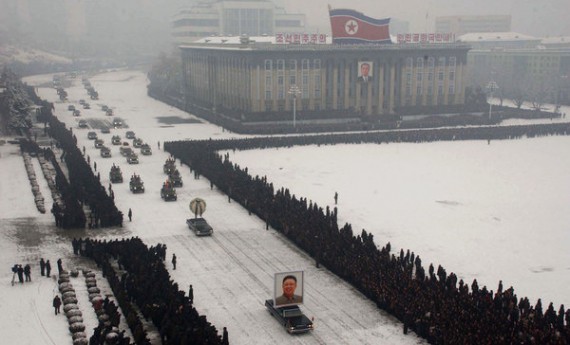 The Army has war gamed a conflict to secure a failed North Korea. It would not be a cakewalk.
Defense News ("U.S. Army Learns Hard Lessons in N. Korea-like War Game"):
It took 56 days for the U.S. to flow two divisions' worth of soldiers into the failed nuclear-armed state of "North Brownland" and as many as 90,000 troops to deal with the country's nuclear stockpiles, a major U.S. Army war game concluded this winter.

The Unified Quest war game conducted this year by Army planners posited the collapse of a nuclear-armed, xenophobic, criminal family regime that had lorded over a closed society and inconveniently lost control over its nukes as it fell. Army leaders stayed mum about the model for the game, but all indications — and maps seen during the game at the Army War College — point to North Korea.

While American forces who staged in a neighboring friendly country to the south eventually made it over the border into North Brownland, they encountered several problems for which they struggled to find solutions. One of the first was that a large number of nuclear sites were in populated areas, so they had to try to perform humanitarian assistance operations while conducting combined arms maneuver and operations.

One way of doing this was to "use humanitarian assistance as a form of maneuver," Maj. Gen. Bill Hix, director of the Army's Concept Development and Learning Directorate, told reporters. The Army dropped humanitarian supplies a short distance from populated areas, drawing the population away from the objective sites, he explained.

Many of the problems encountered were hashed out with Army leaders at a Senior Leader Seminar on March 19 at Fort McNair in Washington. The event—which included the Army chief of staff, Gen. Ray Odierno, and the vice chief, Gen. John Campbell, along with a collection of three- and four-star generals — was off the record, but under terms of the agreement that allowed a handful of reporters to cover the event, unattributed quotes can be reported.
I commend the remainder of Paul McLeary's excellent reporting on this to your attention. The bottom line, though, is that logistics and intelligence would be major obstacles to the mission, along with the aforementioned civilian population.
To the extent we've thought about war with North Korea in recent decades, the focus has been on a re-enactment of the first conflict: a Northern invasion of our allies in the South. That would be a suicide mission for Pyongyang. The much superior ROK force could repel that invasion easily, with a little logistics and ISR support from Uncle Sam's finest.
But going in to a failed North to secure their weapons stockpiles and ensure a smooth transition to a presumable re-unification would be a challenge of a different order of magnitude.
I had to laugh at this:
One lesson from Iraq and Afghanistan, reinforced by the Unified Quest game, was that "we're not going to fight a pure military war again," one four-star general opined. Instead, being successful in conflict will require a variety of solutions requiring cultural knowledge, political acumen and other intelligence activities.
The reason we've been on a seven decade losing streak, despite vastly superior military power, is that we keep "learning" that lesson. Aside from perhaps the World Wars, all of those things have been crucial to every single conflict we've fought  going back to the colonial period.
via Diana Wueger