Lanham Act is FUCT
The Supreme Court is likely to finish striking down restrictions on offensive trademarks.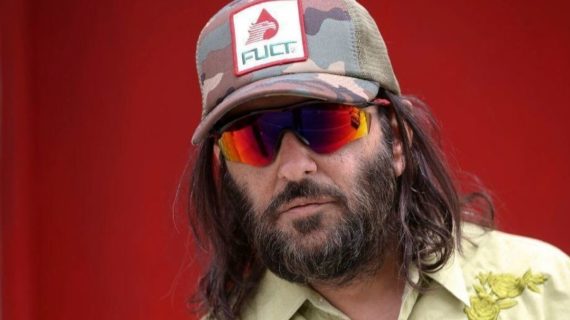 The Supreme Court has been chipping away at the government's right to restrict speech it deems "obscene" since 1957. It seems to be on the precipice of striking down a longstanding prohibition on granting intellectual property rights to trademarks deemed inappropriate by the bureaucracy.
NPR's Nina Totenberg:
Dirty words only make it to the Supreme Court occasionally. One of those occasions came Monday, in a case involving a clothing line, named "FUCT."


The issue is whether the U.S. Patent and Trademark Office acted unconstitutionally when it refused to grant trademark protection to the brand name.


And, for the justices, the immediate problem was how to discuss the the F-word without actually saying it.

The "FUCT" clothing line, created by designer Eric Brunetti, is mainly hoodies, loose pants, shorts and T-shirts, all with the brand name prominently displayed.


Brunetti opened the line in 1990, aimed at 20-somethings, and he's been trying to get the brand trademarked ever since.


"Go to eBay, and you'll see a lot of counterfeits, or go to Amazon, and you'll see lots of counterfeits," he said, noting that the knockoffs are costing him real money.


If he could get his brand trademarked, he could go after the copycats and shut them down. The U.S. government Patent and Trademark Office, however, has consistently rejected his trademark application, contending that those letters, "FUCT," violate the federal statute that bars trademark protection for "immoral," "shocking," "offensive" and "scandalous" words.


Brunetti's case got a boost two years ago when the Supreme Court ruled that an Asian-American band calling itself "The Slants" could not be denied trademark protection. The trademark office had turned the band down, because it deemed the name racially "disparaging," but the court said the denial amounted to unconstitutional viewpoint discrimination.

Dealing with the brand name "FUCT" proved a bit more daunting in the Supreme Court chamber Monday. Deputy Solicitor General Malcolm Stewart referred to the brand name as a "profane past participle form of a well-known word of profanity and perhaps the paradigmatic word of profanity in our language."


The government, he maintained, can deny trademark protection for that word. The justices pointed to a chart showing which terms had been granted trademarks by the government, and which ones had not. Most of the names on the chart — those granted and not granted — are not suitable for a general audience.

Suffice to say that while "FUCT" did not win trademark approval, "FCUK" did, and so did the well-known brand "FUBAR." The word "crap" was registered in a trademarked name 70 times, but the S-word was consistently denied.


That prompted Justice Ruth Bader Ginsburg to ask how the trademark office defines what is scandalous, shocking or offensive? And, Ginsburg also inquired, do 20-year-olds generally find "FUCT" to be shocking or scandalous?


Probably not, conceded the government's Stewart. But he said the term would still be shocking or offensive to a substantial segment of the population. Thus, it can be denied trademark registration, he argued.
Justice Neil Gorsuch pointed to the chart, declaring that it was hard to see why certain trademarks either using or alluding to profanity were approved and others denied.

Justice Samuel Alito asked what would happen when "really dirty words" were at issue. How about "racial slurs"? asked Justice Stephen Breyer, adding those are more like "swear words," as they are insults that sting and are remembered by those who are targeted.


Stewart replied that because of the court's decision in the "Slants" case, most trademarks with racial slurs are now approved. But, as for the most offensive slur, the N-word, for now, he said, it is still not approved.
Representing "FUCT" designer Brunetti, lawyer John Sommer didn't have an easy time either. Justice Breyer had this question: why doesn't the government have the right to say, in essence, "You can use this language in your brand name, but the government doesn't want to be associated with it by granting trademark protection?"

"What I'm worried about," said Breyer, is that if a racial slur is trademarked, it will appear as a product name "on every bus where it's advertised" and on newsstands where children and others will see it.
"That's not the audience Mr. Brunetti is appealing to," Sommer replied.
Chief Justice John Roberts interjected. "But that may not be the only audience he reaches," he noted.


At the end of his argument, Sommer returned to the language of the statute, arguing that if "offensiveness" is the standard for turning down a trademark, "Steak 'n Shake" can't be registered either, because "a substantial portion of Americans believe that eating beef is immoral."

NPR, "Supreme Court Dances Around The F-Word With Real Potential Financial Consequences"
Sommer's closing point is brilliant because it points to the fact that offensiveness is a changing standard—and not always in the direction we think.
While the F-word and its variants appears with considerable frequency in my speech and in the everyday speech of those with whom I associate socially and professionally, it remains taboo. Its utterance in a movie pretty much guarantees that it'll receive a PG-13 and enough appearances will render it an R. The fact that Supreme Court justices feel they can't even mention the word in a professional conversation about it indicates that it still retains the power to offend.
And, indeed, while I use the word routinely, I tend to form negative judgments of people who use it in public or, indeed, who go around with it emblazoned on their hats and t-shirts.
Still, plenty of words and actions that were taboo in my memory are now routine. "Hell" and "damn" barely qualify as swear words anymore. And of the Seven Dirty Words You Can Never Say on Television that George Carlin made famous in his shocking 1972 classic bit, three are now acceptable for over-the-air broadcast. "Piss" is now verging on the standard word for urine/ation, "tits" is only mildly profane, and even "shit" has made its way to regular television. You still need cable or satellite for the other four.
But, back to Sommer's point, it's possible for words that were broadly acceptable to become taboo. We've written quite a bit in this space about attempts to deny trademark protection to the "Washington Redskins," even though that's a name that's been used in the popular press since the 1930s and on unfiltered television broadcasts since the 1950s. Words routinely used to describe various religious and ethnic groups, the LGBTQ community, the disabled, and others in my memory are now verboten.
Should government be the arbiter of that? And should rights to intellectual property shift with the winds of social mores?
I'm less sympathetic to Brunetti and FUCT than I was Simon Tam and the Slants. In the latter case, a predominantly Asian-American band was reclaiming an ethnic slur to rob it of its hurtfulness. Brunetti is simply re-spelling a swear work and putting it on merchandise to profit from those who want to walk around drawing attention to themselves by shocking people.
That said, the Patent and Trademark Office isn't arguing that Brunetti's coinage of "FUCT" is insufficiently transformative to warrant intellectual property protection. That strikes me as a perfectly valid position. Instead, they're arguing that his coinage isn't worthy of protection because it's vulgar. While Congress—which, after all, has the power under Article I of the Constitution to grant patents and trademarks— has indeed given them the authority to make that judgment, it's difficult to find a compelling public interest that overrides the First Amendment.
The "swear words" line of questioning strikes me as silly. One can't generally trademark a word in common usage. Neither "FUCK" nor "FUCKED" would be eligible for protection by themselves—but perhaps "FCK" would be. The same would apply for racial slurs. "Slants" was approvable as the name of a band but Tam and company would have no power to stop others from using the word in a different context.
Years ago, as mores started changing and people felt more comfortable walking around with vulgarities on their t-shirts or driving around with them on bumper stickers on their cars, many states and localities attempted to ban these displays on a variety of pretexts. One by one, they've been struck down when challenged in court.
Brunetti will almost surely win here. To the extent that "FUCT" is a transformative creation, he's entitled to the rights to profit from it. Whether that's a useful contribution to society is a separate question.