Lara Logan: "They Really Enjoyed My Pain And Suffering"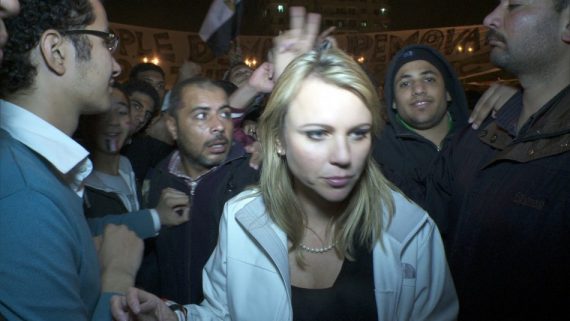 CBS reporter Lara Logan spoke for the first time about her assault in Tahrir Square on the night Hosni Mubarak stepped down as Egypt's President in a 60 Minutes interview that will air this coming Sunday:
Lara Logan thought she was going to die in Tahrir Square when she was sexually assaulted by a mob on the night that Hosni Mubarak's government fell in Cairo.

Ms. Logan, a CBS News correspondent, was in the square preparing a report for "60 Minutes" on Feb. 11 when the celebratory mood suddenly turned threatening. She was ripped away from her producer and bodyguard by a group of men who tore at her clothes and groped and beat her body. "For an extended period of time, they raped me with their hands," Ms. Logan said in an interview with The New York Times. She estimated that the attack lasted for about 40 minutes and involved 200 to 300 men.

Ms. Logan, who returned to work this month, is expected to speak at length about the assault on "60 Minutes" on Sunday night.

(….)

The assault happened the day that Ms. Logan returned to Cairo, having left a week earlier after being detained and interrogated by Egyptian forces. "The city was on fire with celebration" over Mr. Mubarak's exit, she said, comparing it to a Super Bowl party. She and a camera crew traversed Tahrir Square, the epicenter of the celebrations, interviewing Egyptians and posing for photographs with people who wanted to be seen with an American journalist.

"There was a moment that everything went wrong," she recalled.

As the cameraman, Richard Butler, was swapping out a battery, Egyptian colleagues who were accompanying the camera crew heard men nearby talking about wanting to take Ms. Logan's pants off. She said: "Our local people with us said, 'We've gotta get out of here.' That was literally the moment the mob set on me."

Mr. Butler, Ms. Logan's producer, Max McClellan, and two locally hired drivers were "helpless," Mr. Fager said, "because the mob was just so powerful." A bodyguard who had been hired to accompany the team was able to stay with Ms. Logan for a brief period of time.

"For Max," the producer, "to see the bodyguard come out of the pile without her, that was one of the worst parts," Mr. Fager said. He said Ms. Logan "described how her hand was sore for days after — and then she realized it was from holding on so tight" to the bodyguard's hand.

"My clothes were torn to pieces," Ms. Logan said.

She declined to go into more detail about the assault but said: "What really struck me was how merciless they were. They really enjoyed my pain and suffering. It incited them to more violence."
The men responsible for this will never be brought to justice, of course, but it's good to see that Logan is apparently on the road to some kind of recovery from this horrible attack.